Discover more from Fakepixels
Fakepixels is a publication for courageous ideas and creative endeavors.
Over 3,000 subscribers
[FKPXLS] SPECIAL VOLUME: JOINING PACE
Your age does not determine the caliber of your thinking.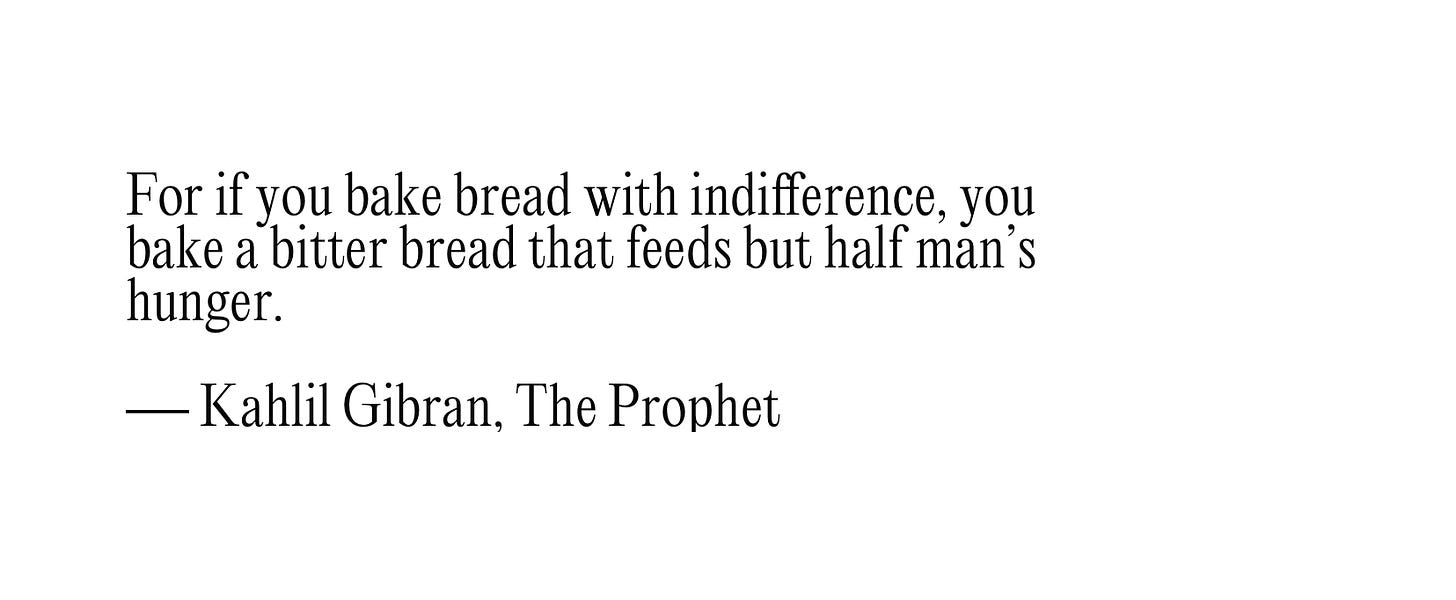 I am back in my studio apartment in New York City, listening to my future by Billie Eilish that is playing sometime in your past, which is also my present, writing this.
What we share is Fakepixels, a space for honest inquiry, bold ideas, and creative optimism. Here, we are not afraid to uncover the invisible forces that reframe the realities we once knew.
---
The first time I reached out to Jordan was on Twitter. I told him I was a fan of his blog and appreciated how openly he discussed his experiences — both his successes and setbacks — particularly as they pertain to people my age, those still on the first leg of what always seemed a long journey.
During our initial conversation, Jordan said little about his past accomplishments. Instead, he peppered me with questions about my background, and, hearing that I loved to write, mentioned the reading groups he used to organize in the early days of the then-burgeoning crypto community. The group typically read a different whitepaper each week and then met afterward to teach each other what they'd learned.
If you open yourself up to others by letting them know what you're interested in, others will do the same for you, Jordan said. That was all I needed to hear to begin writing publicly again. If I started a writing club would you be willing to participate, I asked. Absolutely, Jordan replied.
Throughout that first conversation, Jordan also mentioned Chris, his (significantly younger) business partner for whom his admiration was evident.
Youth is a superpower, Jordan said. Investing is a long-term game, and the earlier you are in your career, the longer your runway is to do something great.
He paused for a moment, looking out the window by his computer as if searching for something.
Your age does not determine the caliber of your thinking, he finally said.
In many ways, our conversation eased the creeping sense of self-doubt I'd begun to feel in fits and bursts shortly after going from an eager bystander to an active participant in the world of venture. I decided then and there I'd commit to writing and sharing publically the lessons I'd learned.
A few months after speaking with Jordan, and a week into the lockdown, I met Chris. Despite the fact that we grew up in completely different parts of the world, we bonded over our shared love of forum culture, indie games, and Aimé Leon Dore. Chris compared Jordan's openness to that of an API's — the type of frank transparency Chris found conducive to a strong partnership. It didn't take long after that for me to recognize Chris's mastery of  metaphor. Chris compared the state of the world and the broken systems that inhabit it to faulty dams gradually crumbling down. Value, like streams of water bursting through the floodgates, is now in the process of redistributing itself to new terrains.
Only through a close study of the current terrain can we possibly shape the new frontiers, so that value is distributed to places and people that will benefit from it the most, Chris said. I found comfort in Chris' metaphors. Because in metaphor lives nuance — the space between absolutes — where the right answers are not always obvious, let alone easy.
The conversations continued, and over the course of our discussions, it became increasingly clear that the line between the subjects we explored professionally and personally was beginning to blur. We all shared a deeply-rooted desire to find and build the next world-changing thing. And at the end of one of those discussions, Jordan said to me: 
It could be next week, next month, or next year. It doesn't matter. But we want you to know that we'd like you to be the next member of the Pace team.
When you're young, you're told there are infinite possibilities in life. And then one day a moment arrives, and you realize that all those infinite possibilities — while still out there — require action to become reality. And a propensity to take action is key to catalyzing success. All to say that by the time Jordan asked me to join Pace, I had already made up my mind. Even in uncertain times, Jordan and Chris are not afraid to take action, to give a platform to the voices that don't yet have one. Because it's only in elevating those voices that we can find a way to close the gap between technology's yet-untapped potential for real, transformative change and the reality of the world we live in today.
If it's not obvious yet, the Pace team loves what they do and do it with all their heart. They embody what it takes to build a next-gen venture firm that respects the craft of venture building and believes in superheroes who build ventures that optimize for output and contribution. In The Prophet, Kahlil Gibran touches on what it means to work with love. I often revisit when I'm at a crossroads in my journey.
Work is love made visible.

And if you cannot work with love but only with distaste, it is better that you should leave your work and sit at the gate of the temple and take alms of those who work with joy.

For if you bake bread with indifference, you bake a bitter bread that feeds but half man's hunger.

And if you grudge the crushing of the grapes, your grudge distills a poison in the wine. And if you sing though as angels, and love not the singing, you muffle man's ears to the voices of the day and the voices of the night.
Jordan, Chris, and I met in real life for the first time after I took the offer, but for some reason, we've never been more convinced it's the right time to make this commitment together. I'm beyond thrilled to join Pace and hit the road with them. And if you're a values-driven builder, investor, creator, thinker, or just want to learn together — please, join the ride.
You can find me on Twitter and say hello at tina [at] pacecapital [dot] com.
Don't be a stranger. Wish me luck : )
---

About Pace
Pace is an early-stage venture capital firm primarily focused on Series A investments.
We are generalists that invest in any market, at any layer in the stack. Prior to starting Pace, Chris was a founding partner & GP at Thrive Capital where he invested in companies like Twitch (acq by Amazon), Patreon, Unity, ClassPass, Grailed, MM LaFleur, and Flatiron School (acq by WeWork). Prior to starting Pace, Jordan was a founding partner & GP at Lerer Hippeau where he invested in companies like Seatgeek, Sunrise (acq by MSFT), Moat (acq by Oracle), Soylent, Smartthings (acq by Samsung), Groupme (acq by MSFT), Cue (acq by AAPL), MongoHQ (acq by IBM), Tapad (acq by Telenor), Adaptly (acq by Accenture), Floored (acq by CBRE) and a number of others. Jordan also started and served as CEO of two venture-backed technology companies, one of which was successfully acquired by Groupon (GRPN) shortly after the company went public.
We closed our first fund, Pace I, to the tune of $150M last year (more than half of which we've raised from leading university endowments we couldn't be prouder to be working with).
We're currently based in New York City.
---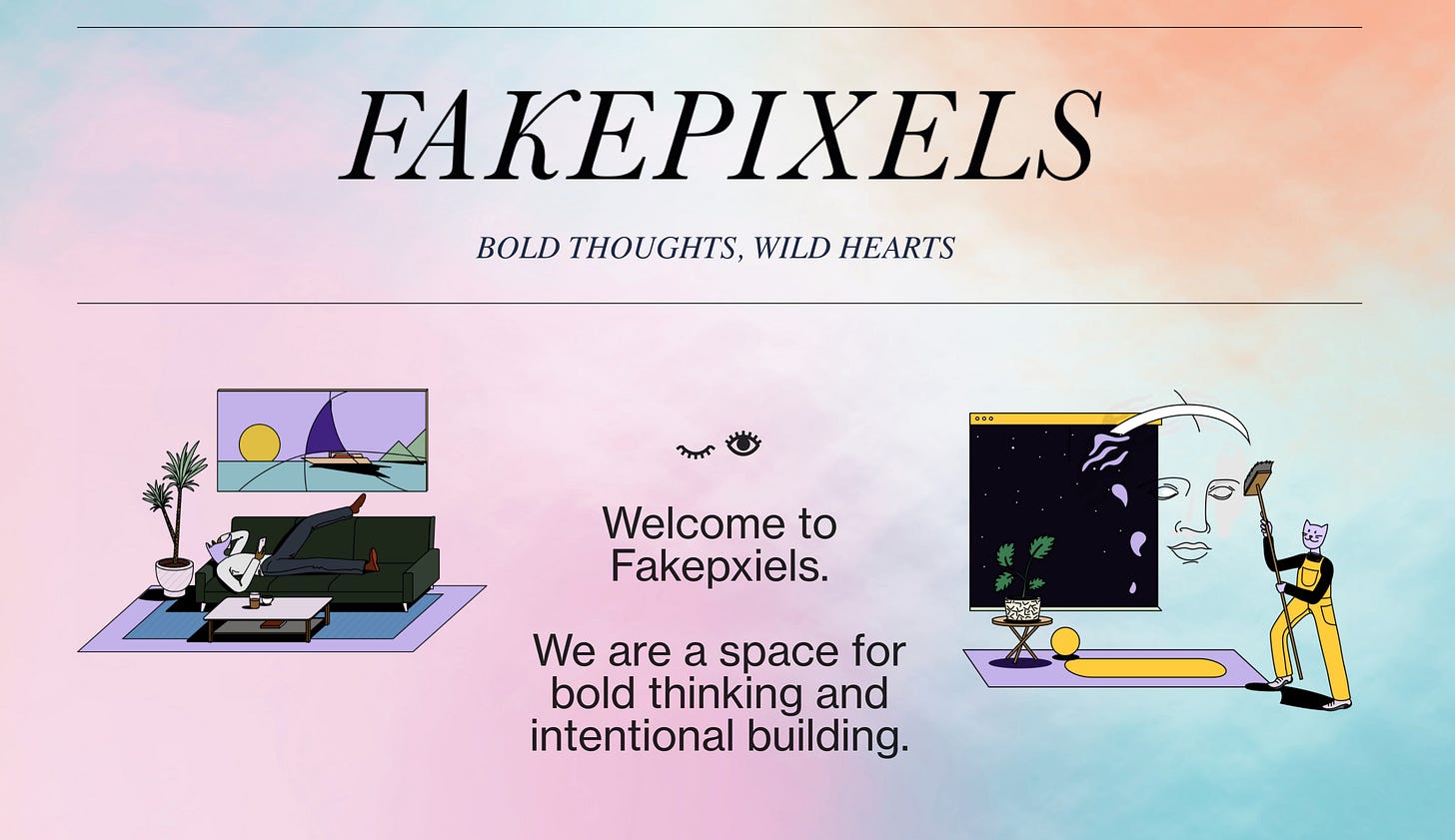 What about Fakepixels?
I will continue to create Fakepixels and do my best to make it a welcoming platform for bold thinking and intentional building in the innovation economy.
There are many possible futures, what we aim for is not to predict exactly what the future will be, but to do our best to optimize the chance that we land on the best outcome. How do we get there? By being present with the world and with each other, by learning relentlessly, and by bridging knowledge across realities. We're here to dream and agitate and question openly and unapologetically. We're here to be vulnerable, honest, and true.
Those who came before us shaped our reality — the world's beauty and its folly. I'm committed to giving back more than I take by creating more than I consume.
If you have feedback, want to collaborate/contribute as a guest writer, or simply want to meet other like-minded folks, I would love to have you join the club. I decided to open-source the structure of the newsletter, and if you see anything that fits into any of these sections, sharing is loving.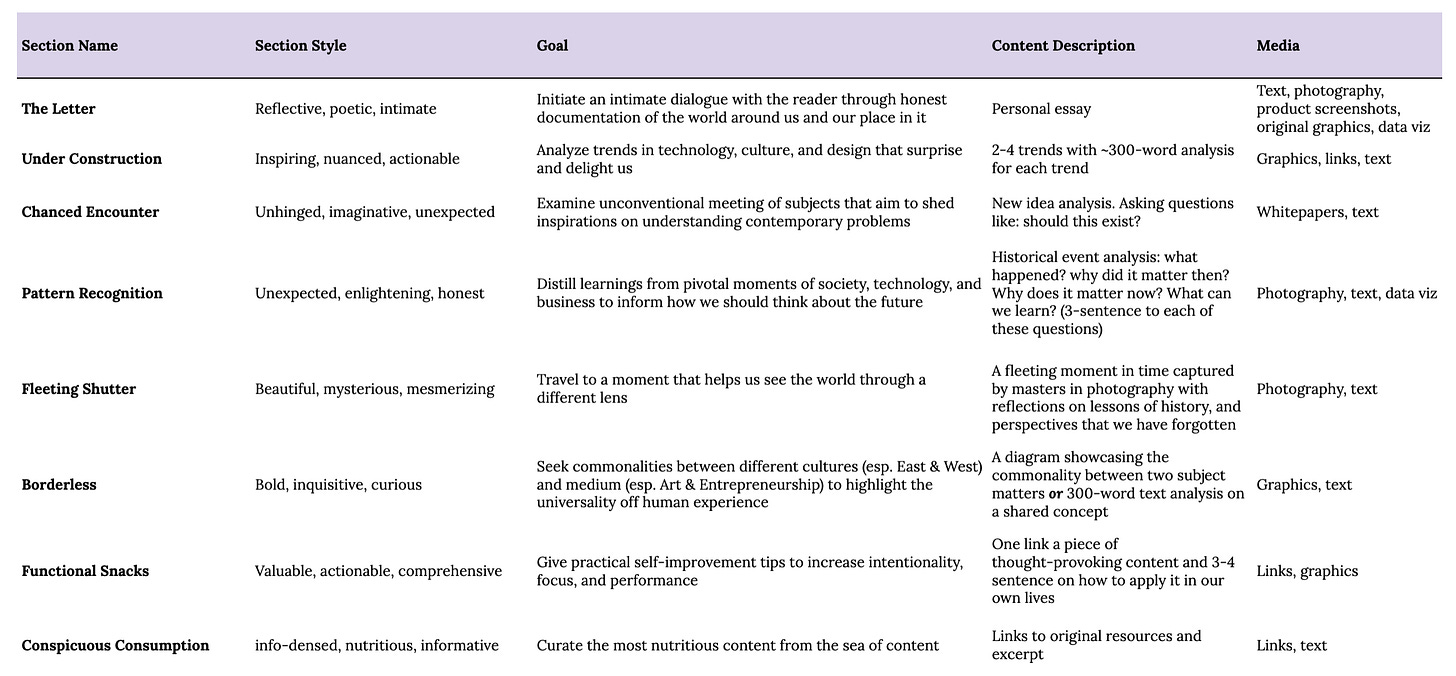 I'm currently working on this on nights and weekends, so appreciate your patience in advance. Until then, why don't you bring a friend who you think would also enjoy this ride?
---
Thank you, NEA.
I can't think of a better place to have started my career in VC than NEA, where I've met some of the smartest and most thoughtful people I've had the privilege of interacting with. They've taught me how to ask the right questions, read a room, and rapidly learn in an industry in which I have no expertise. Most importantly, they've taught me to be helpful to founders from day one. Many claim to be value-add investors, but it takes a lot to actually walk the talk.
---
Thank you, beautiful people.
Andy Weissman, Dillon Chen, Mario Gabriele, Reggie James, Bo Ren who gave their honest and valuable perspectives. Thank you, my talented friend Avidan Grossman for the edits. Thank you, the kind souls I've encountered on this journey who have taught me how to be 1% better every day.