In the wake of the events of the past few weeks, the special issue is dedicated to listening. Voices from different corners, voices of hope, voices of rebirth.
---
01 / something has tried to kill me and has failed
In an interview for the Antioch Review, poet Lucille Clifton reflected that she continues to write, because "writing is a way of continuing to hope ... perhaps for me, it is a way of remembering I am not alone." How would Clifton like to be remembered? "I would like to be seen as a woman whose roots go back to Africa, who tried to honor being human. My inclination is to try to help."
Poet Elizabeth Alexander once praised Clifton's ability to write "physically small poems with enormous and profound inner worlds."
The dry clay of the earth and the bright starshine of the sky represent two extremes. Clay is on the ground and indicative of something indigenous and original, starshine gleams and twinkles a brighter future that hasn't yet arrived.
From left to right: June Jordan, Alice Walker, Lucille Clifton and Audre Lorde sing together at the Phillis Wheatley Poetry Festival in 1973. (Source)
---
02 / "what new is there to be said?"
Philistines, 1982, Basquiat deliberately priced and sold this piece cheaply for just $570 as a protest against the exploitation of his work
A respected leader in the global human rights movements, Lucas Johnson shared his perspective in an interview:
When first Ahmaud Arbery was killed, and then George Floyd — there are these calls for people to say something. And there's this impulse to say something. And yet, at the same time, I kept feeling like, what new is there to be said? It's all been said before, and by people more eloquent than I, and people with more capacity than I have, to speak.

I think that's a part of the grief, the idea that it needs to be said that black lives matter. It's an annoying thing to have to say, because for me, if I'm going to reflect on black life in the relationship to the United States and the history of our country and the building of our country and the functioning of our country, we much more than matter. [laughs] We are essential. We are critical. We don't just matter. We don't just make a difference. And so there's a way in which this violence, this consistent dehumanization is so self-destructive for the country as a whole. The fact that we have lived with such self-destruction is insane. So the impulse to seek silence is one that also resonates with me. There's a way in which I relate to the rage and the frustration and the anger and, also, just to the feeling of what is necessary? What will it take?
He frames the uncomfortable yet elusive gut feeling of "this ain't right" as a generational trauma, and by doing so provides a diagnosis:
If my mom is born, as a black woman, into a society that predicates her body as deviant, the amount of cortisol that is in her nervous system when I'm being born is teaching my nervous system something.

Trauma decontextualized in a person looks like personality. Trauma decontextualized in a family looks like family traits. Trauma in a people looks like culture.
He suggests a place for individuals, like you and me to start. Shut up, and ask the questions that matter, to condition our bodily discomfort as a path to understand our current limitation in having difficult conversations:
One of the first things that happens is that white people will invariably come up to me and start rolling out their racial resume: "Well, you know, I marched with such-and-such. And you know, I did this, and you know, I did that." How would I know that? How does that matter to people of color in your community? Show me how, operationally, not because you're rolling out your racial resume. And so that's where the shutting up comes into play. Just stop. And notice what's fueling that need to roll out that resume. Where does it land? Where is it coming from? Just work with that, first.
---
03 / turning point for real change
How to make this moment the turning point for real change?
In his Medium piece, Obama offered the necessary voice of hope and reason that is in short supply. We all need something to grasp onto:
If going forward, we can channel our justifiable anger into peaceful, sustained, and effective action, then this moment can be a real turning point in our nation's long journey to live up to our highest ideals.
The three adjectives are profound reminders of our priorities moving forward —
Peaceful: as opposed to violent
Sustained: as opposed to rapid boom-and-bust
Effective: as opposed to wasteful
When we create. When we build. When we work with others.
---
03 / intentional distortion
San Francisco Design Week (SFDW), one of the world's most influential annual design festivals, launches the theme for the 2020 event: 'Intentional Distortions.'
This year's concept challenges the design community to address familiarity, bias, and what we know of reality.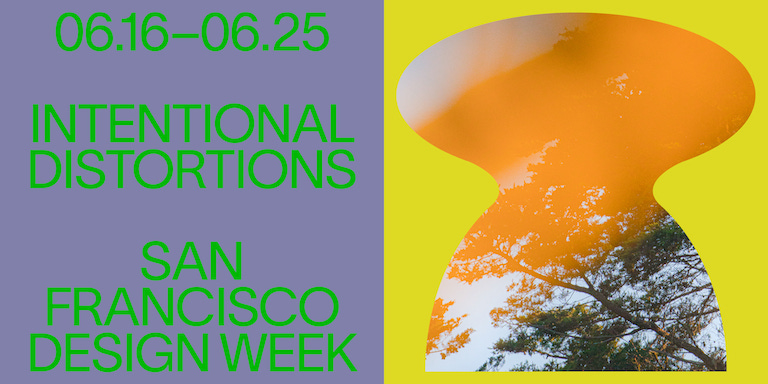 ---
04 / what is assumed of us
Reggie James provides a clinical dissection of the problem we are facing in the field of technology and business in his piece "The Myth Of Blackness In Venture".
What do Black people in technology feel enabled to work on?

There seems to me to be this overriding belief that the most value a Black person can bring to the technology community is to turn their energy towards "Black things".

This is to say that if you are not directly working towards diversity initiatives, funding other Black people, building directly for Black people — you are not the voice to be elevated. We see this displayed every time there is a question of "who should speak on this issue?" So often we turn, not to the practitioners of the subject that are Black. But to Black individuals simply saying Black individuals need to speak on this…

This is incredibly problematic. And here is the myth we've been building towards:

There is a belief — whether intentional or unconsciously held — that (beyond tokenism) the best that Black people can bring to technology, is to point out the bias that Black people face in technology.

There is a need to paint an ideal image of a Black person within firms. Often times it being someone who's primary contribution is being vocal about diversity.

But change comes when Black people that are doing the work to build and craft views on technology/design — are being held equal in thought by our white peers.

Contributing to the course of capital and emergent technologies that shape our society. For white peers to not do so — is to continually uphold the belief that their Black peers are less than. That their main priority should be towards their own. And that they have nothing to gain from an equal that is of a different skin tone than themselves.

This is what they must admit. And in admitting this belief, at least it would be honest. Otherwise they are performing the same song and dance to shy away from — in a way, competition from a larger pool of practitioners.
---
05 / sound of crumbling concrete
In the US, concrete represents state buildings. As the contemporary US embraces neoliberal politics that puts the burdens of life upon individuals, evidence of government support becomes unsightly. Demolishing concrete feels cathartic because eliminating concrete as a remnant of 20th-century experiments in social government creates literal space to erect buildings that reflect new values.
---
06 / tradeoff between safety and killings
A 2019 paper by Federico Masera debunks the alleged tradeoff between police safety and civilian deaths: "Each year police militarization results in 64 additional killings by the police, 12,400 police officers assaults and 2,600 police officers injuries.
Jamein Cunningham and Rob Gillezeau analyze the effects of over 700 uprisings that occurred in the 1960s and early 1970s. The results clearly show that historical protest resulted in an increase in civilian deaths by legal intervention regardless of race in the short-run and a seemingly permanent increase in killings of non-white over the medium-to-long run. These results paint a depressing picture in which uprisings represent a structural change in police-civilian relations, adversely affecting white civilians in the short-run and non-white civilians in the short and long-run.
---
07 / shutters as weaponary
A protester and a police officer hold hands in the middle of a standoff during a solidarity rally calling for justice over the death of George Floyd. | Photograph: Wong Maye-E/AP
Wesley Morris writes in The New York Times:
The most urgent filmmaking anybody's doing in this country right now is by black people with camera phones.
When we speak of "shooting" with a camera, we are acknowledging the kinship of photography and violence. Photographic reportage has the power to quicken the conscience and motivate political commitments.
In looking at these images — images of war, of starvation, of capsized boats and exhausted caravans — we must go beyond the usual frames of pity and abjection. Every picture of suffering should elicit a question stronger than "Why is this happening?" The question should be "Why have I allowed this to happen?"
Here's a portal to black journalist release fund and a piece on "Why We Need More Visual Journalists and Editors of Color" by Tara Pixley.
The lens through which you tell the story matters as much as the story itself.
Bachman's photo of anti-police brutality protester Ieshia Evans being arrested by Baton Rouge police in 2016 was a finalist for the 2017 Pulitzer in Breaking News | Photography: Jonathan Bachman
---
08 / missing voices
Snap CEO Evan Spiegel boldly called for a commission to address racism and higher taxes on the wealthy to support the underserved. Tim Cook promised Apple would do more to fight racism and support the Black community. Even former Defense Secretary James Mattis wrote a memo condemning President Trump as a threat to the Constitution.
Jessica Lessin, the editor of technology publication The Information, wrote in this week's newsletter what's missing in the current discourse among technology executives and leaders:
These, and many others, were inspiring to read, each well-articulated and powerful. Yet as I read memo after memo, I found myself craving, not another memo, but rather a coordinated conversation.

The outpouring of well-crafted and vetted statements illustrates a major problem with public discourse: Everyone wants to say something. But few want to be challenged on their positions or evolve their views for the sake of finding common ground with others. And I fear this one-sided style of discourse will get in the way of us making any progress fighting racism and other forms of injustice

[…]

Yet statements can only go so far. I'd love to know what leaders like Cook think about Spiegel's commission idea or to see what might emerge from a discussion between leaders about how to grow the diversity of their teams. Yes, these discussions sometimes happen privately. But a public conversation, through the press or other avenue, could be tremendously valuable for rallying people around ideas and creating change.

[…]

But unless we start having public conversations, not just making proclamations, we'll be a nation of memo writers who fail to reach any consensus on what action to take.

And change—which requires agreed-upon action—will remain tragically elusive.
---
09 / listening while acting
More voices
More actions
---
I had this speech printed on the wall as a college freshman. I haven't revisited this for a while, but now it's the time.
Let's get to work.