[FKPXLS] VOL.52 / A train rushing through a lightning storm
There was no one on the late-night train, and I realized I wanted to be more than a passenger.
---
Hey, happy Sunday. I am sitting in my apartment in New York City, listening to Are You Even Real by James Blake that is playing sometime in your past, which is also my present, writing this.
What we share is Fakepixels, a space for honest inquiry and bold ideas. Here, we are not afraid to ask bold questions and find invisible forces that challenge the status quo.
Life Cycle (2018) | Ai Wei Wei
The thunderstorm on Wednesday knocked out the lights of the Long Island family. The darkness didn't silence our conversation. Moonlight shone through the ceiling window.
The founder of Southern and The Beijing News, two of the best-selling publications created since the founding of China in 1949, YZ looks young for his age and for what he has accomplished. His gaze is sharp and vibrant. When he looks at you, he's simultaneously engaged with you and all your externalities. He is five feet five and he commands attention, even though the passion that once defined him has softened.
The last time I saw him, I was 18, so was his son. We were the only children of our families, born in the same month and in the same hospital. My father and YZ went to the same high school in a fifth tier small town whose name no one cares to remember. They bonded over their admiration for Haizi (Son of the Ocean), a poet, who grew up in the same town and took his life in the capital Beijing at the age of 25 when his avantgarde prose could no longer live symbiotically with the system.
We're alive to carry his spirit forward! To Haizi!
YZ and my dad raised their glasses. They were drunk. The room was filled with their memories and smoke from the cigarettes. I felt like an outsider peeking in to get a full picture through a smoggy pane.
Six years later, in my NYC apartment contemplating the future, I came to realize that the murky fragments of YZ's past no longer suffice. I wanted to know why he left the media empire he built, why he was detained by the government, why afterward he took on executive roles at giant media companies that had too much money pouring in and too little substance coming out, why he decided to leave all of that behind four years ago to come to America and to learn English in a community college.
His wife lit up some candles for us. So we don't have to talk in the dark. She looked at her husband, as he replayed the old days.
One thing I've learned making those papers is that every time we lowered the barrier, the distribution decupled. We started Southern Metropolis Daily with a single premise: anyone who could read Chinese could enjoy the news.

All the papers back then were created for the elites, and I didn't want to play catch-up in that race, so I created my own game. We were the best newspaper in China not because fancy people were reading it, but because everyone was reading it.
The newspaper, founded in 1997, was the first of its kind to introduce multimedia format — from images to comics to quizzes — to traditional reporting. The tone and language were sincere, honest, engaging, and digestible.
When the first pandemic of the 21st century, SARS, haunted millions of households, the reporters of Southern Metropolis were on the frontline, until the police stormed the offices and detained all the leaders, including YZ, in the name of 'aggressive reporting'. The paper was the first media outlet to report on the fresh outbreak of SARS, and the investigation prompted authorities to confirm the case.
Two other publications of YZ's Southern Daily Press Group, the weekly magazine Southern Weekend and the daily 21st Century World Herald, were also widely read for their probing reports on the growing wealth gap, environmental problems, police brutality, and high-level financial crimes. Both were severely censored for running articles that crossed political boundaries. The 21st Century World Herald was later shut down, and YZ was later awarded the Cano World Press Freedom Prize by UNESCO.
There were many people who were trying to copy what we built at Southern Metropolis. But they were a lot less pugnacious. I thought this space was getting crowded, so I then went to Beijing to create The Beijing News. By that time I learned that people pay special attention to where power is, and Beijing is the power center of China. I decided to bring the bottoms-up reporting style to shake up the power center of Beijing.
In 2011, 7 years after its founding, the newspaper defied the ban on reporting Wenzhou train collision, the high-speed train crash that killed at least 38 people and injured 190+ people. Pages of special reporting were scrapped, and shortly after, YZ, along with the editor-in-chief resigned from the newspaper.
China today is a train rushing through a lightning storm … we are all passengers.
Photography | Getty Image
The uncanny parallelism between the past and the present propelled me to ask his opinion on the current state of the world, his gaze became more determined, the candlelight flickered in his eyes.
The two countries, China and the US, never truly understand each other. The world pays attention to the US because it's the most powerful. But they never truly understand the US. People create constructs to complete the narratives that they want to hear. And for China… besides the US elites, who think about China, a third-world country? At least not until recently.

What matters for all of us is to talk about universal human values, the values that embody the better angels of our nature. Liberty, freedom, equality. These are the universal human values that we shall protect. Humans are terrible at paying attention to what matters, and we spend all day fighting the wrong enemy.
He caught his heightened tone and took a long pause. He asked me if I wanted more wine. I said maybe one last glass.
By the end of the day, most people want to live a simple life. What matters is that you are with the people you love and having fun.
I didn't want the night to end, but I knew I had to catch the train back to Manhattan before it got too dark. The storm cleared the sky. The train arrived on time. I saw him standing on the other side watching the train carrying me into the faint lights of the cityscape. There was no one on the late-night train, and I realized I wanted to be more than a passenger.
What if language isn't a barrier?
I still remember when I first came to the U.S., it would take me 5x amount of time to finish an essay compared to my American friends. Having to craft a strong argument while making sure that I'm not messing up my tenses. Some of the most talented engineering and design friends I know who aren't native speakers struggle to cross the communication chasm to fully articulate their vision.
Seeing a tool like Fluently pulled at my heartstrings. Both founders, Milber (Mexican) and Sander (Dutch) worked in international teams and live in multilingual families, and they're solving a pain point that they've experienced first-hand. Soon they will also release a collaboration feature where people can work on the same document at the same time, each using their language.
Kudo, a software that interprets web meetings in real-time, tries to bridge the same gap through video.
These applications come at a perfect time when teams are becoming distributed, and communication becomes more important than ever. In the long term, however, I tend to agree with Aashay's post "The internationalization Stack", that the internationalization services — from translation to UX accessibility — should be "baked into web architecture, not sitting external to applications and driven by humans".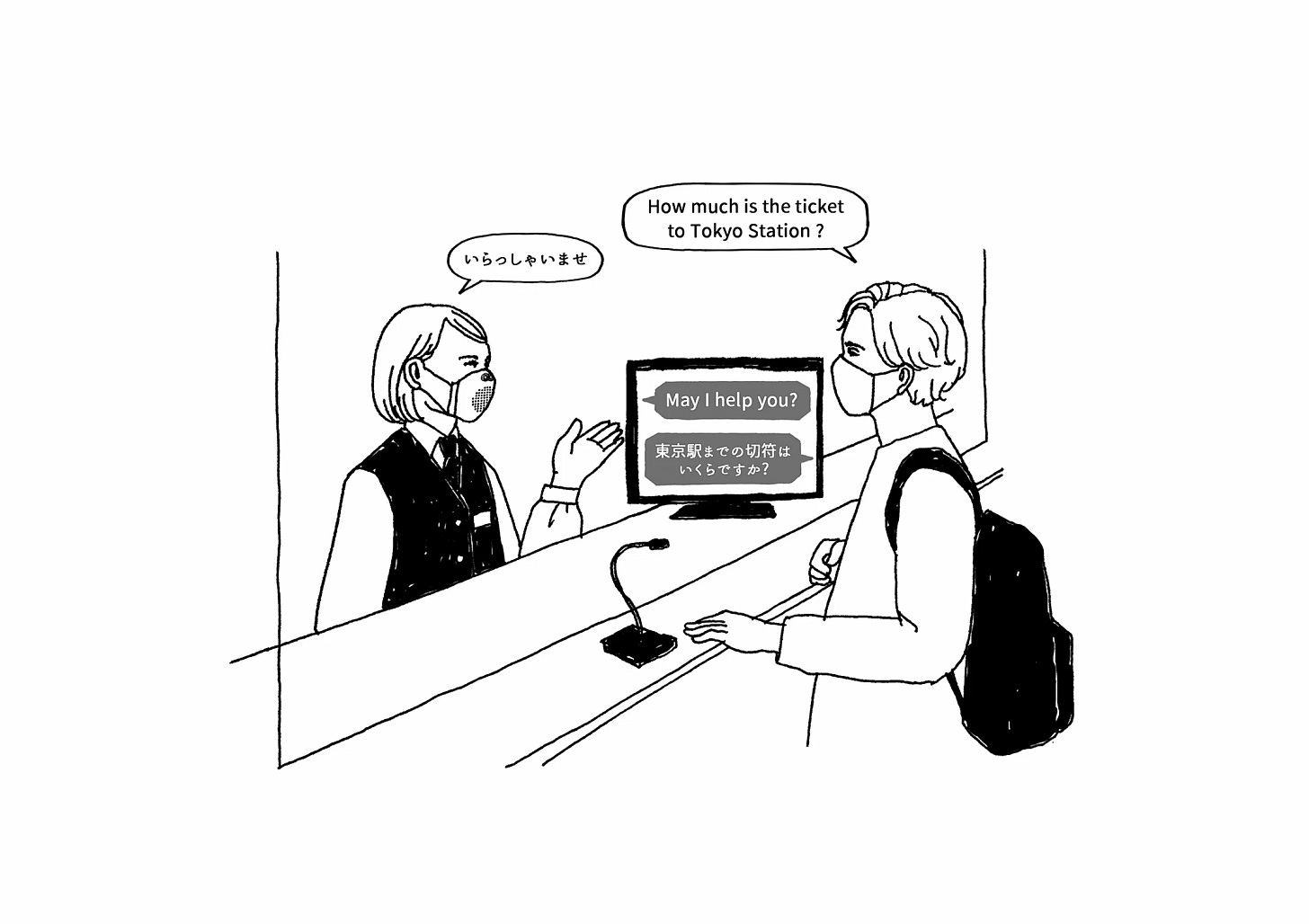 Japanese start-up Donut Robotics is making face masks that translate Japanese into eight other languages. The "c-mask" connects to an app on your phone or tablet "that can transcribe speech into text messages, make calls, or amplify the mask wearer's voice." At around $40 each, these masks will be relatively accessible and should begin shipping in Japan this September.
---
Youtube. TheirTube. MyTube.
The TheirTube project, developed by creative designer Tomo Kihara, allows people to "step inside someone else's YouTube bubble" by showing them videos recommended by YouTube's algorithm.
The tool helps visualize what the same platform looks like to people representing drastically different views. Conservatives, liberals, fruitarians, climate change deniers, 'prepper' survivalists. Kihara said in an interview:
Nowadays with an AI curating almost all of what we see, the only way for a person to get a better perspective on their own media environment is to see what others' bubbles look like.
Viewing TheirTube through the 'Conspiracist' persona recommends videos about unsolved mysteries and unexplained natural phenomena.
What makes us so vulnerable to conspiracy theories? Writer Jon Glover dissects the psychology of conspiracy theories in his piece This is Not a Game:
The appeal of conspiracy theories is manifold: a rebuke of institutional corruption and incompetence, answers to life's ambiguities, high stakes drama, the self-esteem boost of supposedly "seeing behind the curtain.
Kihara says in an interview he will create an upcoming open-source component of TheirTube where users can then create their own personas based on their personal watch history. He's also accepting suggestions for additional personality types to add to TheirTube for public view.
What would yours be? Mine is probably "believer in 10-minute workout videos can give me 6-pack."
---
I love the way you write.
Hyper aware of my own literary bias, I romanticize an eventual comeback of text as the vessel of one's identity and its desire.
Lex was founded by Kell Rakowski, who rose to some prominence with an Instagram account that curated cool lesbian content from the 80s to 90s, including Personals Ads found in the backs of lesbian erotica magazines. Lex App was thus inspired and wanted to recreate the serendipity of the experience browsing a magazine.
Users can set up their own profile and post personals, as well as browse the feed of other personals and like the ones that pique their interest. Unlike traditional dating apps, there is no mutuality required to start a private conversation. Tweet skills are transferable.
Lex is only one of the many examples of burgeoning verticalized networks that are trusted by a niche traditionally overlooked. When they go wide, we go deep. Whether this format would work at scale is still in question, but building a brand trusted by the niche enables the opportunity to become a lead-gen for products and services that meet the niche's specific needs but may not come together through mass-market categorization.
26-year-old non-binary New Yorker, Oliver explains why she particularly enjoys the platform:
The simplicity and the fact that all information is entirely generated by the user is the coolest; there aren't any boxes to check about who you are. You can describe yourself any way you want, and that makes such a difference for those of us who don't really fit neatly into common categories.
China's "Democracy Wall," a bus depot in Beijing where a growing number of handwritten "big character" posters that criticized the government and aired personal grievances appeared on its walls. 1979 | Liu Heung Shing
Born in Hong Kong, photographer Liu Heung Shing moved with his mother to join older siblings in Fuzhou, where the government had seized and subdivided his family's land, redistributing sections of it to other residents.
When he returned to photograph mainland China after apprenticing in New York, Liu was seen as an ethnically Chinese outsider and was even exhorted to recite Mao verses before receiving a haircut. He was blessed to be an alien to his heritage and could afford to be largely invisible to power, yet superbly attuned to the expressions of dignity from people battered by political chaos. He wrote in the epilogue to his book:
Photographing China, and later Russia, was always about finding a means to convey the profound depths to which politics shaped ordinary lives, every life, no matter how much freedom was sought.
Doctor pointing to the eyes of a patient who had plastic surgery to get double eyelids, a feature more common in Western cultures. Beijing,1980 | Liu Heung Shing
His images are not overtly political, but boldly intimate. He said in an interview:
Never forget that people still live; daily life still goes on. It's those details that tell you, under that period, this is what happened.
Before quitting his job in finance, young Jeff Bezos went on a walk with his boss, who told him that starting an online business selling book was a good idea, but it would be a better idea if he didn't already have a good job.
He shared a set of questions he asked himself when he decided to make that leap with a group of Princeton graduates:
Tomorrow, in a very real sense, your life — the life you author from scratch on your own — begins.

How will you use your gifts? What choices will you make?

Will inertia be your guide, or will you follow your passions?

Will you follow dogma, or will you be original?

Will you choose a life of ease, or a life of service and adventure?

Will you wilt under criticism, or will you follow your convictions?

Will you bluff it out when you're wrong, or will you apologize?

Will you guard your heart against rejection, or will you act when you fall in love?

Will you play it safe, or will you be a little bit swashbuckling?

When it's tough, will you give up, or will you be relentless?

Will you be a cynic, or will you be a builder?

Will you be clever at the expense of others, or will you be kind?
The unexpected events of the world catalyze an exhilarating and gruesome inquiry into what our souls truly desire. When you are young, it's easy to have a definite set of answers to those questions, until the winding paths become murkier, and the resistance comes not only from everywhere but from yourself.
I don't know how Bezos' answers to his own questions evolve over the years, how well his actions align with those answers. Maybe he's trying his best. We're all trying our best. I decided to write mine down for today, I hope you do too.
When you are 80 years old, and in a quiet moment of reflection narrating for only yourself the most personal version of your life story, the telling that will be most compact and meaningful will be the series of choices you have made.

In the end, we are our choices.
That's how Bezos ended the speech.
---
Fakepixels is a space for courageous thoughts. We respect ideas, even dangerous ones. We believe in the power of deep thinking, nuanced dialogue, and creative courage.
We are a community of curious thinkers and impact-driven builders who believe the future will come fast, and we can make it better. If you are interested in contributing or being a part of it, I would love to have you join the club.