[FKPXLS] VOL.55 / Fly high, and don't get killed
It was too late. The fallen warrior got carried away from the battlefield, and he was left alone fighting.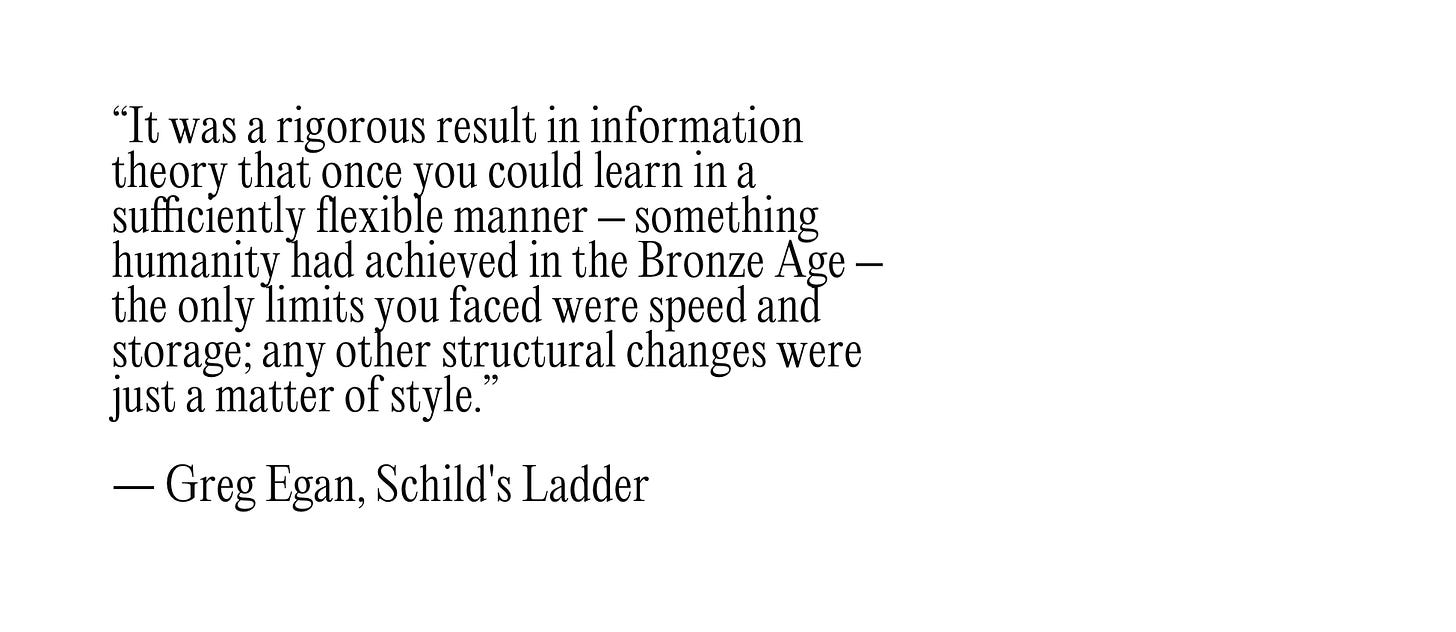 ---
I'm in my NYC studio apartment, listening to Dreamland by Glass Animals that is playing sometime in your past, which is also my present, writing this.
I miss simple pleasures, like working at a cafe, with the familiar scenario outside of the window and the unknowns that shuffle in the background.
What we share is Fakepixels, a space for honest inquiry, bold ideas, and creative optimism. Here, we are not afraid to uncover the invisible forces that reframe the realities we once knew.

This letter is dedicated to my cousin G.
---
I got my first PlayStation Portable in the summer of 2008. It was the year of the Beijing Olympics. The teachers told us every day that we were in a historical moment. As 12-year-olds, we weren't sure which parts of our lives were considered historical and which parts not, but for us, the historical moment was our graduation from elementary school. The migration from one jail to another. Kids in metropolitan China had our shared sense of humor.  
China won the bid to host the Olympics for the very first time. As if overcompensating for the world's oblivion of what was once the Middle Kingdom, China wanted to be remembered. People from all over the country worked additionally hard to support the flamboyance of Beijing. The theme song of the year "Beijing Welcomes You" featured a hundred top celebrities of Chinese origins. was on air 24/7 and remixed into tunes that fit well in French restaurants, night clubs frequented by internet DJs, and newly built shopping malls with Gucci, Hermes, Chanel, and Louis Vuitton, the Big Four of tastemaking.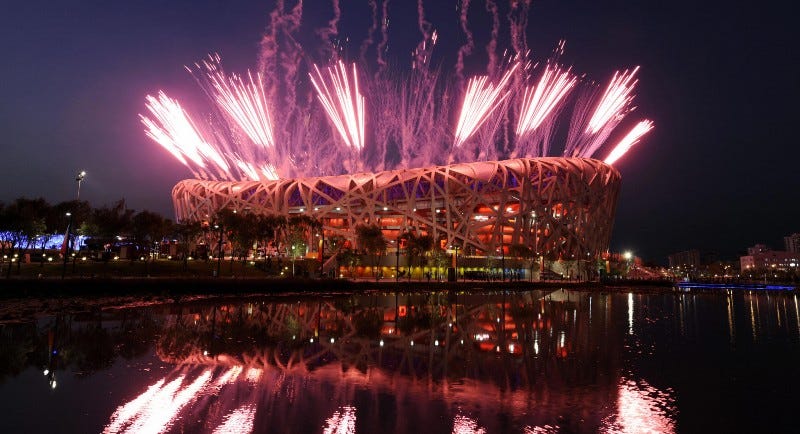 Photograph | The Beijinger
Early that year, I won a math competition in my province that my mom signed up without revealing the logistical details. Only later in life, I comprehended the economics behind such an arrangement. An award in the math competition would earn me a spot in the "important class" of the public school system, where additional educational resources would be allocated to focus on the "extra brilliant". The only way to earn such a spot is by winning province-wide competitions. Of course, every rule has exceptions, that is you could've also bought your way in. If I knew that I may have requested a bigger gift from my parents, but all that I wanted for summer was the permission to stay at my cousin G's house for the month of June and a PlayStation Portable. 
For months, I brought my pastel purple PSP everywhere like a trophy. I'd subtly take it out whenever I was searching for something in my bag. "What a sick color," G would give it the love it deserved. He's three years older than me, but the distance between us wasn't measured by years, but by capital, in the form of QQ coins and internet street cred. 
When MMORPG like World of Warcraft and EVE online was the international sensation, Tencent decided to be different, elevating the lesser-known, cult-favorite gameplays to the mainstream players. In the span of one night, I was traveling from the dance floor to the race tracks to the dungeon. I started meeting new friends and started using the QQ zone, a knock-off of MySpace, to blog about games, books, and social commentary. I knew I wasn't as talented in gaming, but my blog was growing well enough that I started to get rewarded by fans in QQ coins, a digital currency fungible within the Tencent ecosystem. As soon as I received my weekly allowance from my parents, I'd "re-invested" all of them into QQ coins that helped me buy new designs for my blog. G said he could've made those designs for me for free.
The early lessons of hacking were learned by being a loyal protégé of G. That summer, he was getting hired by some big shots in the local server to be a booster, a ghost player to boost up their ranking. His talent in gaming was compounded by his acumen of identifying the next big drop that would become darlings on a secondary market. From limited-edition sneakers to Yu-Gi-Oh! trading cards to all the game consoles Nintendo and PlayStation had ever released, his portfolio of collectibles doubled as Tencent Games — against the criticisms around being unoriginal — grew its market share from 6% in 2007 to roughly 13% in 2008. That number will become 49% a decade later.
My last night at his apartment was a 100-degree summer night, humid breeze through the window made the paper lamp shiver. He revealed to me his masterplan. He'd first make his reputation as a ghost player, and once he's accumulated his network he'd start training newbies in his servers and build a league of his own. With his reputation and connections in the online secondary market, he's going to arm his players with the best style and gear, broadcast his team in real-time, and these events would become a sensation that everyone in his server would want to be a part of.
"You will be successful because your parents are. I won't be, at least not in a way that you will be, because my parents aren't. You will always be in a better spot in this world, and that is okay, that is life. I will do things my way."
He was sipping a bottle of beer that he hid in his mini-fridge. He sounded calm, assured, and almost too measured for his age. I wanted to try the beer too, but he said you are still a kid, a good kid. I told him that my masterplan is to go to America, where anyone can do anything they want. Kids can drink beer too. He laughed. We stayed up all night. I remember I was lying on the floor, drenched in sweat, and believing that I was the happiest girl alive: to see a superman in front of my eyes and to be a part of a dream. 
His master plan was kept a secret, and I didn't see him until our next family gathering. Moms and dads sat at separate big, round tables. Men were talking about news and politics, and women about the kids and school, while all the kids were put in the corner. 
"Talk to her and ask her to teach you how to study okay?" One of the relatives gave me a quick smile and turned solemn the second after. She looked at G and whispered audibly: "Look at him playing video games. He won't have a good future. Don't be like him okay?"
The kid looked perplexed, who was observing us behind his mother's skirt because G wasn't the only one playing the video game. We were on our consoles, in the same game, fighting the same monster right next to each other. 
"You have it good huh?"
G, who just saved me from getting killed, gave me a wry smile. His left cheek slightly bruised. I knew that was from his dad, my uncle. 
"How are you doing?"
I wasn't sure how to ask, but I was worried. Besides asking if I wanted to game, he didn't speak at all this evening.
The high school entrance exam results came out a week before the family gathering. It was through a slip of the tongue that my mom later revealed that the beating started when his score didn't make the cut for one of these "important" public high schools. Even as a 12-year-old, the implication of that had been infused into my bloodstream. He just lost his chance to get into a top-tier university in Beijing, which ain't that welcoming after all. I never understood why the kind of intelligence he demonstrated through his various endeavors never translated to letters on his transcript. Moms at the table next to ours changed the topic abruptly when it came to the entrance exam as an attempt to be sensitive to my aunt, who always sighed loudly when she said: "he's a good kid, only if he could be focusing on school like his cousin."
"Watch out. You are going to get killed." He warned me as I got distracted by the adults' conversation. It was too late. The fallen warrior got carried away from the battlefield, and G was left alone fighting. I told him that when I go to America and become very successful, I'd help him expand his international market. I was trying to make him laugh. He said of course you'd be successful, and he started crying. I'd never ever seen my hero cry. 
"You are putting too much pressure on him," my mom noticed the crying boy told my aunt. She took my cousin and my aunt outside. I was told to stay where I was. The dads were smoking cigarettes and getting slurry over drinks, unaware of what was happening in the corner. My dad took me home when dinner ended. I didn't know where those three went. My mom returned home late that night.
G's parents decided to send him to a remote boarding school that focuses on vocational training in suburban China. They also believed that the Internet had enabled such tragic, and therefore cutting the Internet service in the house and selling all of G's computer and game consoles at the hardware shop downstairs would be a good place to start. When I heard about such treatment, it became clear that I was the only one in the family who knew about his masterplan. I somehow felt responsible.
The next time I saw G in person was when he sent me away to the US at the airport two years later. I told him that I'd beat him in games soon and I'll soon afford my own game consoles. He smiled softly and gave me a hug: fly high, and don't get killed.
Last month, G's first child was born. He sent me a picture over Wechat, alongside a picture of the baby me. 
"You guys look kinda similar 😁," he wrote.
I received the photo in the morning, which was his night. I was on a call with my parents in China asking how we were going to handle the looming Wechat ban. I didn't give them a good answer but instead started writing about the long summer night that felt not like an end, but a beginning.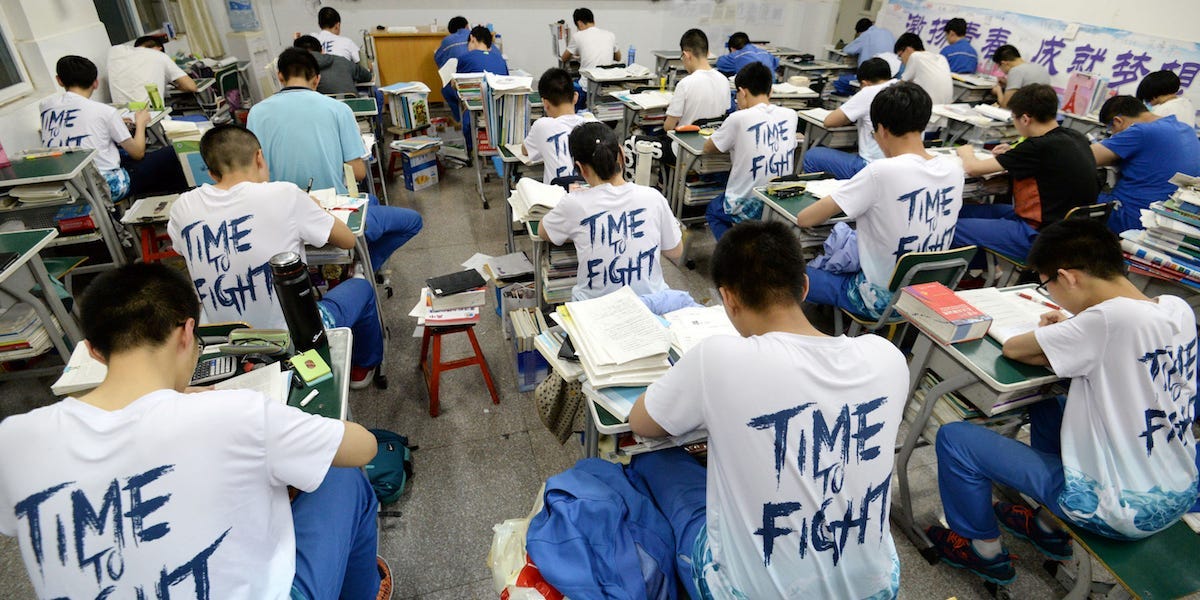 Students in Handan, eastern China, studying for the gaokao exam in May 2018. |
Reuters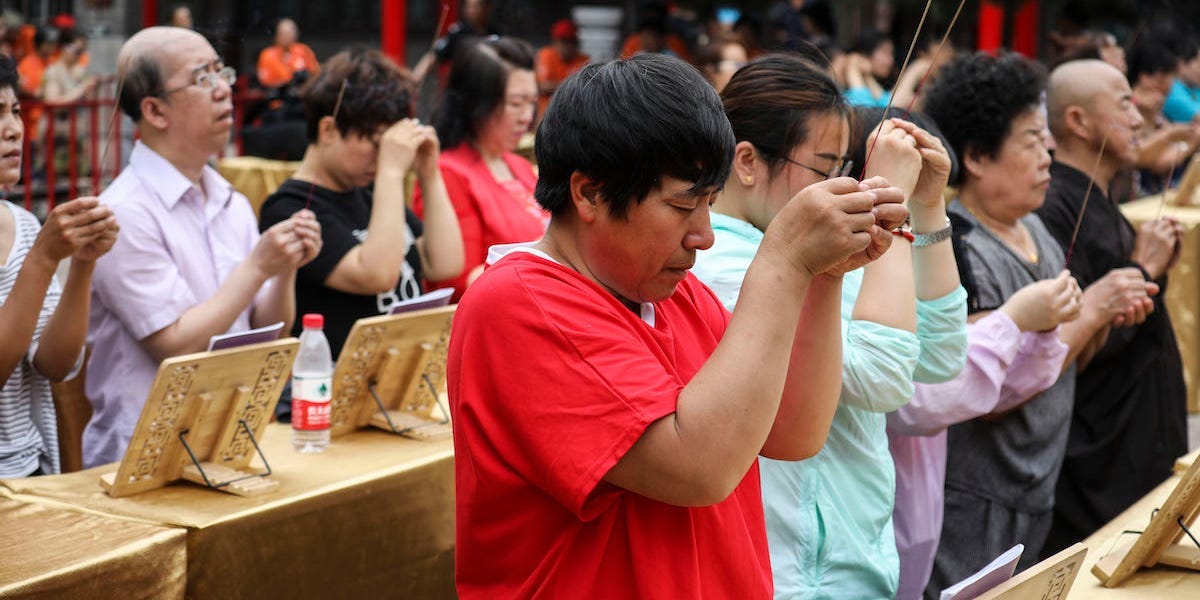 Parents pray for high marks for their children taking the gaokao in Shenyang, northeastern China in June 2018 |
VCG

The resurgence of an unactualized childhood dream.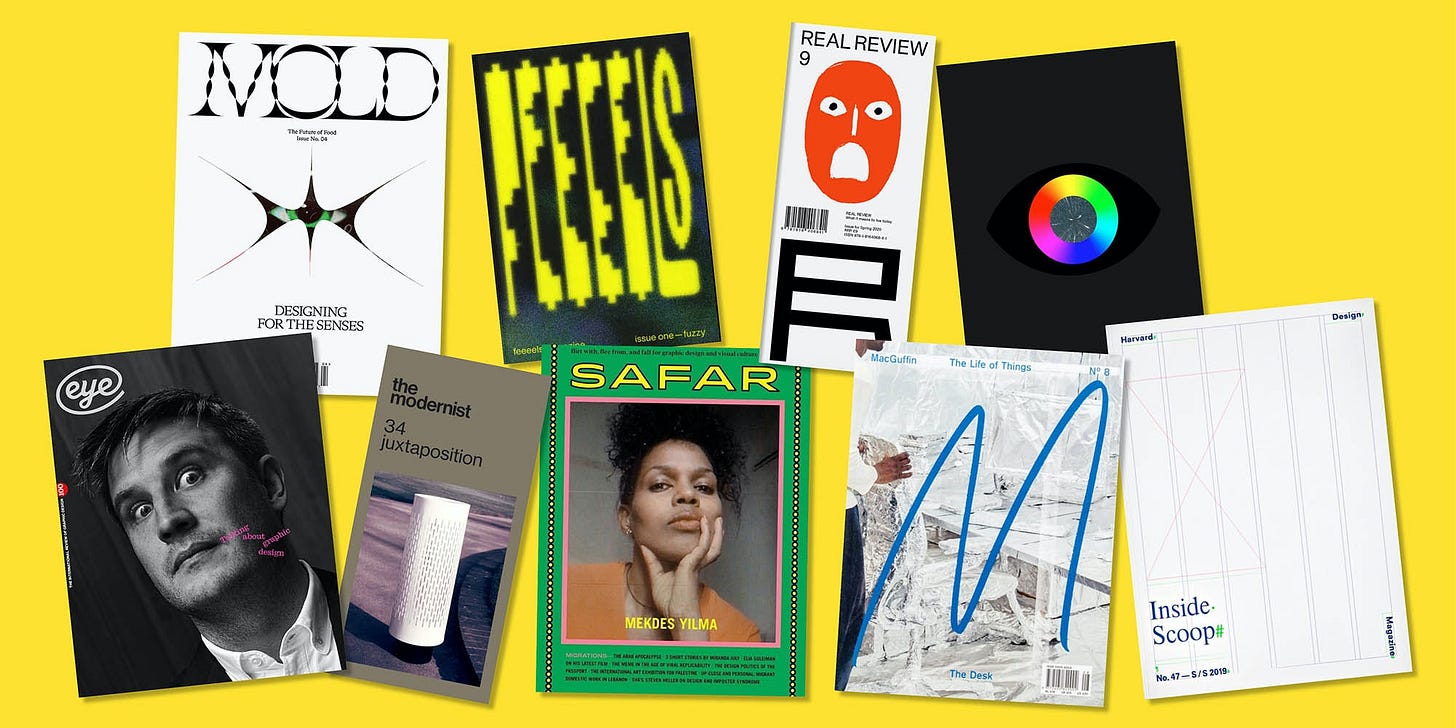 When I was a kid, one of my dreams was to have the money to own infinite magazines.
Unlike a movie or a book, where the subject's story is created to invite you into their world, you are the subject when traveling in a magazine, like wandering in the streets of New York without an itinerary. Something comes up and teaches you a lesson without the intention to do so.
This is all to say that I'm delighted to see a sign of a resurgence of digital publication, enabled by the lowering barrier of building powerful front-end. The last generation of blogs like Tumblr and WordPress showed how beautiful a website could look but still was limited in its ability to offer audience-driven interactivity.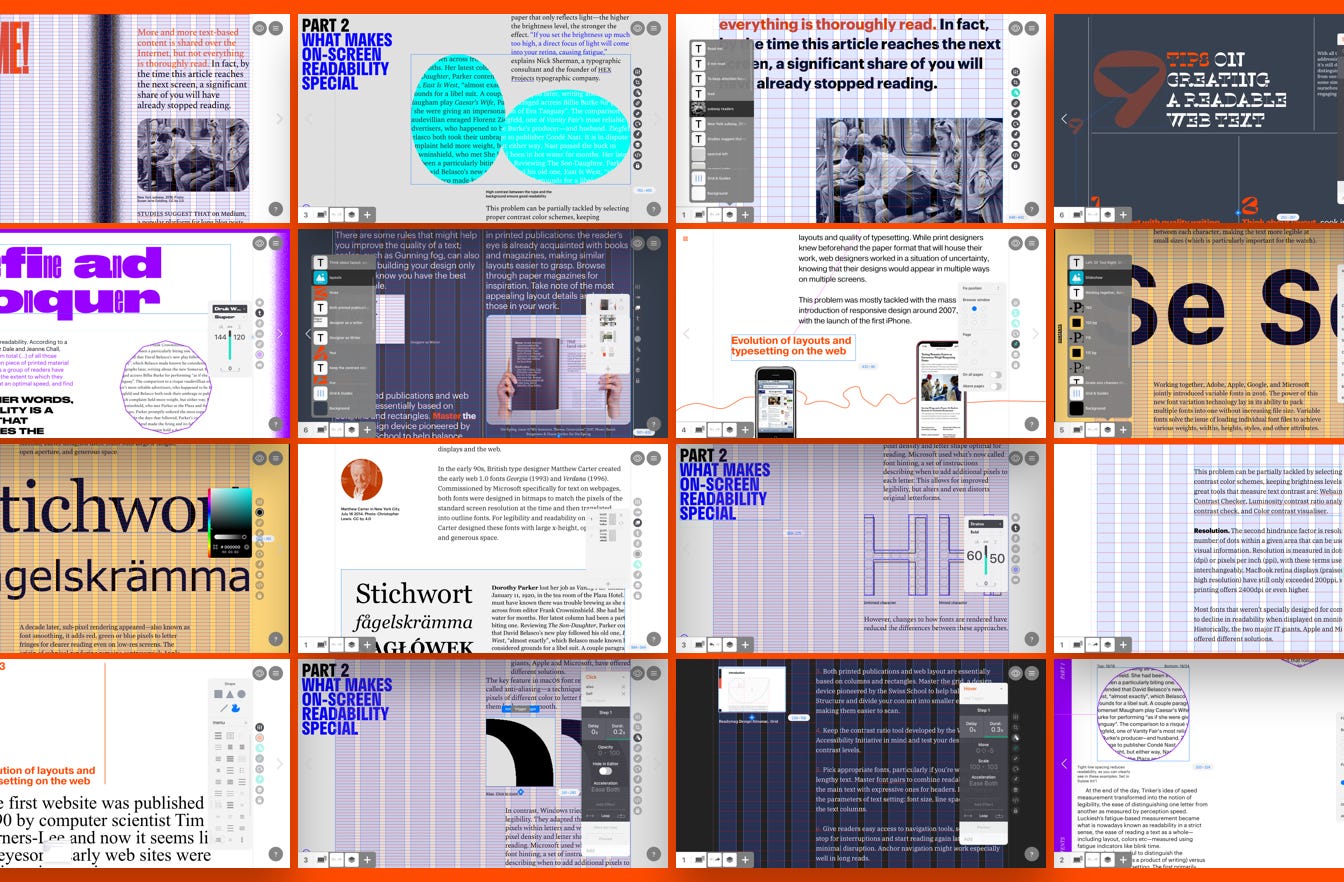 Companies like Cargo and ReadyMag provide a scalable, drag-and-drop, for the art of editorial design. Medium is also launching more expressive templates to supplement the pristine layout.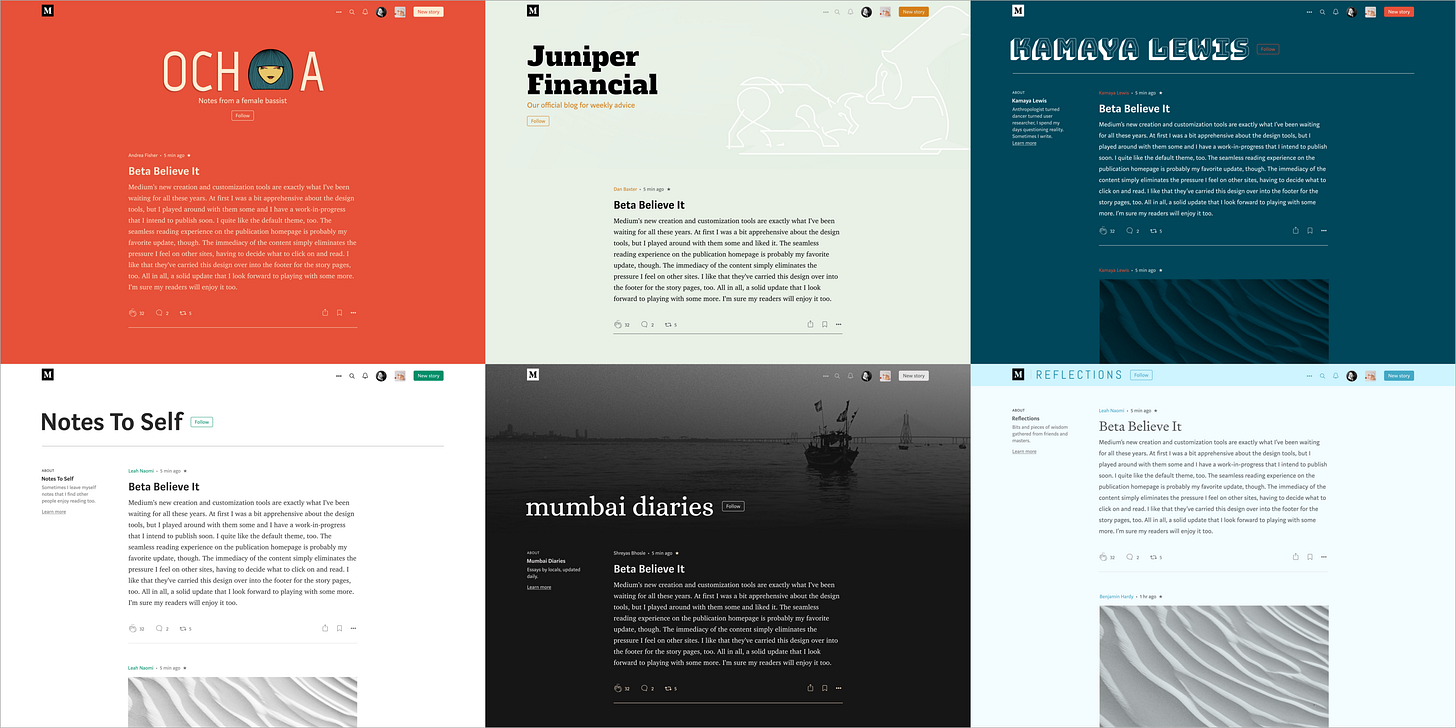 One of my recent favorites is a project called "By The Books", a summer reading program created by Mailchimp in partnership with the Decatur Book Festival. They asked their favorite writers—Roxane Gay, Alexander Chee, Shea Serrano—to invite a diverse group of authors to the festival. Then, they encouraged their employees—as well as everyone else in the world—to read, listen, and watch. The output is a beautiful digital publication that's interactive and feels intimate.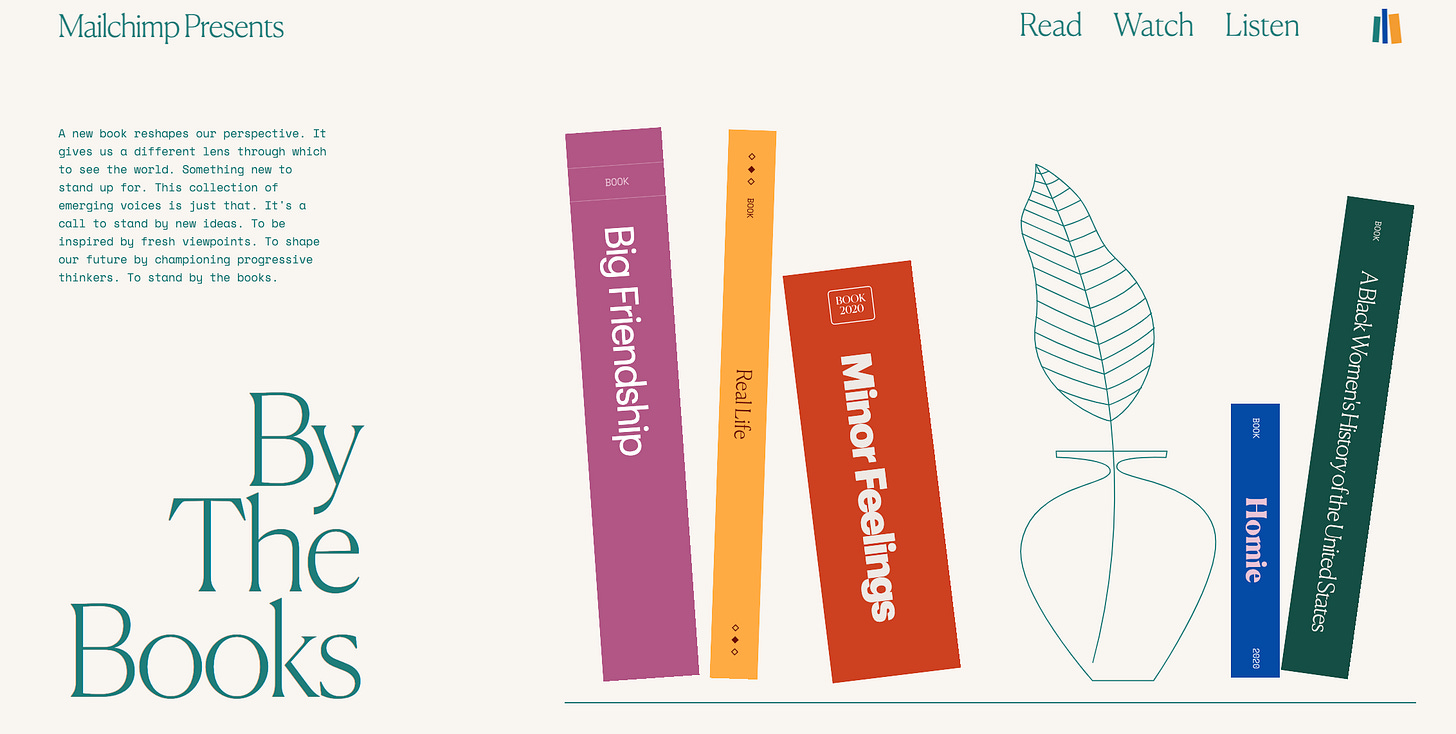 ---
"Let's meet at the mall."
I'm feeling nostalgic this week.
Malls contain some of my most vivid memories as a kid who grew up in a metropolitan city. Not the kind of American mall that Amazon is devouring and turning into fulfillment centers, but the labyrinth of fantasies and possibilities we often see in Asia, where friendships are formed over food, and romance solidified over the purchase of a Cities Edition watch.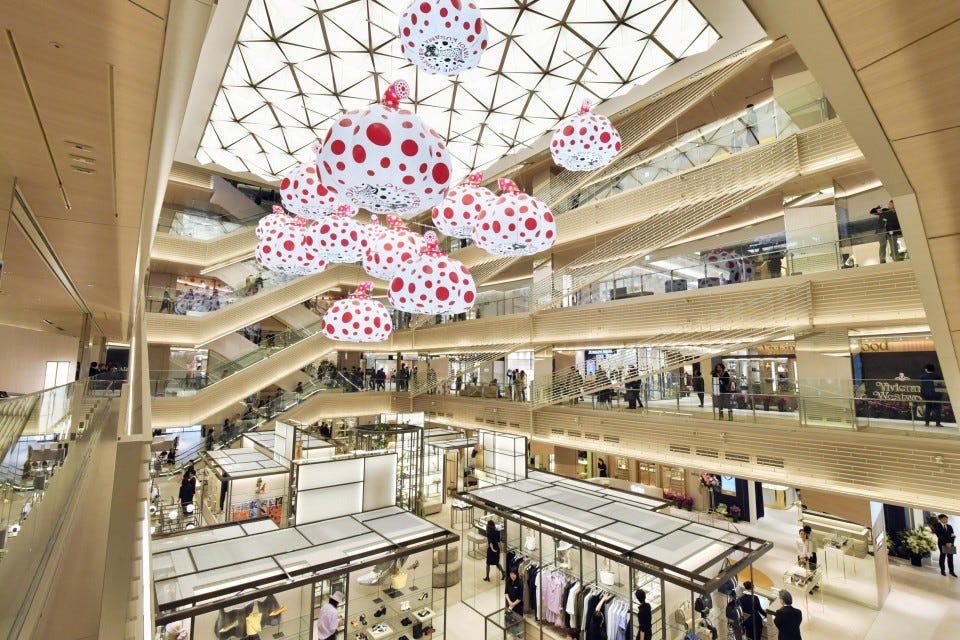 Ginza Six in Tokyo
Like a magazine, a modern mall enables a flâneur, a "stroller" or "saunterer." To Walter Benjamin, the flâneur's willingness to squander hours on 'useless' wandering was a protest against capitalism's destruction of earlier, less rationalized experiences of time and space. Ironically, it's the spirit of a flâneur that inspires how American brands evolve and adapt. A flâneur is "kind, conscious, free-spirited", and the brand invites them in, to slow them down.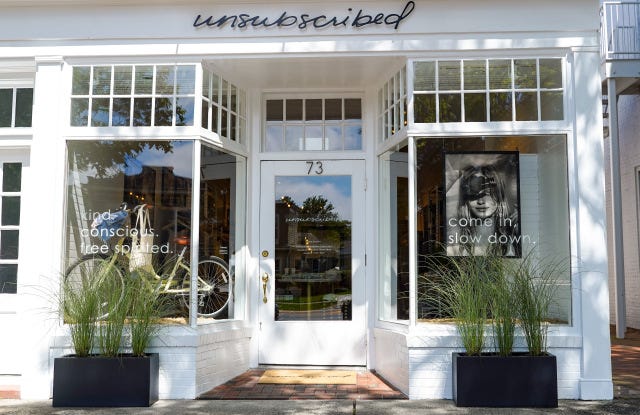 That's what American Eagle, an icon of the American malls, is trying to accomplish with Unsubscribed, a new slow retail concept that will be the opposite of fast fashion. Unsubscribed will be introduced with just one brick-and-mortar store — a permanent space in New York's East Hampton neighborhood. When the end is near, we walk the other way.
My partner at Pace, Jordan, wrote a piece about his musings on what would retail spaces look like post-pandemic. It's an invitation to think with us.
---
I know you are a star.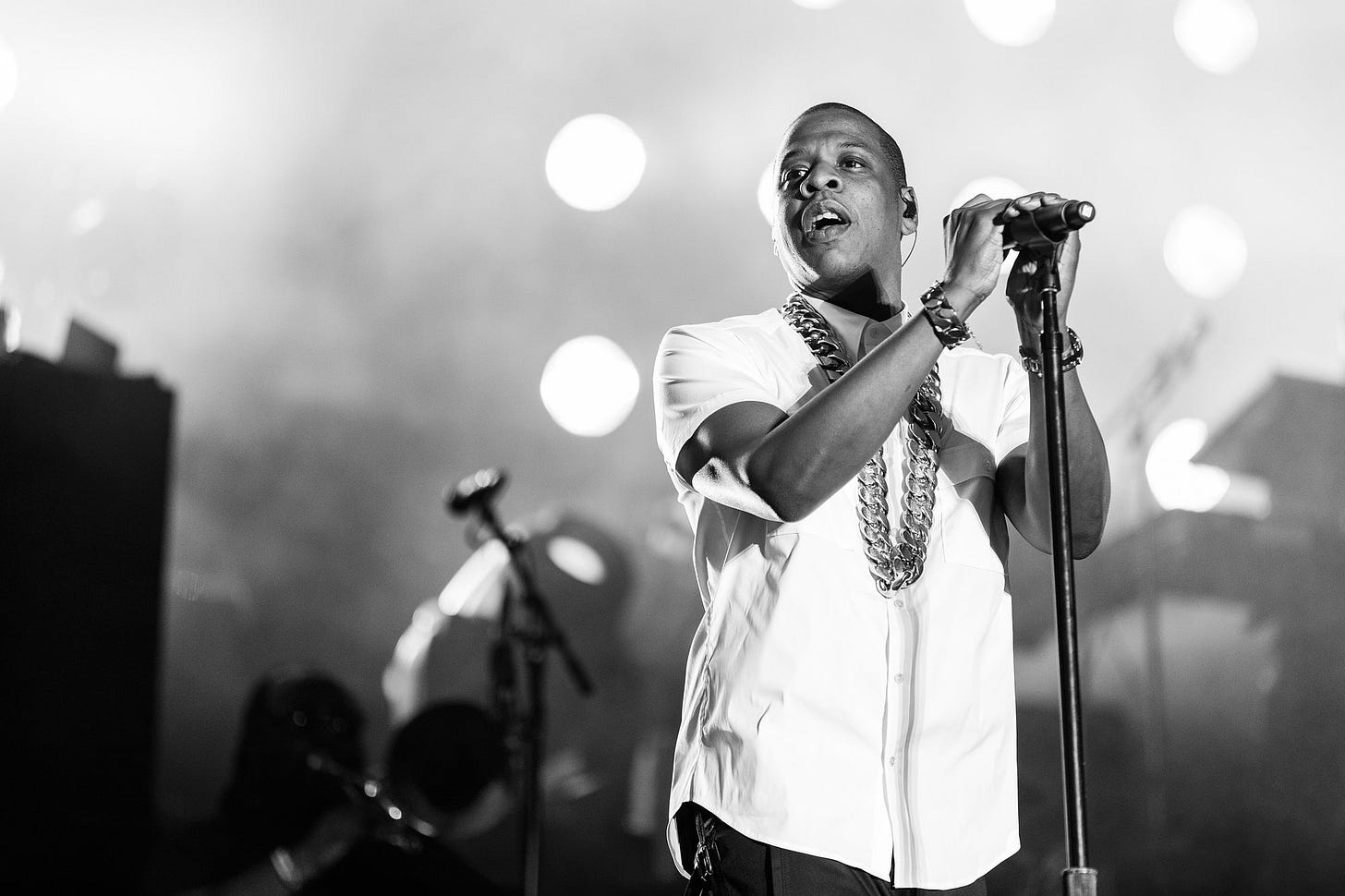 Jay-Z's is launching Roc Nation School of Music, Sports & Entertainment at Brooklyn's Long Island University, the latest endeavor to share the throne of his success. By supporting students as young as 10 years old, the Brooklyn-bred rapper is planting seeds for a magnet school that mixes hip-hop with entrepreneurship.
The school will offer undergraduate degrees in music technology, entrepreneurship and production, and sports management. Given Roc Nation's widespread relationships with musicians and sports leagues, students can have access to guest lecturers and internship opportunities.
Jay-Z isn't the first to dabble in education. Lebron James launched the I Promise School in 2018, and its students were among those identified by the school district as performing in the 10th to 25th percentile on their second-grade assessments. They were then admitted through a lottery. These were the children where you went and talked with their old teachers, and they said, 'This will never work." They are called the "Chosen Ones," an ode to the headline that donned Mr. James's first Sports Illustrated cover when he was a junior in high school.
The innovation in education has long been tiptoeing the fine line between being too vocational or too liberal, and the arguments have been almost always on the extremes. When knowledge is made abundant, applying knowledge to the right industry, with the right community, at the right time becomes the new secret. Schools that address a niche or targeted audience have the potential to weave together both vocational and liberal education by initiating conversations and applying knowledge in a way that wasn't traditionally in the canon.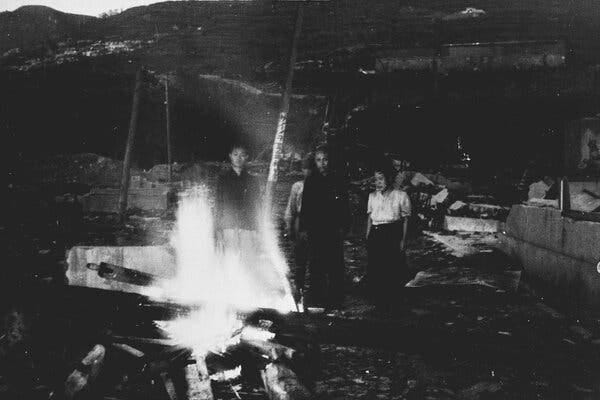 A family cremating its dead in Nagasaki in September 1945 | Eiichi Matsumoto
In August 1945, 75 years ago, photographer, Eiichi Matsumoto, met victims dotted with red spots at a Red Cross hospital near Hiroshima's ground zero. On the desolate, rubble-strewn streets of Nagasaki, he watched families cremating loved ones in open-air fires.
Mr. Matsumoto, who was 30 at the time, told the survivors:
I beg you to allow me to take pictures of your utmost sufferings. I am determined to let people in this world know without speaking a word what kind of apocalyptic tragedies you have gone through.
Mr. Matsumoto, a photojournalist for the Asahi Shimbun paper, is among dozens of photographers who bore witness after the bombings, which forced Japan's surrender and ended World War II. Some of their images, banned until the American occupation ended in 1952, were eventually exhibited across Japan. In the United States, the photographs are still virtually unknown.
Americans, when they think about atomic war, think about the mushroom cloud.
Benjamin Wright said in an interview with The New York Times. A doctoral student at UT Austen, Wright helped curate "Flash of Light, Wall of Fire," a new book of photographs about the 1945 bombings.
Even though the two bombs killed more than 200,000 people in the two cities, the United States enforced a ban, in both countries, on photographs that showed the civilian impact. For seven years, photographers who had documented the bombings hid negatives from American and Japanese officials wherever they could. But after the United States occupation ended in 1952, hidden negatives began to trickle into public view, and books about the atomic bombings were published weeks later.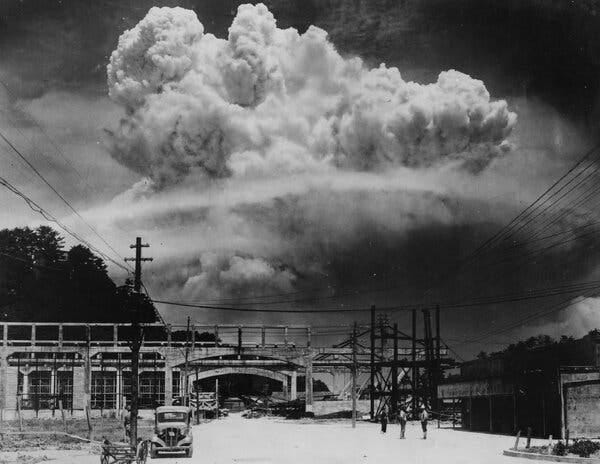 The mushroom cloud 15 minutes after the explosion.| Hiromichi Matsuda
Culture is a narrative crafted and curated to create a sense of belonging. In the past, these narratives were largely crafted by authorities, and only through art and symbols, people saw glimpses of truth.
Our accessibility to information has made crafted cultural ignorance and amnesia almost impossible, but have we become more rational or objective when we look back on moments in history?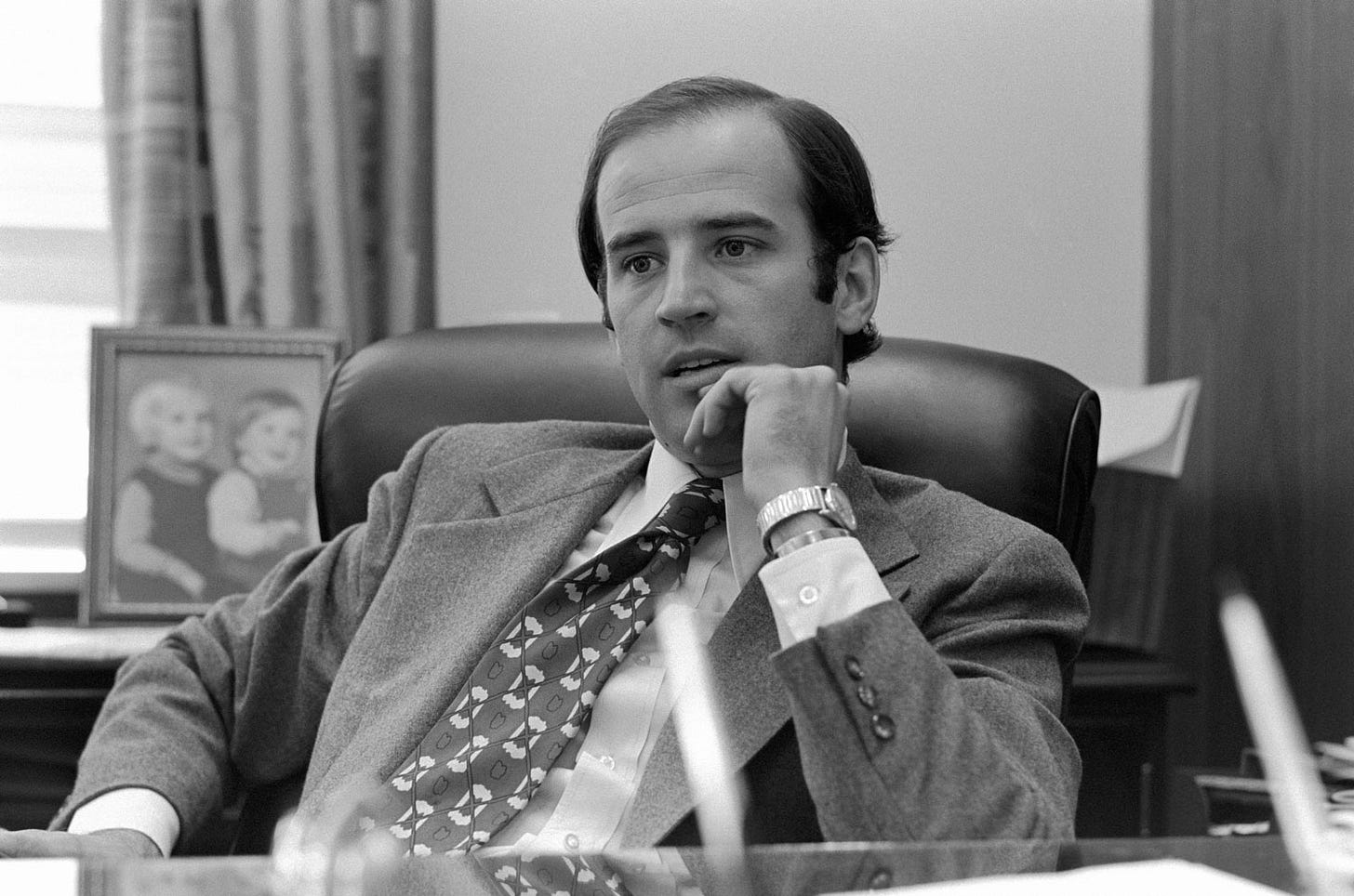 Newly elected Senator Joe Biden Joe Biden, Washington, D.C. |
Guy Delort
We can't see the demons they are fighting.
One of my favorite writers in the world of investing, Morgan Housel, published a stunning piece about fighting his demon — stuttering.
I've always wondered how many people I know are stutterers, but, like me, have kept it mostly hidden. And how many other issues are like that? Depression, anxiety, phobias … so many things can be disguised in a way that gives a facade of normalcy over a person's internal struggles. Keep this in mind, and you'll naturally become more forgiving and empathetic. 
Stuttering is a neurological disorder that affects roughly 70 million people, about 3 million of whom live in the United States, and that includes Joe Biden:
"Anger, rage, humiliation […] a feeling of, uh—like I'm sure you've experienced—it just drops out of your chest, just, like, you feel … a void."

[Biden] lifts his hands up to his face like he did on the debate stage in July, to guide the v sound out of his mouth: void.
David Rogier, the CEO of Master, also had a bad stutter when he was a kid:
"I wasn't rewarded for being a kid who was dorky and curious," says the entrepreneur who created and sold a search engine with his friend when they were in middle school. "Those traits were not valued. So I got in trouble and didn't get good grades."
Housel ended his piece with a powerful note. By overcoming his biggest demon, he's also found the most profound fulfillment:
The more progress, the more happiness. And the most progress is possible in endeavors where you're starting in a hole, deep in the red, with a big gap between your current position and the end goal of what's attainable.
Housel said it's an "if-you-told-me-five-years-ago-that-I'd-be-doing-this, I-would-have-laughed-at-you" story — when he was delivering a talk in front of 2,000 business leaders about behavioral finance.
I've been thinking about what that story looks like for me, and what it looks like for you.

Trade Wars are Class Wars
Rising inequality within countries heightens trade conflicts between them.
I've been spending a lot of time revisiting political-economic history in the hopes of contextualizing my experience before and after leaving for the US. I really enjoy this work. Klein and Pettis weave a complex tapestry of monetary, fiscal, and social policies through history with a focus on US, Germany, and China, and gave their perspectives on what went right and what went wrong.
I took some own notes on Chinese economic history, and will possibly spend more time exploring these concepts.
She leans over and asks in a hushed voice, "Do you get shit for your name in America?"
Fragments of experience of being a foreigner with a special name in America.
Many Asian parents give their children generic names so that they can be user-friendly in a social environment. The prose reminded me somewhat of Claudia Rankine's Citizen.
The film, as promised, was seventy-three years long. When the closing credits rolled and the lights came on, the ushers found that, with the exception of one viewer, the entire audience was dead.
A short story with four paragraphs, and shows what it takes to create.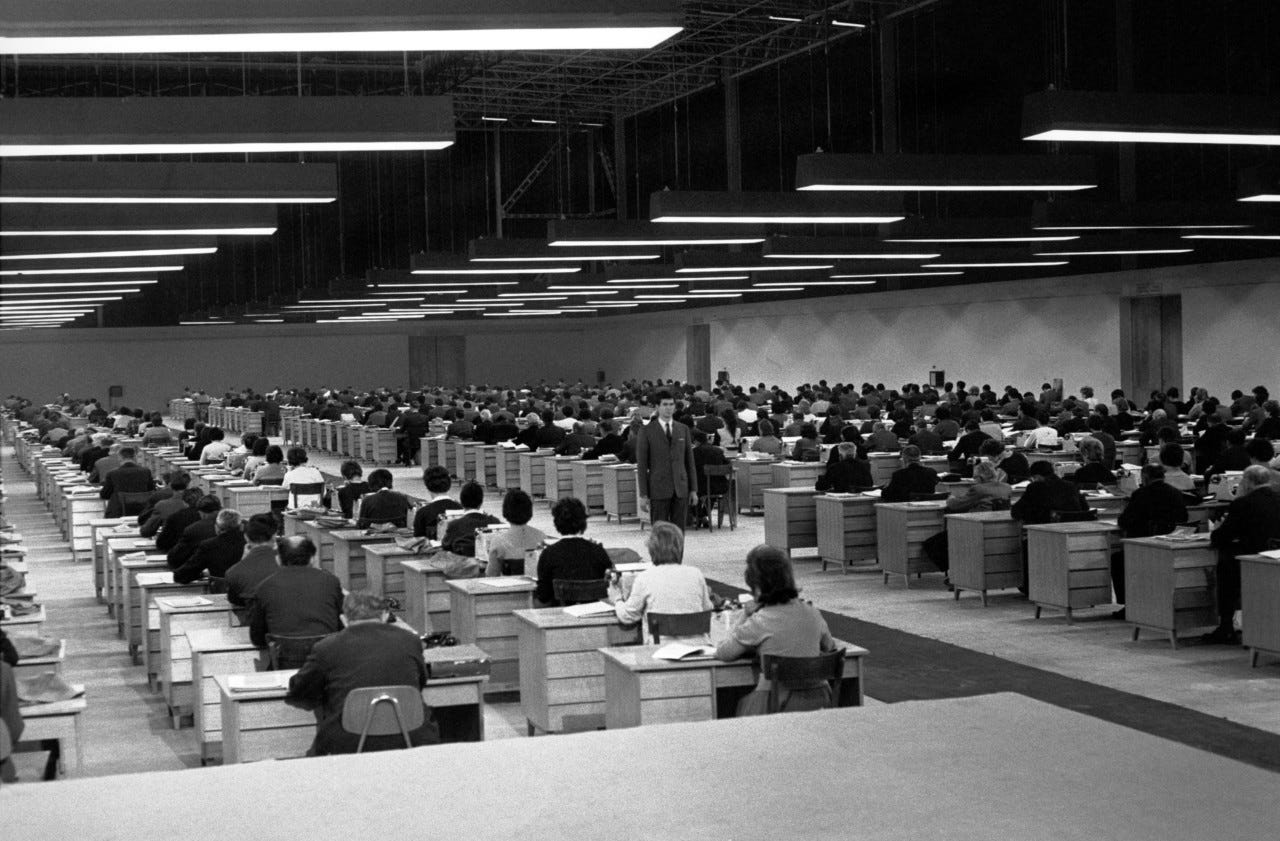 Nicolas Tikhomiroff | Nicolas Tikhomiroff
---

Fakepixels is a space for courageous thoughts. We believe in the power of deep thinking, nuanced dialogue, and creative courage. By being present with the world and with each other, by learning relentlessly, and by bridging knowledge across realities. We're here to dream and agitate and question openly and unapologetically. We're here to be vulnerable, honest, and true.
If you are interested in contributing or being a part of it, I would love to have you join the club. I decided to open-source the structure of the newsletter, and if you see anything that fits into any of these sections, sharing is loving.
I'm taking my time to get to know each of you, and I do this on nights and weekends. Appreciate your patience in advance. Until then, why don't you bring a friend?