[FKPXLS] VOL.58 / Dance me to the end of love
Catachresis is when a statement is so astonishingly wrong that it feels right.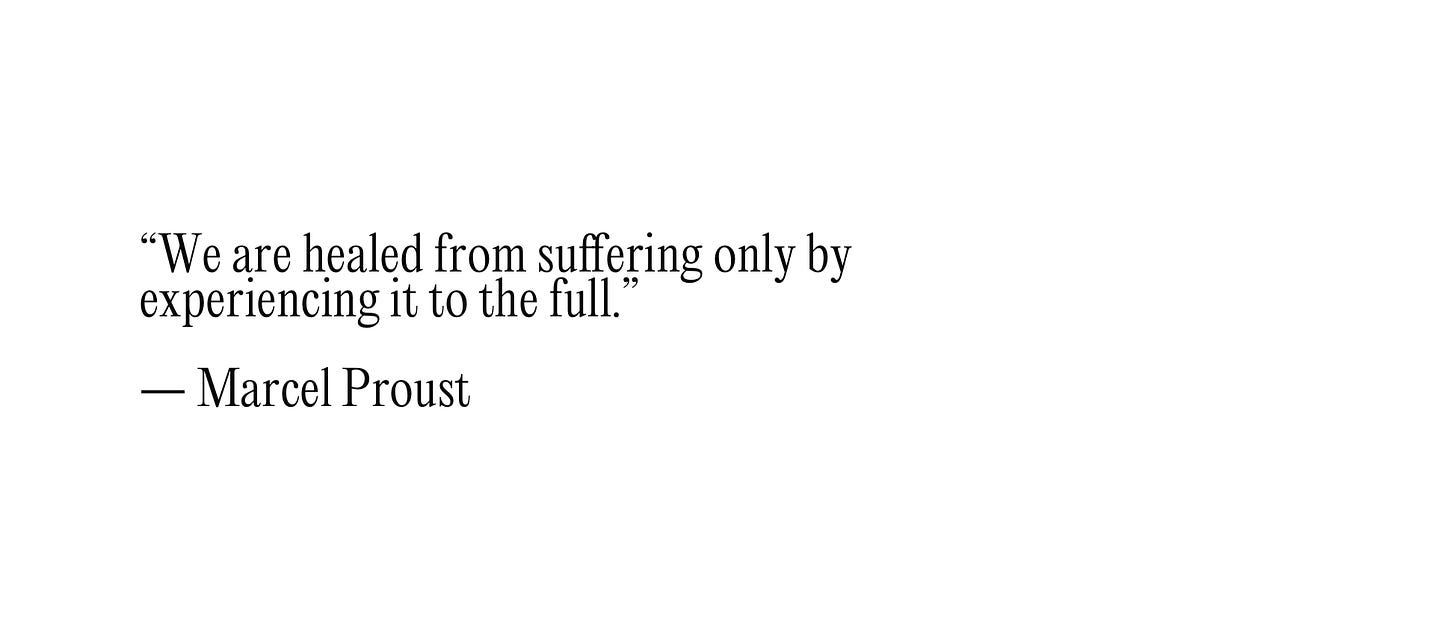 Happy long weekend. I am on the floor in my apartment in New York City, listening to Nobody by Mitski that is playing sometime in your past, which is also my present.
What we share is Fakepixels, a space for honest inquiry and bold ideas. Here, we are not afraid to ask bold questions and find invisible forces that challenge the status quo.
Find the most comfortable position: seated, stretched out, curled up, or lying flat.

Catachresis is rather difficult to define, but it's essentially when a statement is so astonishingly wrong that it feels right.
Artists love to use "love" as a catachresis. Leonard Cohen's "Dance Me to the End of Love" is a perfect example. You'd expect the phrase to end with a noun of space or time, instead, we get love. Moon Martin had a "Bad Case of Loving You," and KLF had asked "What Time is Love?"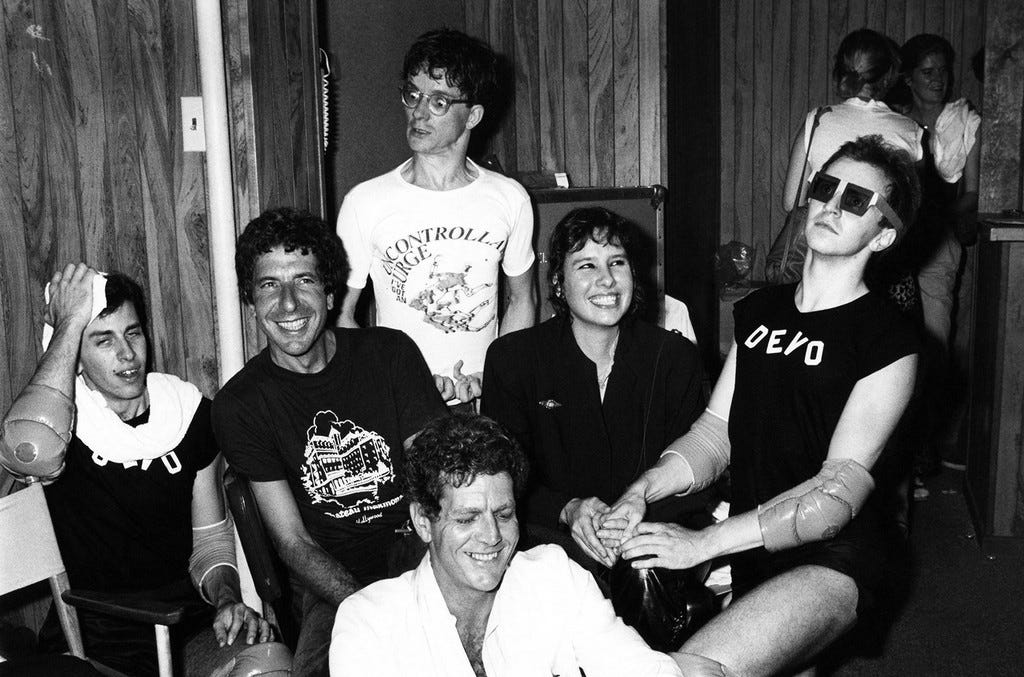 Leonard Cohen, David Blue, Mark Mothersbaugh of Devo, Martine Getty and a Devo member backstage at the Starwood in Los Angeles in 1970 | Brad Elterman
Catachresis is a word that hits you like a first love as if it's not supposed to be there. It was as early as the times of the Roman gods that the rhetorician Quintilian gave catachresis a definition: a transfer of terms from one place to another when no proper word exists. The entire episode of COVID feels like a series of catachresis. The stern face head of the firm had a Snapcam dog filter on his face. The first virtual coffee chat without coffee with someone whose writing you're familiar with but whose real name you don't know. Going on a double date to learn how to salsa dance from an Argentinian couple on Airbnb. A band who's repeating verses of an old Jazz song, maybe some Chet Baker, at a crossroad in lower Manhatten where only cars roam by, no pedestrian in sight. I can start writing one sentence about a scene that is taking place somewhere outside, but I know that if I play mad libs with my sentences the outcome wouldn't even be all that surprising.
It's often through such dissonance that people discover new philosophies of science, arts, and living. Disillusioned with the chaos and misery brought on by World War I, a group of avant-garde artists gathered and called themselves dadaist. They declared their own war against society, tradition, and even reason. They created "poetry" consisting of reading stock market quotations while bells were clanging and chanters shouting each other down.
One of the founders of the movement Tristan Tzara outlined his instructions for people to produce their own Dadaist poems: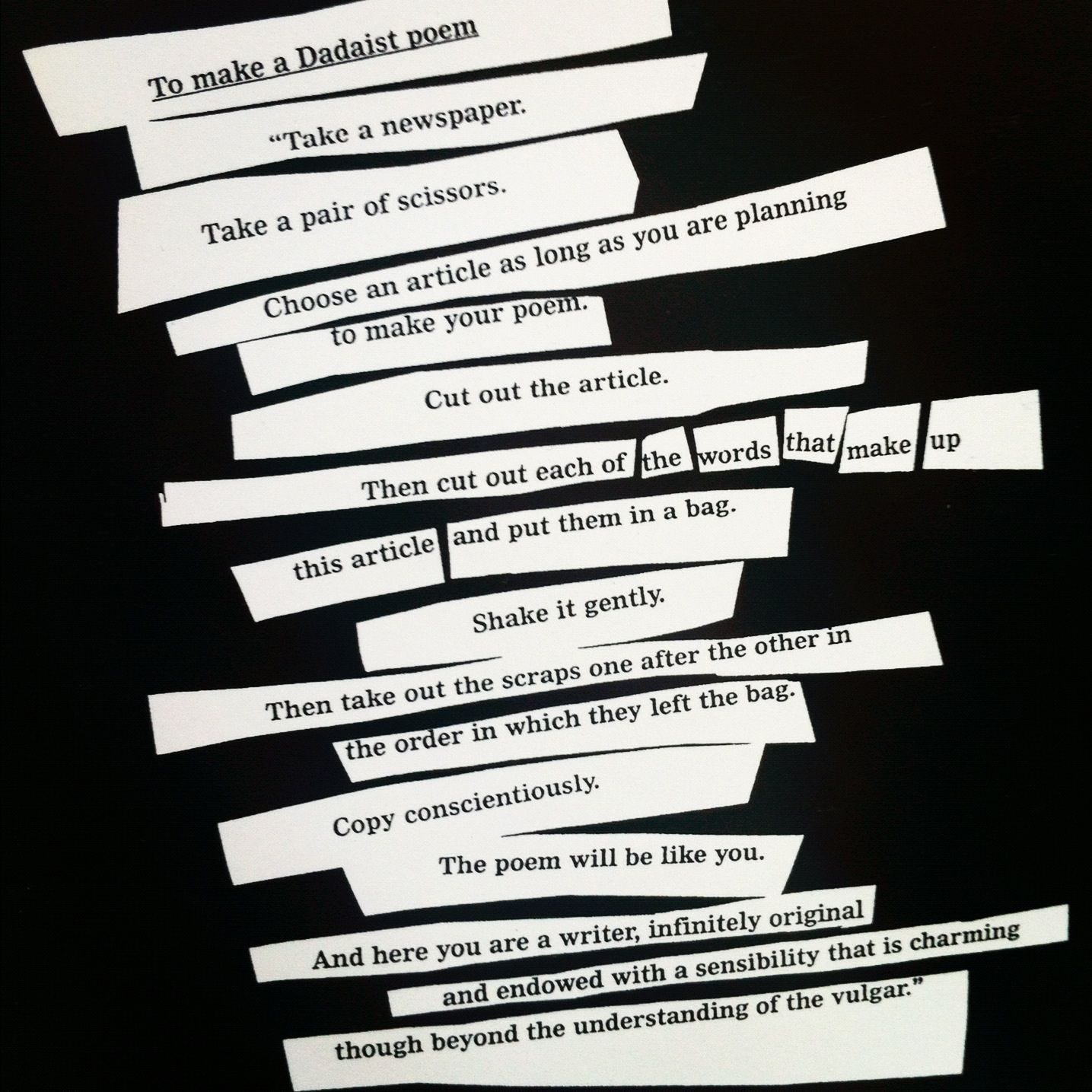 This method shows Dadaism's wider aim: to challenge the tight constraint between words and their meanings and instead rejoiced in nonsense. Even the name of the movement itself can be seen as deliberately nonsensical. It wasn't a surprise that the chaos of the movement predicted its own demise a few stormy years after. Then came Andre Breton, who felt that the Dada movement had accomplished something in spite of itself, that it had pointed to a new adventure of the spirit and revealed certain forces that could no longer be disregarded.
Then in Paris, Breton gathered a group of intellectuals and artists with an ambitious mission of recreating human thought. In Breton's first Manifesto of Surrealism, he defined the social predicament as a "crisis of consciousness". The movement took the Dada movement one step further. The goal was not only to create absurdity to break through constraints but to also release the imaginative energy that lies deep within us strategically, so we can see beyond ordinary objective realism and create art and analysis accordingly.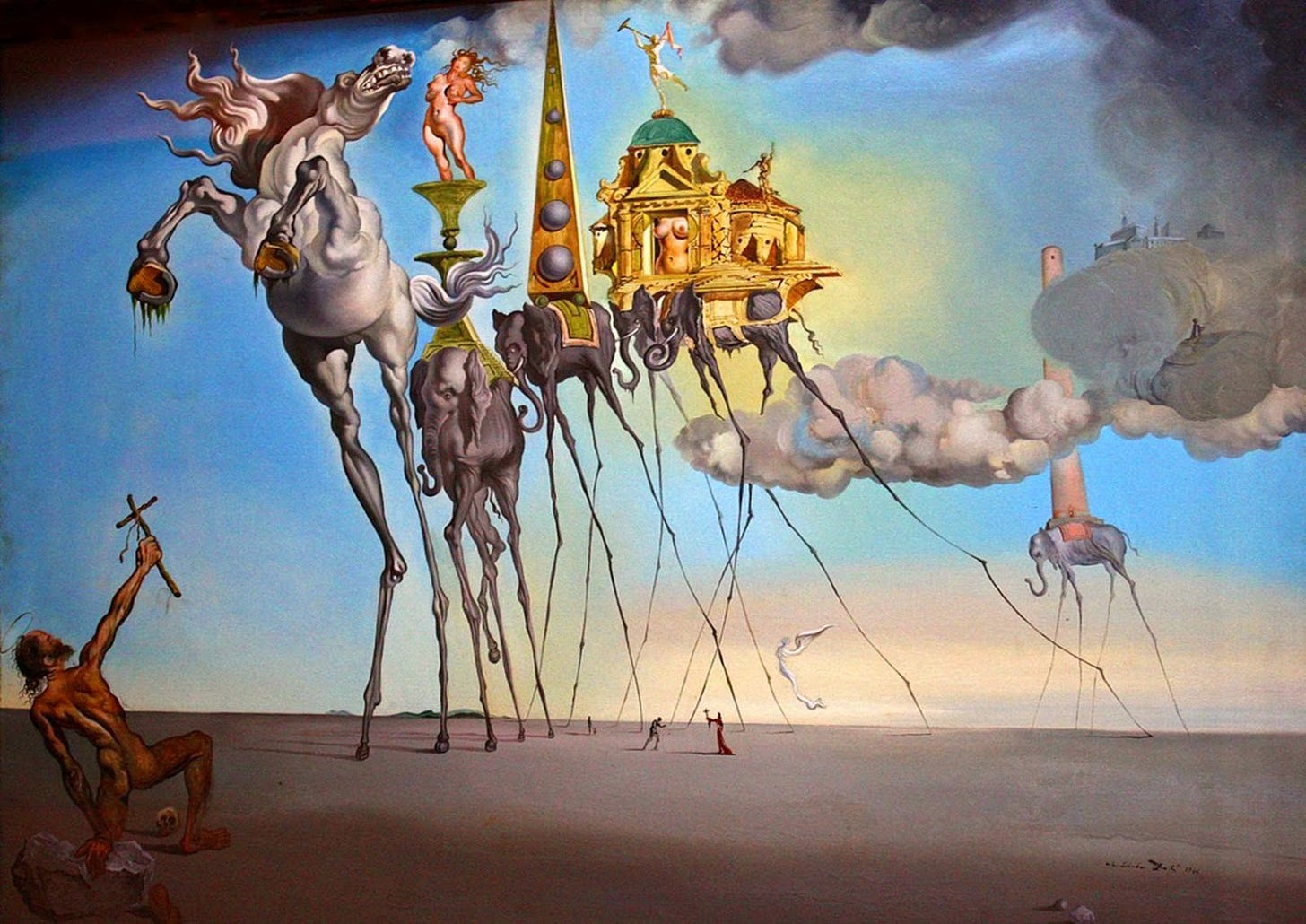 Salvador Dali
One of the heroes of the Surrealist movement is Edgar Allen Poe, who revealed himself as a prophet of Surrealism in one of his essay:
The pure imagination chooses, from either Beauty or Deformity, only the most combinable things hitherto combined...But, as often analogously happens in physical chemistry, so not infrequently does it occur in this chemistry of the intellect, that the admixture of two elements results in a something that has nothing of the qualities of one of them, or even nothing of the qualities of either...Thus, the range of imagination is unlimited.
Poe supplied a perfect formula for the surrealist: the creation of an image that brings about the fusion of two distinct realities upon a plane equally unrelated to either. Reading Poe is like an exploration into imagination, with occasional intersections with realities. Truth, in Poe's work, is to be discovered through these chanced encounters. Generally credited as the originator of modern science fiction and detective novels, Poe certainly was known to have the capacity to summon enough critical judgment to construct viable works. Poe was really intrigued and tantalized by the potential existence of The Theory of Everything. The rational editor in him recognized that his musings wouldn't be taken seriously by the scientific community, although later his ideas were believed to have been the precursor of the 20th century scientific movement. His self-awareness was expressed through the preface of his last book Eureka, his last attempt at trying to get to a fundamental truth:
What I here propound is true...nevertheless, it is as a Poem only that I wish this work to be judged…
He summed up the basic premise of his world view with a few words:
In the original unity of the first things lies the secondary cause of all things, with the germ of their inevitable annihilation.
Poe began the book Eureka with a letter found corked in a bottle and floating on the ocean. The manuscript in the bottle is dated 2848 AD, exactly 1000 years in Poe's future. In this manuscript, an observer of the distant future comments satirically on the foolish philosophical notions of the past, especially the idea that there are only two roads to the truth: the priori deductive method or the posteriori inductive method. Both of these methods approach truth by means of a definite path from here to there, either from the general to the specific or from the specific to the general, whereas he contends that all real knowledge is acquired by intuitive leaps which are neither inductive nor deductive.
The artistic movements of Surrealism and Dadaism might have taken these intuitive leaps slightly too far to be practical in our every day, but the half-life of these ideas is long. Through moments of displacement, the imagination is awakened while reason challenged. Things are not where they're supposed to be. New nodes in a forked path develop. When we can't see the road ahead clearly, we're vulnerable to believe in inductive or deductive narratives that reduce the multivariate reality into a logically sound frame with controlled and static variables. Currently, arguments around whether we will forever move away from urban centers, or we will only be working remotely, or we will hang out with friends only in VR, or we will be digitally exhausted demonstrate these qualities, where a few variables render a few versions of the reality. The natural reaction to these narratives is to follow one of these faithfully and to dispel the existence of others. The future might actually have both realities interweaving harmoniously without feeling like a transgression. Luke Turner, a British artist, writer, and a leader in the Metamodernist movement beautifully captured what it means to live in this newfound realization in this manifesto: 
The present is a symptom of the twin birth of immediacy and obsolescence. Today, we are nostalgists as much as we are futurists. The new technology enables the simultaneous experience and enactment of events from a multiplicity of positions. Far from signalling its demise, these emergent networks facilitate the democratisation of history, illuminating the forking paths along which its grand narratives may navigate the here and now.
I believe this is not just the job of an artist's or a scientist's, but anyone who's trying to create. The task is as much invention as it is paying attention to what's been here through lenses of multiplicity. My partner Jordan at Pace wrote about the act of "seeing the future" through the lens of game theory: 
"Seeing the future" is just an exercise in game theory. Even a basic product-centric approach to investing can be reduced down to a simple game, which is "if this is the best product today, then people will buy it tomorrow." My supposition is that fortune teller investors who "predict the future" tend to spike in game theory, whether that be conscious or subconscious. In seeing the future, everything can be reduced to if/then statements, and the further out you see, the more consecutive or parallel if/then statements you have strung together.
His description of a great fortune teller rhymes with Teller's manifesto:
Great fortune tellers can hold a bunch of different, and not necessarily obviously related, lines of game theory concurrently in state, and in doing so, experience unusual confidence in the set of ifs they consider true en route to the terminal state.
When we think about venture building, what we are really considering is the possibilities of these  "ifs" and their connections to one another. When we relentlessly continue to trial and error somewhere between the numbers and the poetry between one another, we might then and there discover a path forward. People will be dancing to the end of love in a park with their loved ones while unveiling the beauty of community-driven learning through a digital town hall. Knowing that there are all these "ifs" that lie beyond reason for a static moment in time, before killing them entirely, we can give them a chance to grow.

Unleashing my inner Otaku.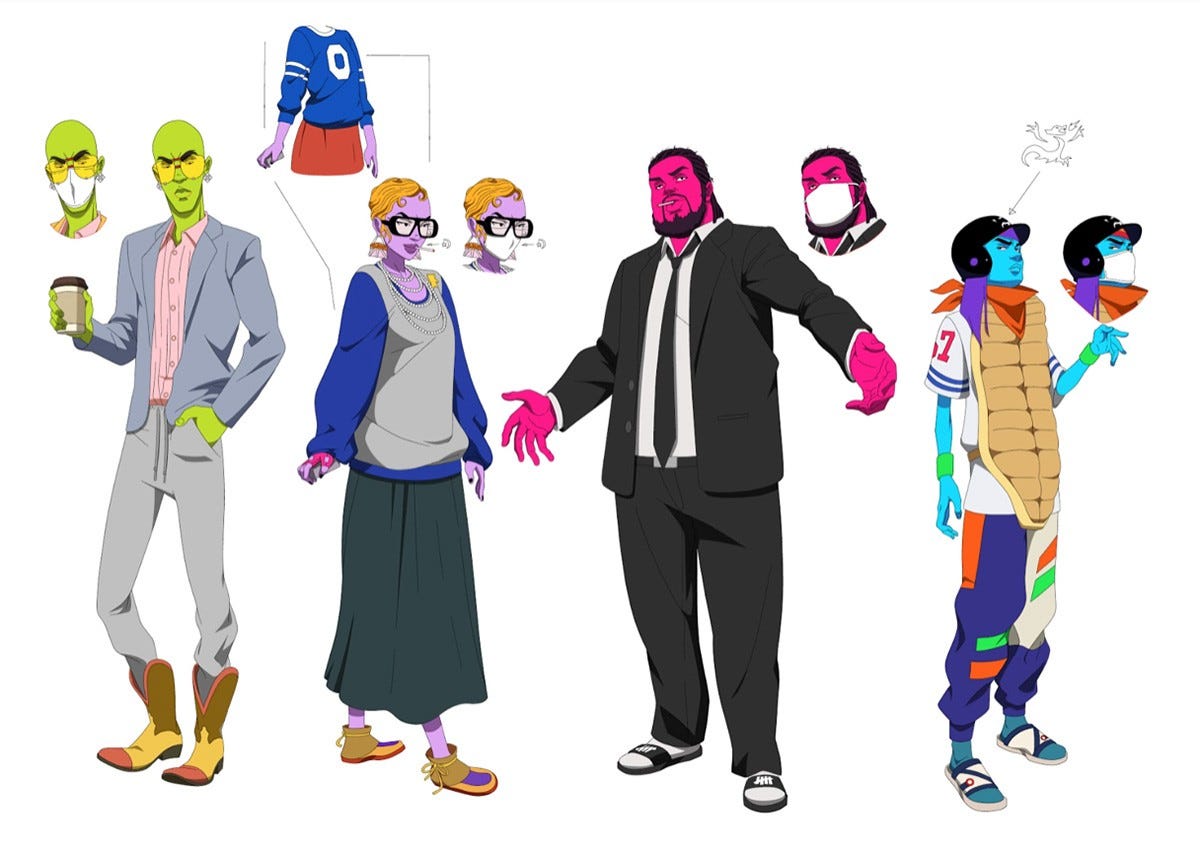 UNION
Here's my confession: I've been an anime fan my entire life. From Tokyo Ghoul to Attack on Titan to Full Metal Alchemist, some of my most difficult times in life, I got through books, hip hop, and Shonen Jump! It's not until recently that the worlds that I once dwell in as a secret resident collided.
Reggieknow, a Chicago native who, like any self-respecting Toys "R" Us kid, refused to grow up. Instead, he found a way to channel his love for animation into modern cultural expressions. He was most recently tapped by Virgil Abloh to design the cartoon animal mascots known as "Zoooom and friends" for Louis Vuitton's Spring/Summer 2021 menswear collection.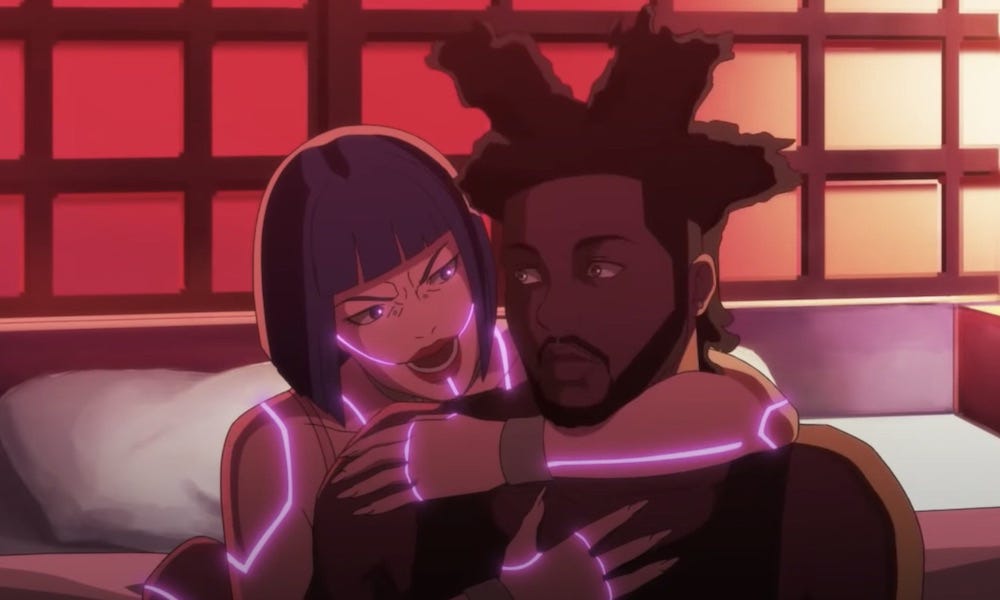 Republic Records
The Weeknd also transforms himself into an anime character to chart his career in the new visual for his 2020 album After Hours. The video was produced by D'ART Shtajio, Japan's first Black-owned anime studio.
In Asia, the anime culture has taken off much earlier with Japan leading the charge, creating generation-defining classics such as Naruto and One Piece. The popularity of the animation world often referred to as the "two-dimensial-world", gave birth to the video platform Bilibili (Mkt. cap: $16.4B). The NASDAQ-traded Chinese company recorded a 70% year-over-year growth to reach 172 million monthly active users by Q2 2020. Bilibili relies on a wide array of UGC in the style of Youtube. The number of monthly creators grew 123% YoY to 1.8 million, who collectively submitted 6 million pieces of content per month.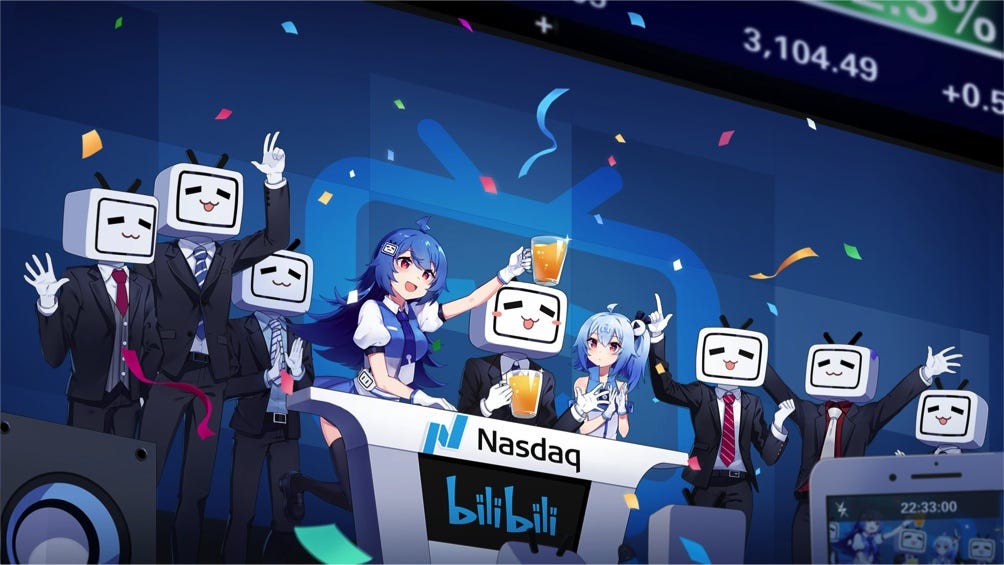 When the company went public | Bilibili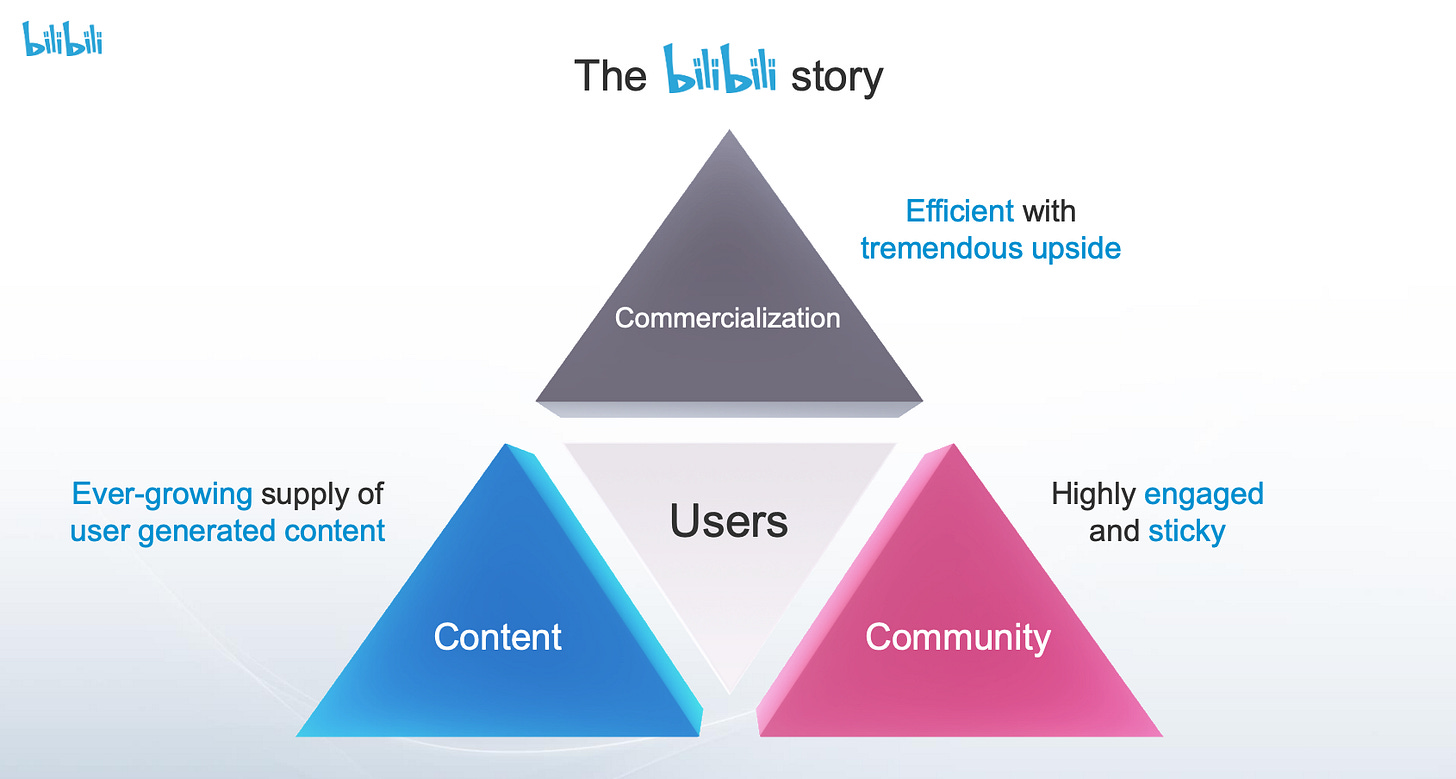 Bilibili | Investor Presentation Q2 2020
The site has an unconventional way of monetization. It also doubles as a mobile gaming platform and earned half of its revenue from video games by both developing their own games as well as acting as a distributor and joint-operator with other game studios. Other avenues of revenue generation come from virtual item sales during live broadcasting, advertising, and sales from content creators who operate online shops via Bilibili.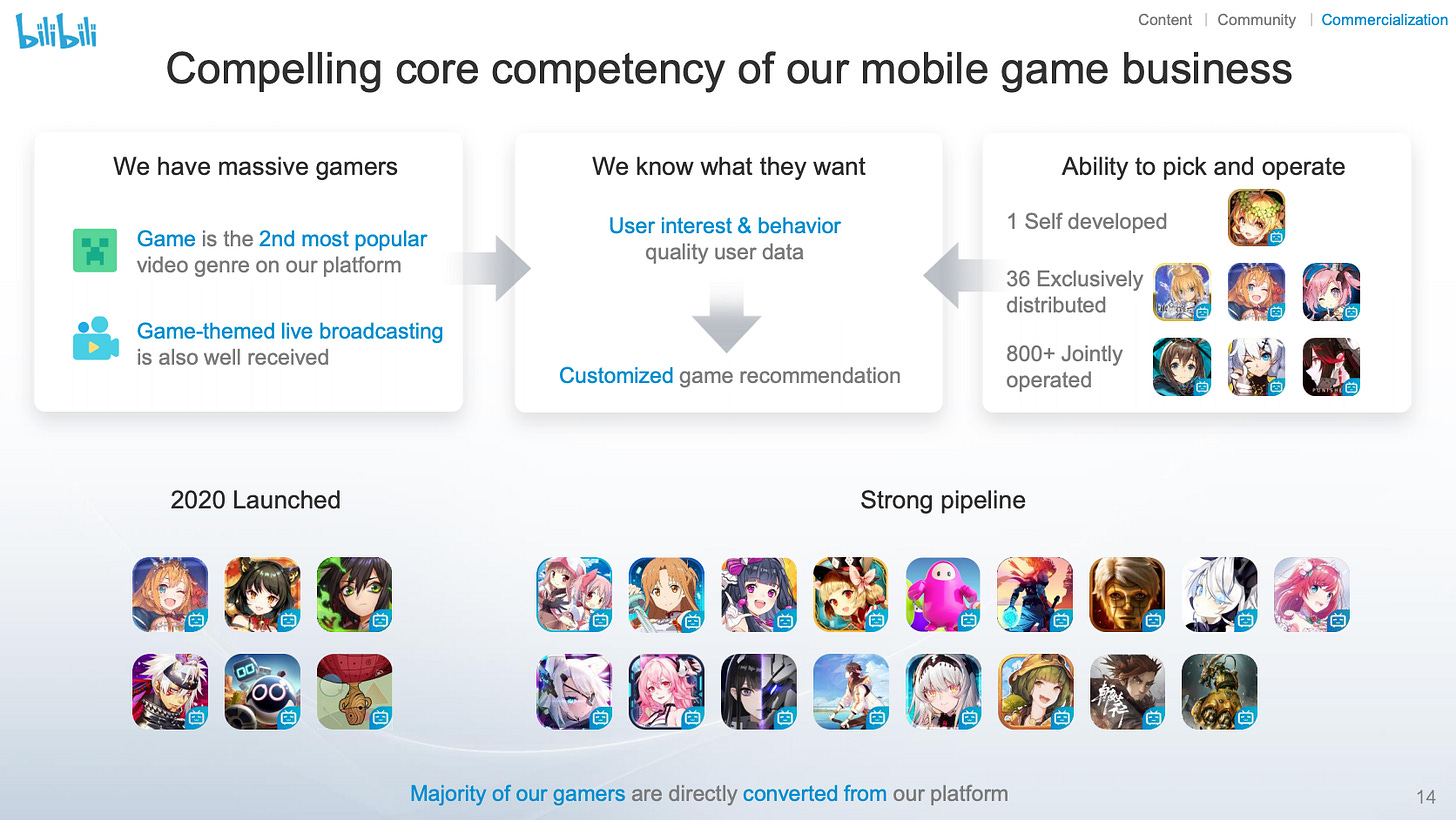 Mike Dempsey's spectacular piece "Animation is Eating the World" takes an in-depth look at the history and the future of animation:
This next peak of animation comes as creators start to realize that audiences are able to finally not recognize "animation" as an industry but instead as a medium for storytelling. Creators can now use this medium to their advantage versus as a limiting factor to push messages (and toys) to children on Saturday mornings.
Recent tools for creating content has opened the floodgate for a new wave of creators by lowering the cost and barrier of making interactive content. Yet good story-telling is still and will continue, to be scarce. The value starts to shift from the object of creation to the network through these creations take place and the new network that these creations unlock.
Despite the abundance of nascent talent, one of the many obstacles for encouraging mass content production is pseudonymity with accountability. The pseudonymous identity should be held accountable on the backend, but there should be freedom through which the alternative identity can be expressed, and animation is a powerful tool to fill the gap.
---
Aesthetically pleasing compliance.

HASTINGS Architecture, the Nashville-based architecture, and interior design firm is partnering with Way Forward Signage Co. a platform for designing and sharing signage focused on the immediacy of information pertaining to safety during COVID-19.
The goal of the collaboration is to develop signage that focuses on the health and well-being of employees and customers, and that, in so doing, makes it easier for companies to reopen safely. With minimalistic icons and bright colors, these signs are eye-catching, directional, and uplift-ing. While there are other signs available in the market place, Way Forward Signage represents a holistic designed approach for signs for navigating the pandemic.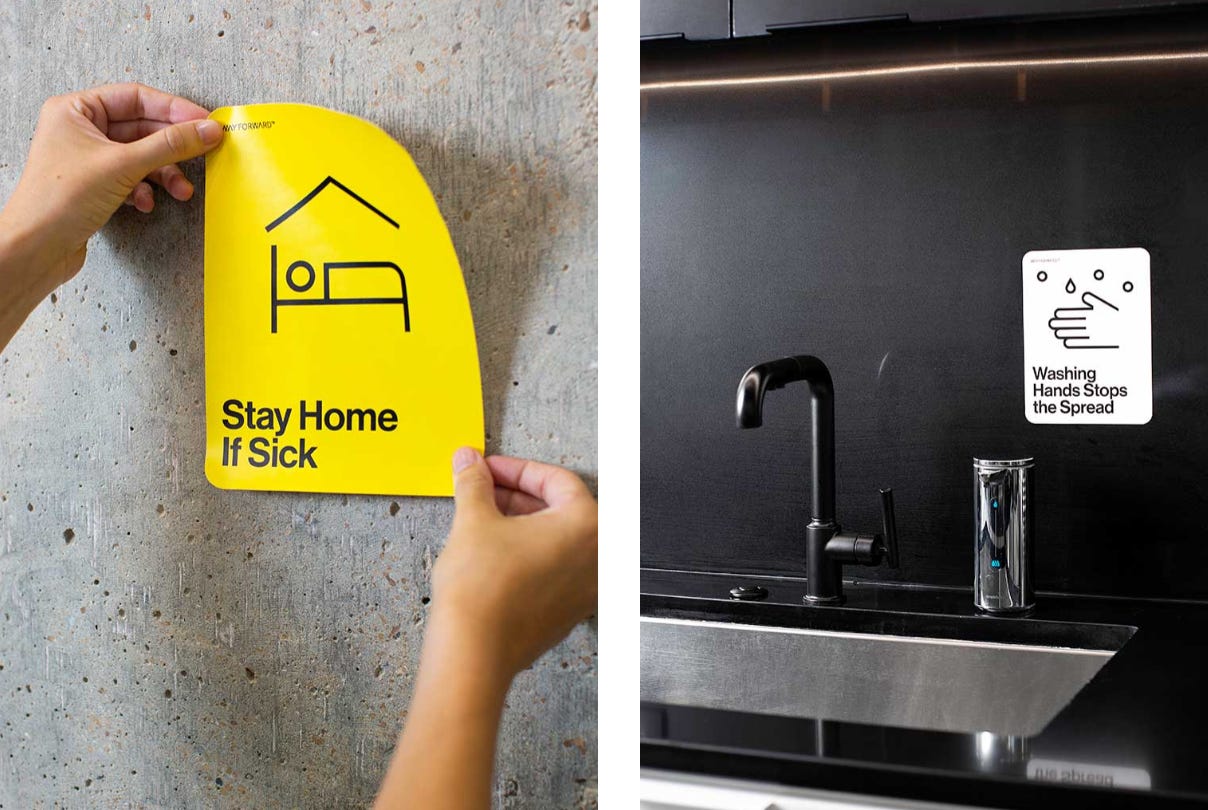 Daniel Meigs for Way Forward Signage Co.
What struck me about this project is how something as lightweight as stickers can alter our perception of a space. The little sticker inspired a question we've been meditating on at Pace: what other small alterations in spaces can disproportionally increase its functional value?
---
Lemon. Basil. Thyme. Yum.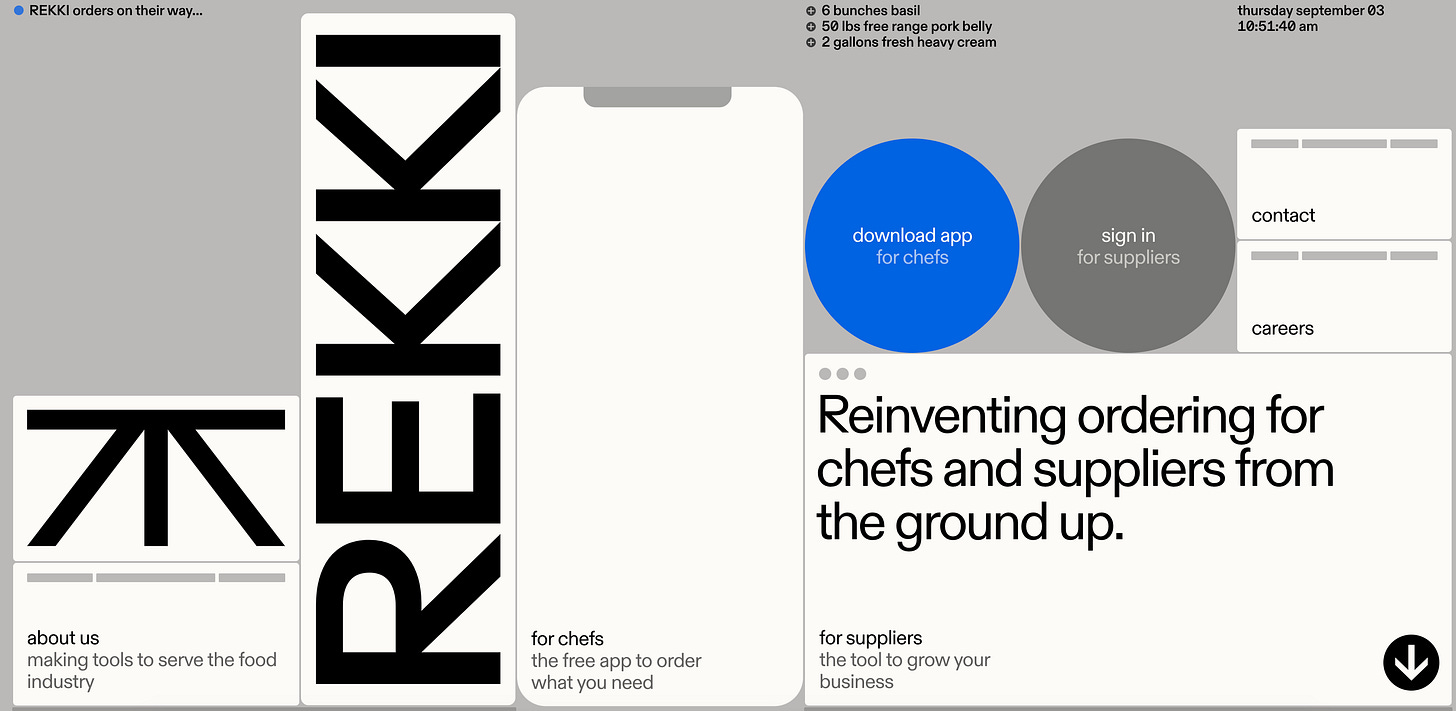 Rekki is a procurement software for chefs to order fresh ingredients from food suppliers. Currently, kitchens spend hours on the phone with suppliers, or visiting markets, to amass their stocks. An app like Rekki is offering a go-to-stop for chefs to discover, select, and manage suppliers for free, and potentially monetize through the fees and even financing products for the suppliers to more efficiently expand or manage their clientele and offerings.
The inefficiency in our food system had created a large amount of food waste, and restaurants are much bigger transgressors than individuals. The ordering platform can help restaurants better plan what they need, how much of what they need, and when.
During COVID, some premium suppliers for high-end restaurants have also gotten into the D2C game. One example is our favorite summer oysters. Sought after by chefs for their high meat-to-shell ratio and their sweet, buttery flavor, Orchard Point Oyster Co.'s oysters have been exclusively served by celebrity chef Wolfgang Puck. Orchard decided to broaden its strategy by collaborating with The Retriever, a local shop, that allows anyone to purchase harvested-to-order oysters.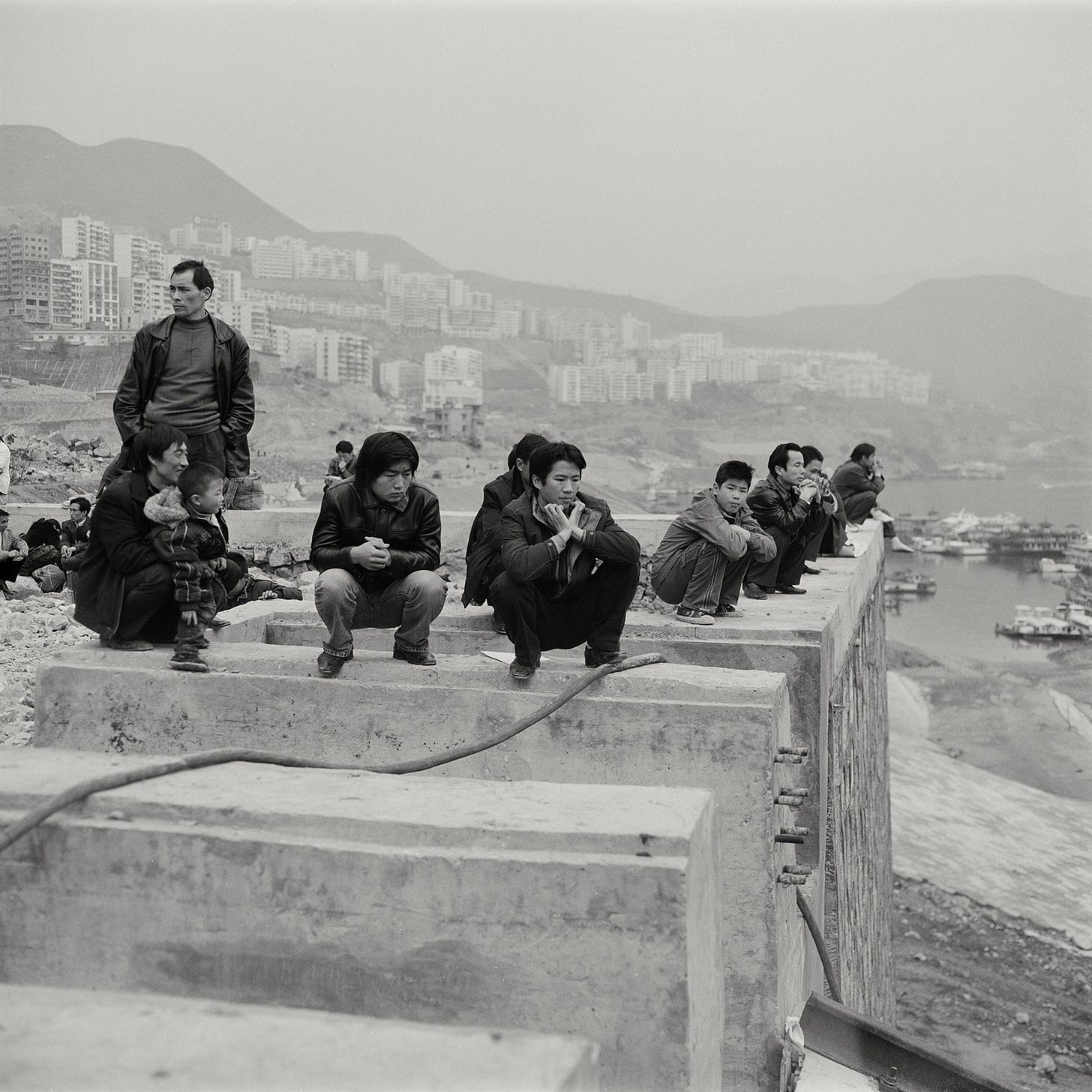 Muge, 2006,
Going Home
Going Home, begun in 2004, is photographer Muge's ongoing, nearly two-decade-long, endeavor to recover his memory, a monochrome series that captures the yearning of over a million people displaced from their homes along the Yangtze River, caused by the construction of the six-hundred-foot-tall Three Gorges Dam.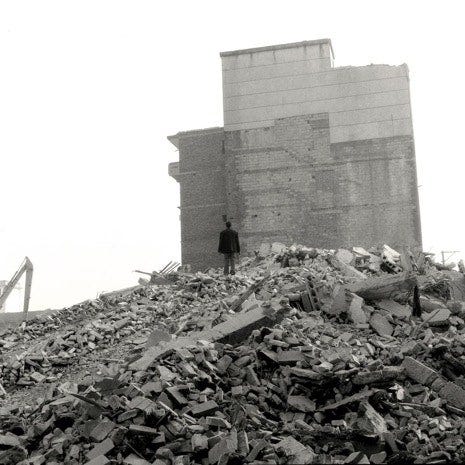 Muge, 2006,
Going Home
While there is much to be said about China as a rising superpower, Muge's photography was not created for that arena. Muge's subjects and their experiences are the direct results of China's rapid economic development. But his intent is neither to comment on China's state power nor to convey his personal feelings. Instead, he aims to "step in between," he says, capturing the spirit of people caught in the nation's slipstream.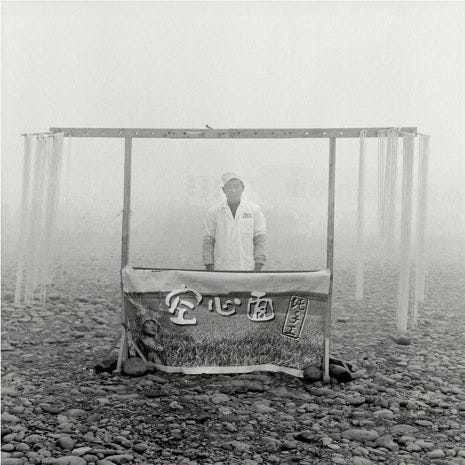 Muge, 2006,
Going Home
With Going Home, Muge's aim is to understand the dirt-level intimacy and complexity of people's everyday lives. You can never know about a place or about people unless you visit it on the ground. Yet Muge's images still grants his subjects, which otherwise would have been forgotten in history, a dreamlike quality. Through his nostalgia, the immensity of the transformation, displacement, and disappearance becomes palpable, as if you can sense the past and the future simultaneously.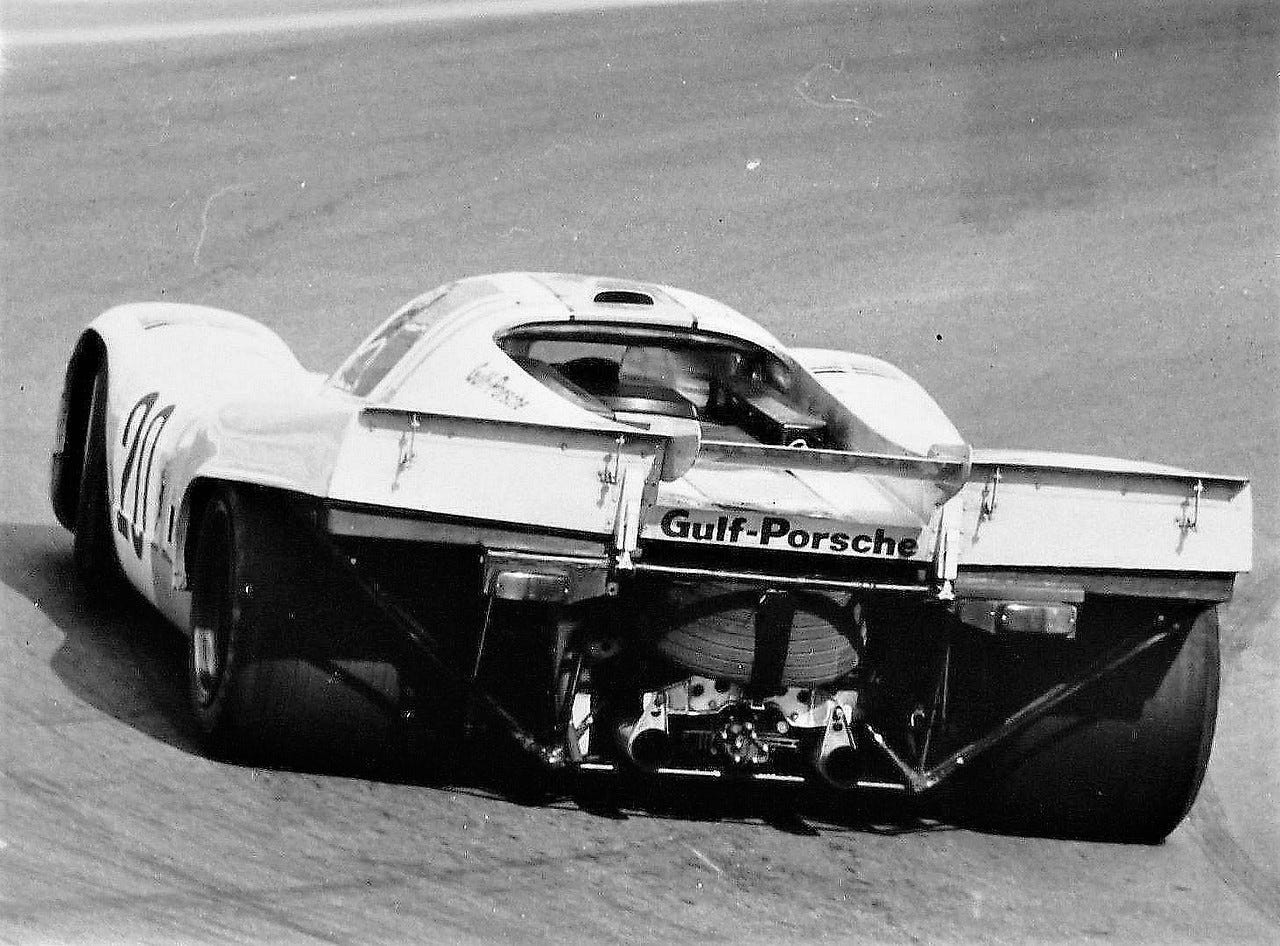 Graham Duncan, the managing director of East Rock Capital and a coach, wrote in a letter to a friend who is about to start a new investment platform. He gave his perspective on how to source good ideas for investments.
This is a perspective that I've been sharing with some friends who are currently exploring what that thing is, and he provided a more sophisticated and rational version of "follow your passion":
If you can find the thing you do for its own sake, the compulsive piece of your process, and dial that up and up, beyond the imaginary ceiling for that activity you may be creating, my experience is the world comes to you for that thing and you massively outperform the others who don't actually like hitting that particular ball. I think the rest of career advice is a commentary on this essential truth.
On a similar note, a quote I'm pondering on is one by Michel de Montaigne:
"The greatest thing in the world is to know how to belong to oneself."
You can read the whole letter here.

Politicians are now trying to resell the idea of the American Dream to a workforce that has had its hand forced one too many times. But even when it seemed pretty good in our town, it was never so great, so there's nothing to make great again. As the 1986 mill strike taught me, those simple rules of work hard, don't be late, you earn what you deserve mean little today, if they ever meant anything at all. 
A hyper-realistic portrayal of the new American Dream.
Science fiction is unique in its ability to explore different realities, dimensions, and timelines, therefore enabling what metamodernists value as "the simultaneous experience and enactment of events from a multiplicity of positions."
The three films: Interstellar, The Arrival, and Her, remind us of the power of narratives to help us see the beauty in inevitability, find agency in helplessness, and what it means to live with technology today, where hope and despair coexist.
No matter how many times you see it pulled off, the magic trick is always a surprise: how a text that is hundreds or thousands of years old turns out to be about the thing that's happening to you, however modern and unprecedented you thought it was.
The plague arrived in Athens in 430 B.C., the second year of the Peloponnesian War. And yet: evidence suggests that the theatre was still open. The brilliant piece asks an essential question for us to chew on: how differentiated was the function of the theatre from that of the clinic? Again, seeing the past and the future at the same time.
---

Fakepixels is a space for courageous thoughts.
We believe in the power of deep thinking, nuanced dialogue, and creative courage. By being present with the world and with each other, by learning relentlessly, and by bridging knowledge across realities.
We're here to dream and agitate and question openly and unapologetically. We're here to be vulnerable, honest, and true. If you are interested in contributing, I would love to have you join the club.
I'm taking my time to get to know each of you, and I do this on nights and weekends. Appreciate your patience in advance. Until then, why don't you bring a friend?