[FKPXLS] VOL.62 / Everything crumbles when we lose balance
When we decide to participate in a game, there is a set of explicit and implicit rules of the game that can make us forget why we decided to participate in the first place.


Happy Sunday. I am at my apartment in New York City, listening to New Gods by Grimes that is playing sometime in your past, which is also my present.
What we share is Fakepixels, a space for honest inquiry and bold ideas. Here, we are not afraid to ask bold questions and find invisible forces that challenge the status quo.

I stumbled into the world of venture after spending time designing and building products and brands. Coming from a slightly different angle gave me the privilege to be a fly on the wall in a room. The questions that used to keep me up at night became footnotes of an investing diligence process:
"How do you make sure the user feels safe when they complete the signup process?"

"How do you foster trust when the users onboard your product for the first time?"

"How can you discern revealed preference from actual preference?" 

"Are we REALLY solving the people problem?"
These are the types of questions that as designers we are obsessed with. We want to make people feel empowered, delighted, informed. Designing a digital product is similar to designing a storefront. If it costs too much time and capital to attract traffic, make them spend time, but eventually they leave without giving credit for the experience, no matter how wonderfully the store is designed, it will struggle to survive. Yet these were once concerns that lie outside of a designer's periphery. Similarly, investors can stay in one layer of abstraction above without having to sweat how the users feel.
That has changed meaningfully in the past years. Designers now need to now know what drives the topline, and investors start to evaluate whether a landing page is sexy enough to get the first thousand users. Crossfunctional collaboration has stretched the scope of every function of a job in both directions. Some of the roles got expanded, and some got contracted. The topic around being a specialist and generalist concerns everyone beyond the field of design. Product designers who have skill sets in data analytics start to take on product management responsibilities, and designers who spend hours fine-tuning the motion curve of a signup button animation can be known specifically as a motion designer.
The thousands of posts on different forums asking "should designers code?" or "should engineers manage?" stem from a place of anxiety as if the choice is binary: you are either a designer who codes, or you will be left behind. Similarly, in the world of investing, there are two types of investors in the public: fundamentalist and trend followers. Trend followers seek to profit from changes in the market by either buying when prices go up or selling when prices go down. Fundamentalists buy and sell based not on the direction of the price changes but rather because of the difference between the price of a security and its underlying value. Most of the time, the interplay between trend followers and fundamentalists is somewhat balanced. Buying and selling continue with no discernible change in the overall behavior of the market. Yet when stock prices climbed, the ratio of trend followers to fundamentalists began to grow. As price increases, a larger number of fundamentalists decide to sell and leave the market and are replaced by a growing number of trend followers who are attracted to rising prices. When the relative number of fundamentalists is small, stock market bubbles occur, because prices have moved far above the fair price a fundamentalist would play. As the number of fundamentalists in the market declines, and the relative number of trend followers increases — then comes the avalanche. Everything crumbles when we lose equilibrium. 
When we decide to participate in a game, there is a set of explicit and implicit rules of the game that can make us forget why we decided to participate in the first place. The fundamental of design is to make the complex simple and delightful. The ways to get there can range from building an abstraction layer like an app, reducing process redundancy, or prioritizing information architecture. The tools you use during the process can also range from Adobe to Figma to code. Some of the best designers I know still use pen and paper for the initial wireframes and know when to deploy the newest technology.
In venture investing, we find ourselves asking questions like is it better to be a generalist and a specialist investor really moving the needle? Are we opportunistic or thesis-driven? Are we team-first or market-first? Do we want to be completely hands-off or roll up the sleeves and be a part of the founding team? If the fundamental of investing is to allocate resources efficiently, the point of answering these questions is to nothing but that, rather than optimizing for a completely different game. Some of the best investors I know pick a binary side to those questions and stick to them, and make exceptions to those rules when the time is right.
I've been having a series of inquiries of where I sit in these spectrums, and I find myself going back to the illustration that my dear friend Danielle drew while I was at NEA. I still keep it in my journal.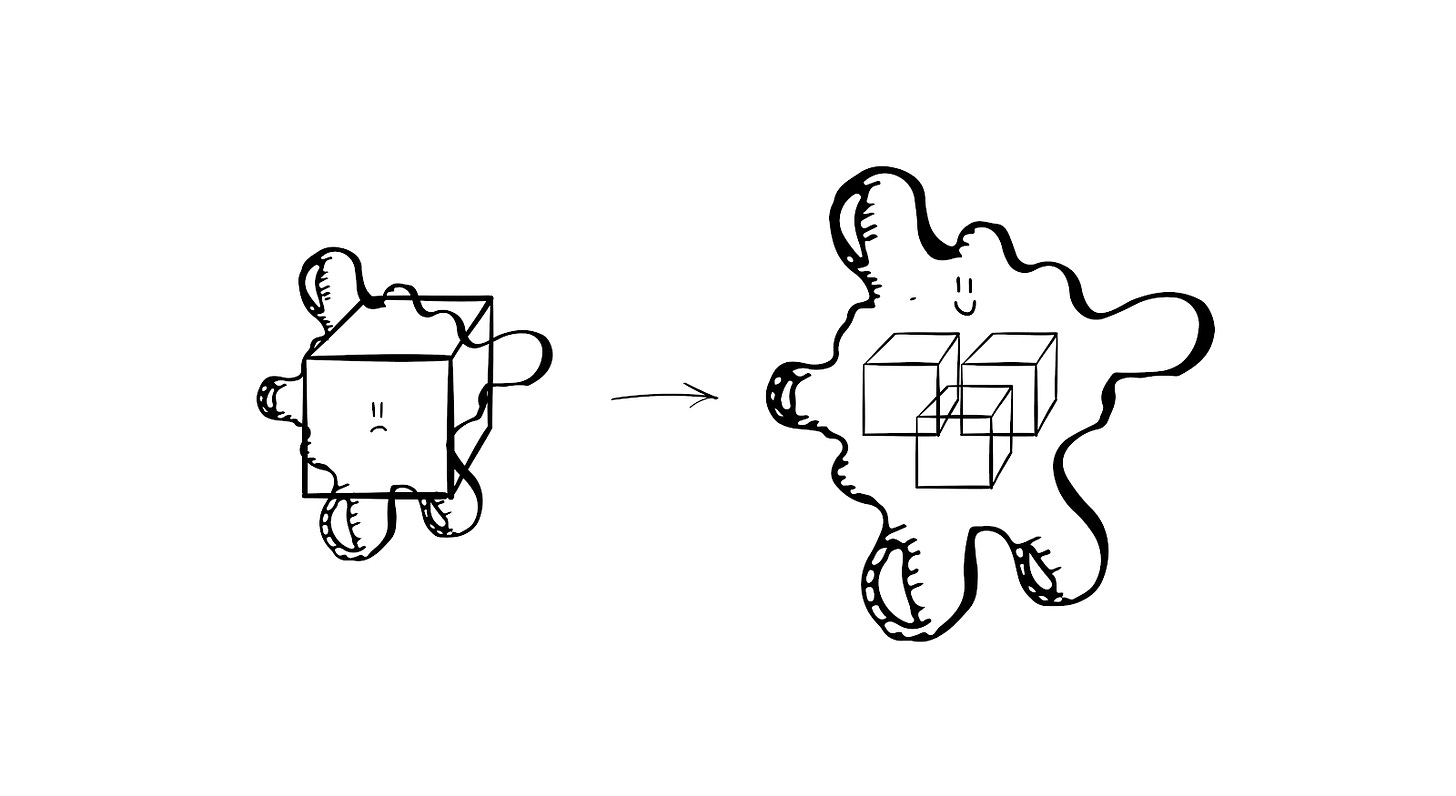 She said, you are an amorphous, dynamic, creative spirit, no one box can contain you. You can be anything you want, but the only way to do so is by growing yourself and containing many boxes at once. You need to do that one step at a time.
Beyond the point about "carving your own path" as a dominant career strategy, I start to internalize something obvious but profound around the process of innovation. The more boxes a system contains, the more robust it becomes. My friend Shohini asked a related question recently: 
It seems that the key to innovation, success, inquiry, anything is not really having innovative answers, it's really about asking unique questions. And we rinse and repeat so much terminology and questioning: how can you be an outlier investor if you rinse and repeat the same questions? 
How can you be an outlier investor if you rinse and repeat the same questions? Maybe it's by asking questions that were once in the footnotes section. Maybe it's by growing the ecosystem's areas of comfort so that we can contain more boxes that weren't included in the past. Maybe it's by staying consistent with one's own set of principles. Maybe it's simply to be sensitive to the balance that we have lost.
For the past months, this newsletter has brought me relationships and learnings beyond my wildest dreams, and its current form factor makes it difficult to answer some of these nuanced discussions, as it would take much more thorough research and explorations. As I believe they are some important questions here to be explored, I will spend the upcoming weeks exploring. Meanwhile, if you have any feedback and advice, I'm all ears.

Tokyo Toilet.
Ahead of the 2020 Tokyo Olympics, the Nippon Foundation sought to extend the craft for hospitality and care to public spaces, including the loo. While the Games have since been postponed, the organization's Tokyo Toilet project invited 16 world-class designers to rethink this often overlooked piece of public infrastructure.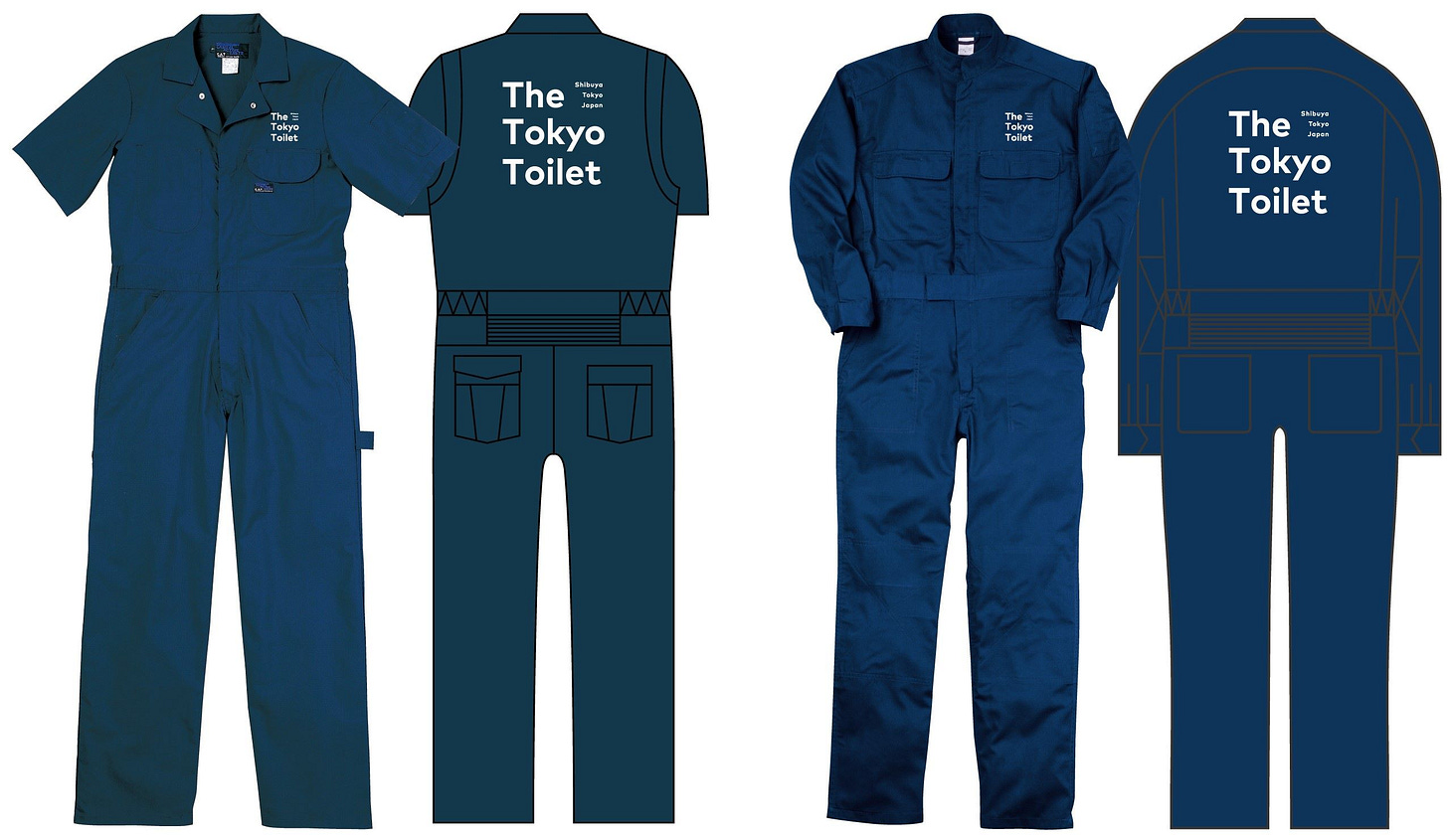 Project Suit
What makes my heart sing is when highly-skilled craftsman and woman in the private sector around the world devote their craft to public service, combining both cutting-edge imaginations usually seen in the commercial world with the intended practicality and functionality of public spaces.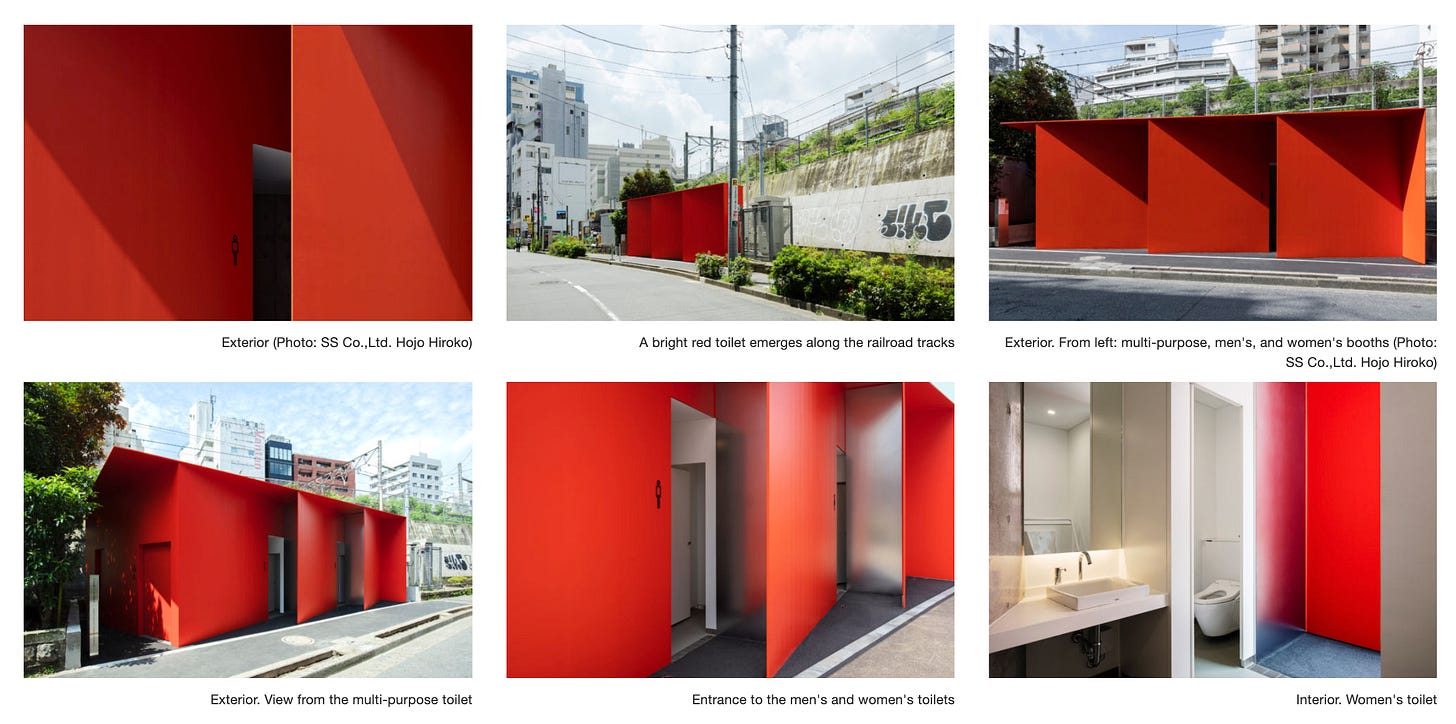 Designed by Nao Tamura
New York-based designer Nao Tamura, who participated in the project, shared this philosophy in an interview:
The bathroom is a place where we address physical needs universal to all mankind, regardless of age, sexual identity, nationality, religion, or skin color. How a communal space like the public bathroom can evolve in order to effectively accommodate our infinitely diverse needs.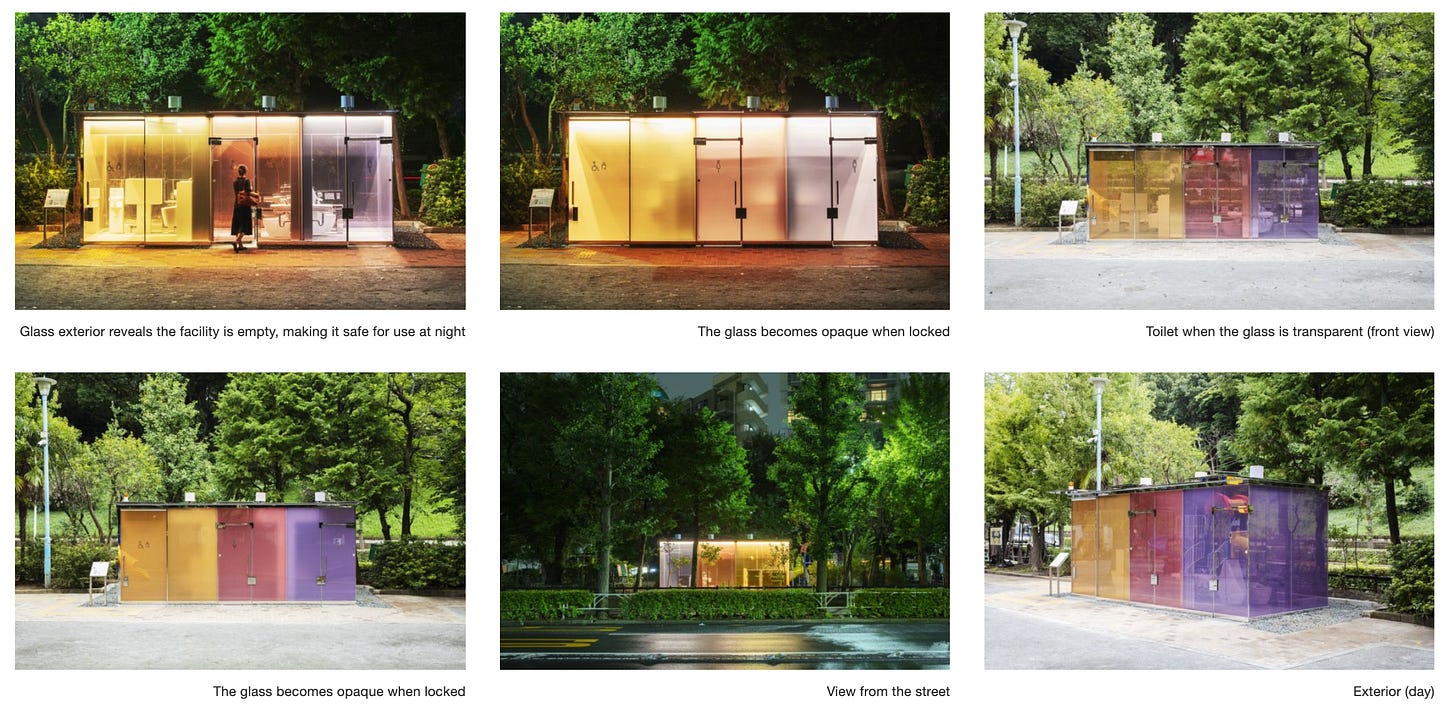 Designed by
Shigeru Ban
Another designer Shigeru Ban contributed his craft to a facility at a public park. The exterior glass turns opaque when locked, allowing visitors to check the cleanliness and whether anyone is using the toilet from the outside. At night, the facility lights up the park like a beautiful lantern.
---
Cities and Algorithms.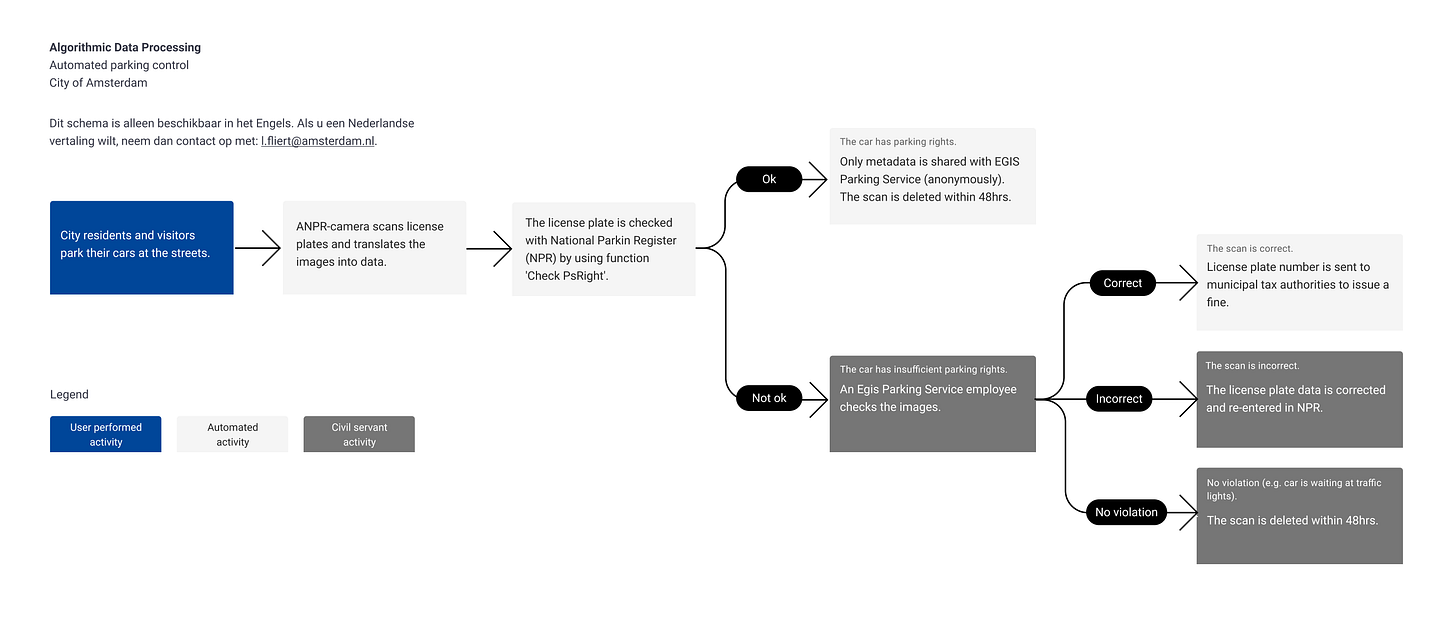 Algorithm for public parking lots
The city of Amsterdam launched AI registers, an overview of the artificial intelligence systems and algorithms used by the City of Amsterdam. Through the register, people can learn, give feedback, and participate in building human-centered governance.
The level of transparency encourages more citizen participation to build the application layer for public service. Data scientist Maarten Sukel wrote about how he built an easy reporting web app with a simple textual classifier. Citizens can easily submit requests without having to fill out complex forms, and the app will route the request to the correct city department.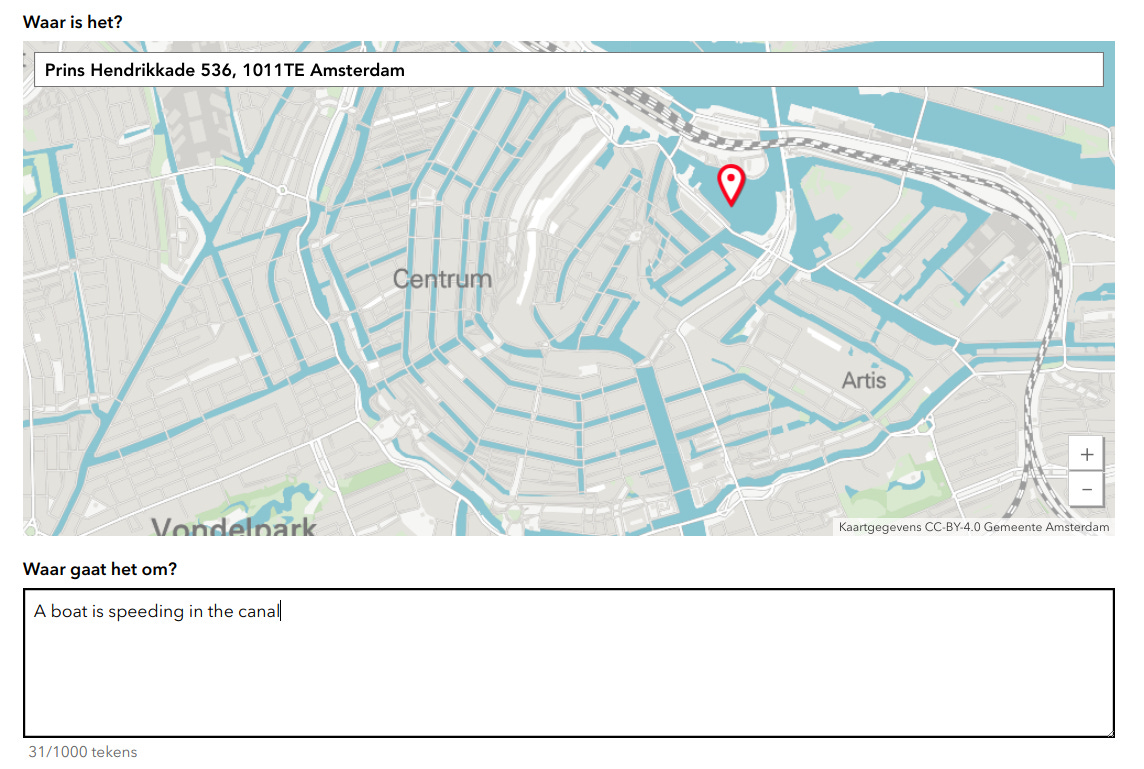 The city of Helsinki launched something similar. My favorite is a library bot that recommends books to read, although it only has a 1-star rating on the app store. Good effort regardless.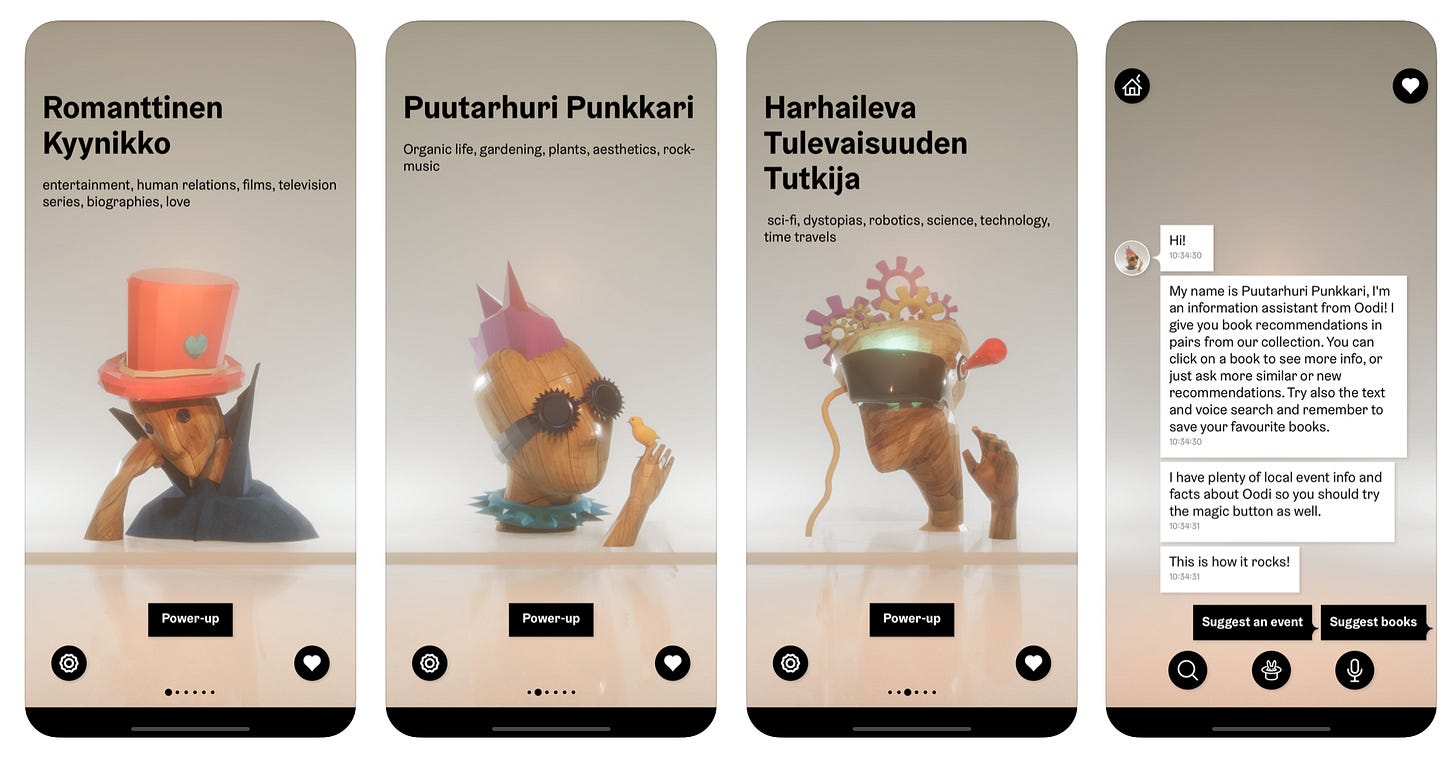 ---
Playground, after a crisis.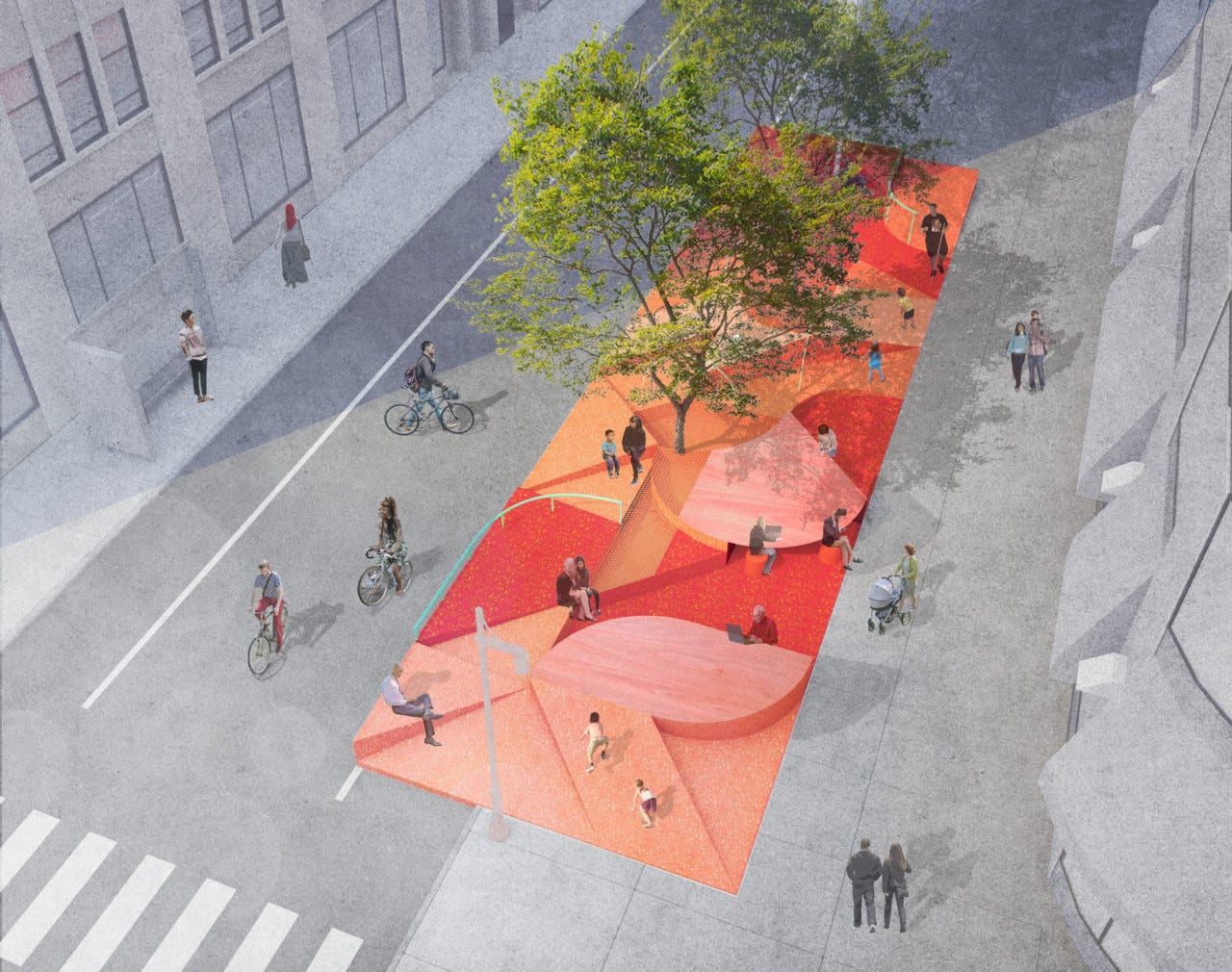 Award-winning Restorative Ground is an inclusive public space by a group of women urban designers at WIP Collective. The design aims to provide a multipurpose space for staying calm, doing work, and having fun, and is divided into three distinct segments.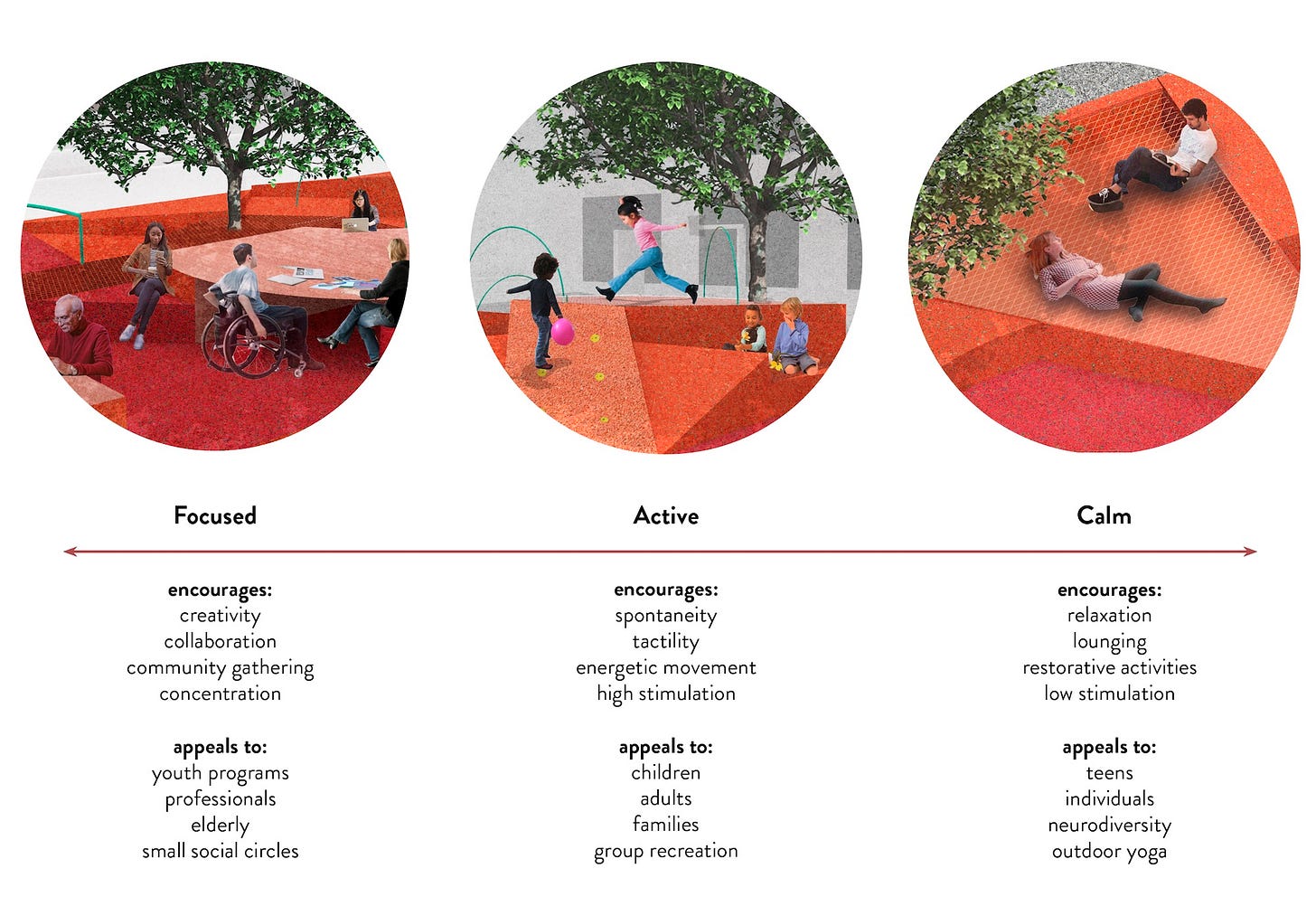 The Calm Zone features a large net hammock situated beneath a tree located in the center of the space.
The Focused Zone features undulated tables and freestanding seating for both individuals and collaboration between neighbors and strangers.
The Active Zone features a decidedly more kid-friendly area ripe for getting a bit rambunctious, sports a "small 'peak' of sloping planes and heightened textures.
Restorative Ground will be on King Street between Hudson and Greenwich Streets. Construction will start in a few weeks. The other two potential sites were along "Little Sixth Avenue" between Spring and Broome Streets, and a privately-owned public space next to 375 Hudson Street.

Dating to belong. Dating to become.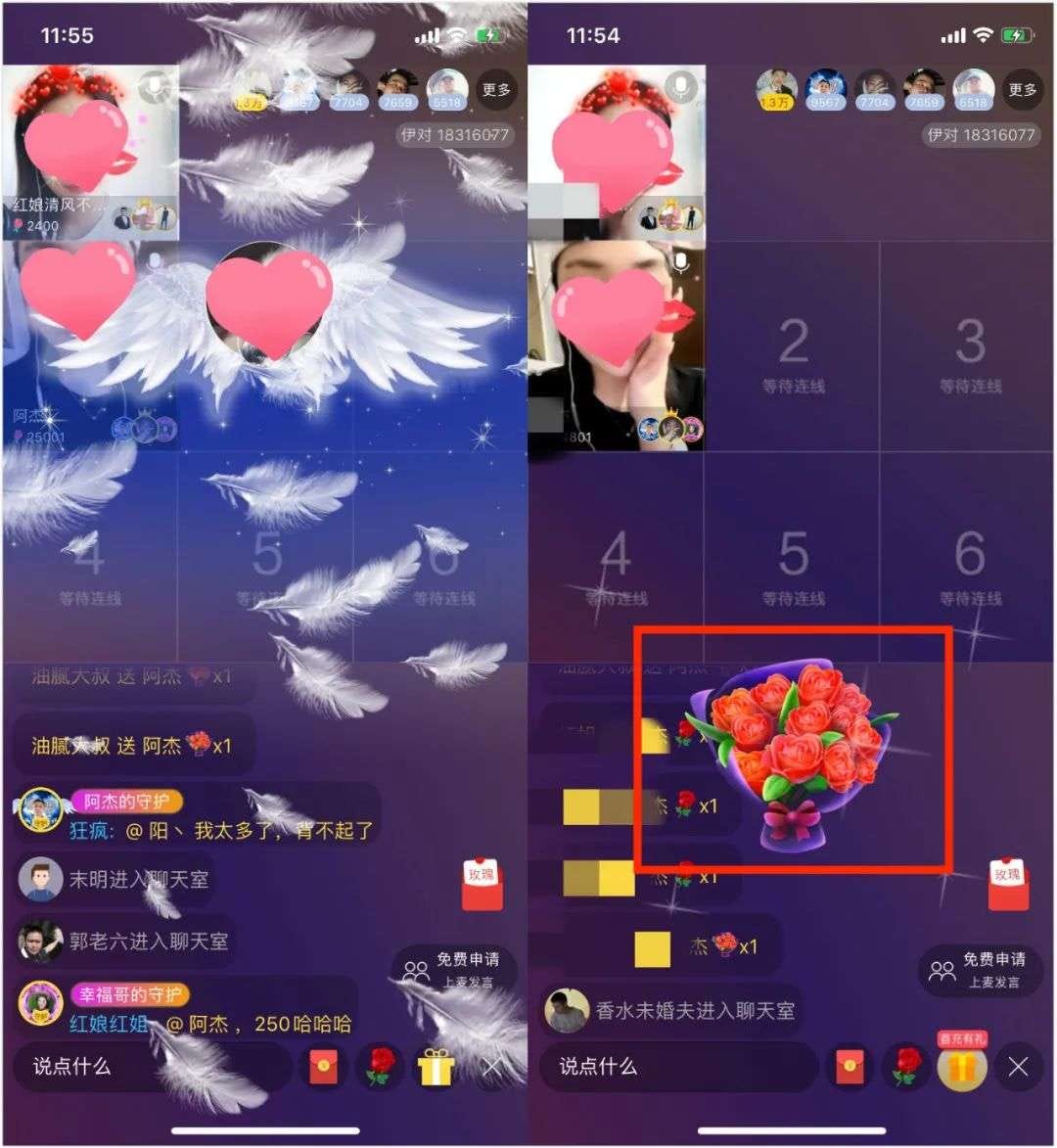 Yi Dui app was launched in 2018 and provides real-time video interaction and blind dates for Chinese' sinking market crowds (long tail third-tier cities). One of the characteristics of sinking market users is that they are not good at expressing their feelings, so even if they meet a person who they like, they have trouble showing it. The app introduced the "Matchmaker" feature for a well-trained "matchmaker" to warm up the live stream room in real-time, guide the topic, and encourage users to express their emotions through emojis or "animated gifts".

What's interesting is that all of the "matchmakers" convert from a normal user. So far, out of the 40 million users on the platform, 50k has converted to become a certified matchmaker on the platform. 
Little Fish is one of them.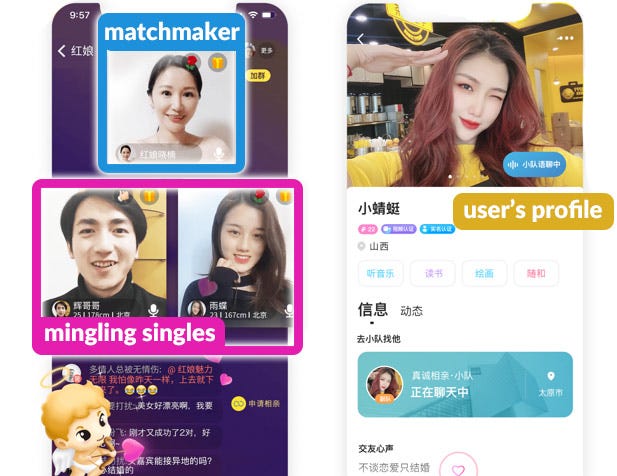 Every night at 9 PM, Little Fish would show up in a live room. Every guest who shows up in the room has applied to get in, and they will engage in a series of mini-games facilitated by Little Fish. If one of the guests loses a live game, they would get dropped out of the room ("drop the mic"), and another guest who's interested in keeping her can buy "gifts" like 9999 Roses to keep her ("save the mic") The act of saving someone also gives the people a chance to show chivalry.  

Little Fish, 25-yo single woman, first came on board as a normal user but soon realized that she has a gift for facilitation, and became a "master matchmaker" verified by the platform in six months. Before becoming a matchmaker, she was making 2,000 RMB ($300) in cash per month at a bakery shop, and now she's making 50,000 RMB ($8,000) a month online. 

Before this, she also thought about becoming a Tik-Tok broadcaster, but she soon realized that learning how to sing and dress up in new outfits every day would need lots of money and effort, but being a matchmaker is a lot easier. "It's in no way easy. I'm on my phone 24/7, and I respond in real-time always," Little Fish said in an interview. 

In the beginning, almost all of the income came from guests' sponsorship during livestream. Over time, as she became the verified "Master Matchmaker", she spent the majority of her time taking on "Disciples" to go through a program including public speaking, facilitation, conversational guidelines, etc. 

When a "disciple" receives a 1,000 RMB donation, with 50 reviews and a 80% positive rating, the "Master Matchmaker" would also get 10% of that donation (100 RMB). Little Fish is onboarding 80 to 100 "Disciples" per month, ranging from people in their early-20s to early 60s. Some of her best-performing disciples can make around $1,500 per month. 
Little Fish might have come on the dating app for a place to belong, but she ended up finding a place to become something that she's never expected. Now she's helping others also become. A friend of Fakepixels, Brian Dell, wrote about such emerging behavior of "cohorts" in his latest newsletter:
But what comes after belonging?

If we move up Maslow's hierarchy, the answer might be becoming.

And if communities are spaces for belonging, cohorts are spaces for becoming.
When cohorts-driven growth becomes the new norm, cohort management and facilitation become essential. It was once the role of institutions like universities and vocational training programs that fulfill this role, and the Chinese dating app shows one version of our future.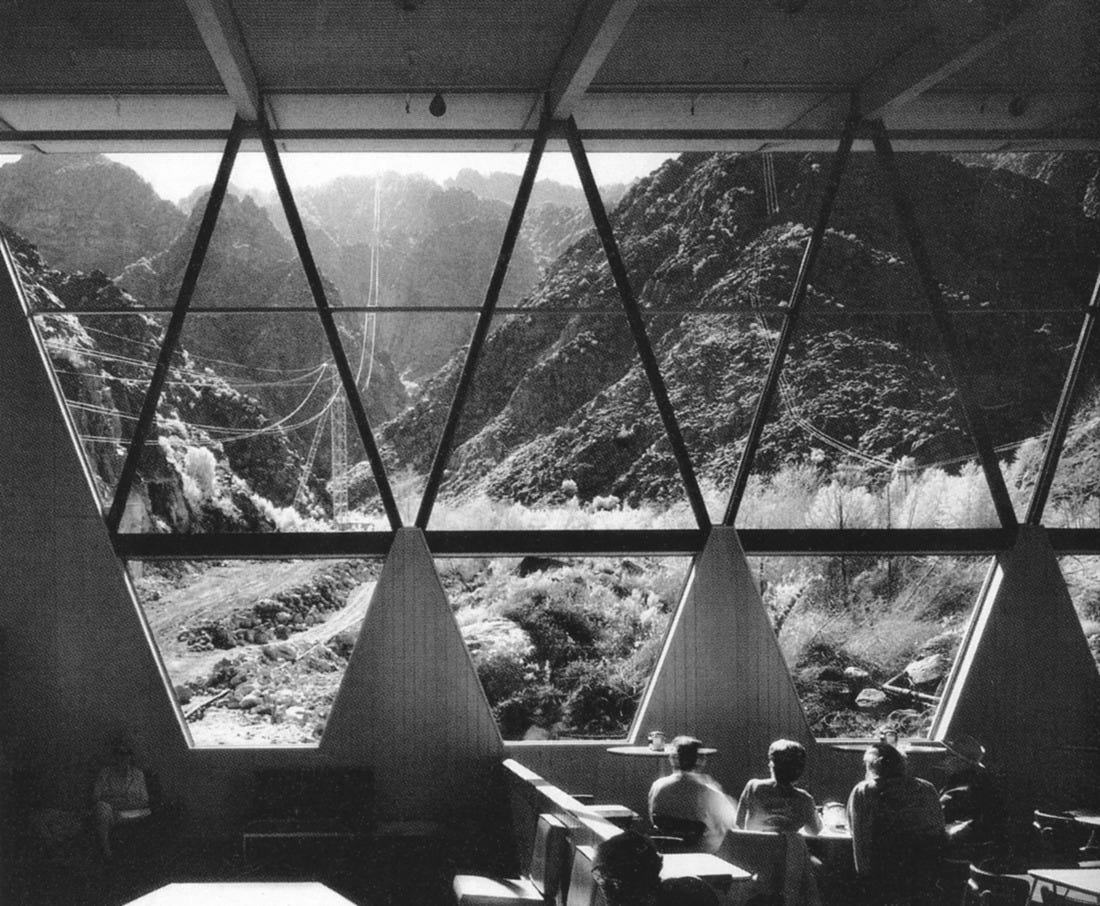 The Language of Privilege
In wokese, if you say some sort of discrimination exists, you have to say it is "systemic." It's just a moral demand that if you talk about one thing, you also have to gesture toward another—but it pretends to be grammar. You do not actually have to explain how the system functions as a system in a way that removes the agency of the actors within it, and indeed you would be messing up the syntax if you did. 
Completely cathartic take on the barriers built with the language of wokese. A gentle reminder of the role of language in oppression.
In Search of the Writer-Diplomat Tradition 
Linguist Dr. Biljana Scott believes the parallels are: curiosity and openness of mind and heart, a sympathetic and creative imagination, skill at matters of redress, and the appreciation that language matters. 
A portrait of writers as diplomats, and the roles that writers play in times of conflict.
Things Fall Apart
It was a beautiful pitch, and Adeyemi is a gifted orator. When he spoke to reporters, he was articulate and self-assured […] One week after Adeyemi claimed his statuette, the Makoko Floating School collapsed. All that remained of the structure heralded as a bellwether of change for a slum and its inhabitants was a flattened pile of planks adrift in the waters of a polluted lagoon.
The elegant design wowed elite architects and promised to bring education to poor children in Nigeria. Then it collapsed. A story like Theranos', outside of tech and Silicon Valley.

Fakepixels is a space for courageous thoughts.
We believe in the power of deep thinking, nuanced dialogue, and creative courage. By being present with the world and with each other, by learning relentlessly, and by bridging knowledge across realities.
We're here to dream and agitate and question openly and unapologetically. We're here to be vulnerable, honest, and true. If you are interested in contributing, I would love to have you join the club.
I'm taking my time to get to know each of you, and I do this on nights and weekends. Appreciate your patience in advance. Until then, why don't you bring a friend?