[FKPXLS] VOL.63 / You must be taught to love me
Only when we are physically strapped from actions that we fully realize the true extent and nature of our freedom and agency.


It's Sunday. I am sitting on the floor on a farm in Maine, listening to Chains by Swim Mountain that is playing sometime in your past, which is also my present.
What we share is Fakepixels, a space for honest inquiry and bold ideas. Here, we are not afraid to ask bold questions and find invisible forces that challenge the status quo.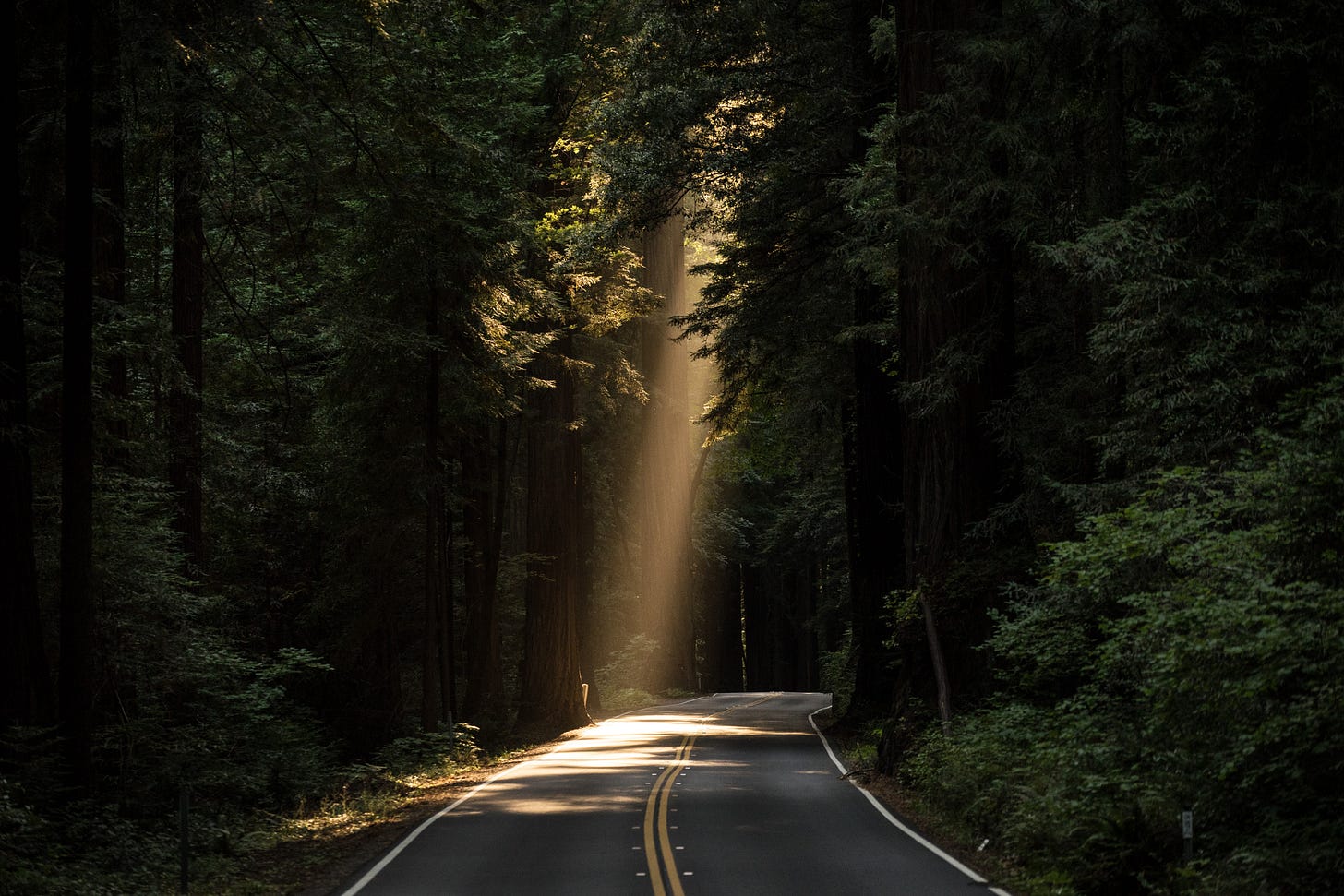 He saw all of this coming.
"What do you see over there?" He asked and pointed his finger to a tree outside of the car window. The tree was bright red not from the autumn leaves, but from the hundreds of apples. 
"These trees are pumping out apples like the world's ending tomorrow. That's a sign we will have a long winter. What do you see over there?"
We were driving 60 miles per hour, and this time he drew a line with his hand. The pine trees and mountain ranges extending into infinity quietly observed the moving vehicle. The pines were sticking out on the top like there was an important announcement to be made. 
"These pines, you see, they are all spiky on the top. That means we'll have very deep snow. We haven't had a long winter for 5 years."
Roger has a 5-star rating on Uber, with praises such as "extraordinary service" and a tagline he wrote for himself: "an adventurer for life". I was picked up at the Portland airport in a Mercury Grand Marquis, a stylish, faded blue, and was greeted by a grand introduction to Maine, where people took pride in having fought in the Revolutionary War. 
"Good people. Good, patriotic people. Great economy."
His spirit was heightened by a quiet listener. Soon I learned that he met his wife on a Pacific island called Guadalcanal. He got married there and spent time in Asia for the majority of his adult life. He said he helped design and make weapons for the defense department, established the fire and police department at places without such public infrastructure, and brought the LED lights to mainland China. He regretted not being more opportunistic for his business ventures. 
"When you were young, and an engineer. You focused on solving problems and that's all that mattered. There weren't any good lights, so we were solving for that. We didn't know that we could've made big money. In fact, we didn't even think about money."
The ocean emerged from both sides of the driveway as if this trip that we're on is an extension of his own narratives, which he was writing a book about. The book will be called Odd One Out. 
"You see, I feel like the odd one out wherever I go, obviously by being the American guy in Asia for all those years. Now I'm the odd one out because I was the first to get supplies back in January. My wife thought I was crazy. My friends thought I was crazy. I saw what pandemics can do to people. I've seen diseases that wiped out an entire Pacific island and no one remembered. These islands will be forgotten soon, drawn in water. No one knew about them."
In the rear mirror, I saw the ocean changing colors from blue to a faded green and vanished in sight completely, like the islands that will soon be forgotten, or the lessons that Roger had figured out on those islands. Roger said he only recently started sharing his stories on Facebook, and he proudly showed me his page. His albums were perfectly labeled with dates, locations, and a poetic name. Each post consisted of around five images of nature with a poem. Seven people liked the post. One person loved it. I wondered if he'd still name his book the Odd One Out if he were to start using Facebook earlier, if he knew that all of his stories would be seen and remembered. I asked what made him want to start sharing his stories, and he said the radio never talks about the small things in life. 
I believe the disease brings out the goods in people. The news doesn't talk about us, but we are having a good time here. We are all in nature, and in nature we feel free to do whatever we want.
As the road grew wider, we could see water appear again on both sides like the resilient lives of people who still see beauty. What Roger said reminded me of an article by Jean-Paul Sartre for The Atlantic in 1944 that I read on a WordPress blog. "Never were we freer than under the German occupation," Sartre wrote, with an overarching thesis that it is only when we are physically strapped from actions that we fully realize the true extent and nature of our freedom and agency.
Then I thought about the great plague novel, "The Betrothed," by the Italian novelist Alessandro Manzoni. He talks about the archbishop of Milan, Cardinal Borromeo that went into the pest houses and was willing to lay down his life to look after the poorest and most unwell people in his flock. I thought about the end of chattel slavery in the New World, and how yellow fever led to the success of the Haitian rebellion and Toussaint Louverture. When Napoleon sent the great armada to restore slavery in Haiti, the slave rebellion succeeded because the slaves from Africa had immunity that the Europeans who were in Napoleon's army didn't have. And it was through the leverage of the pandemic that Thomas Jefferson signed the deal with Napolean to double the size of America.
I thanked Roger when I arrived at my destination: a farm land with no end in sight. I'd be gone before the long winter and the deep snow. When he gave me his number, he offered to take me to the sites that he featured on his Facebook page and told me that if I contact him directly, it'd be cheaper than using an Uber.

Murder, but make it a subscription.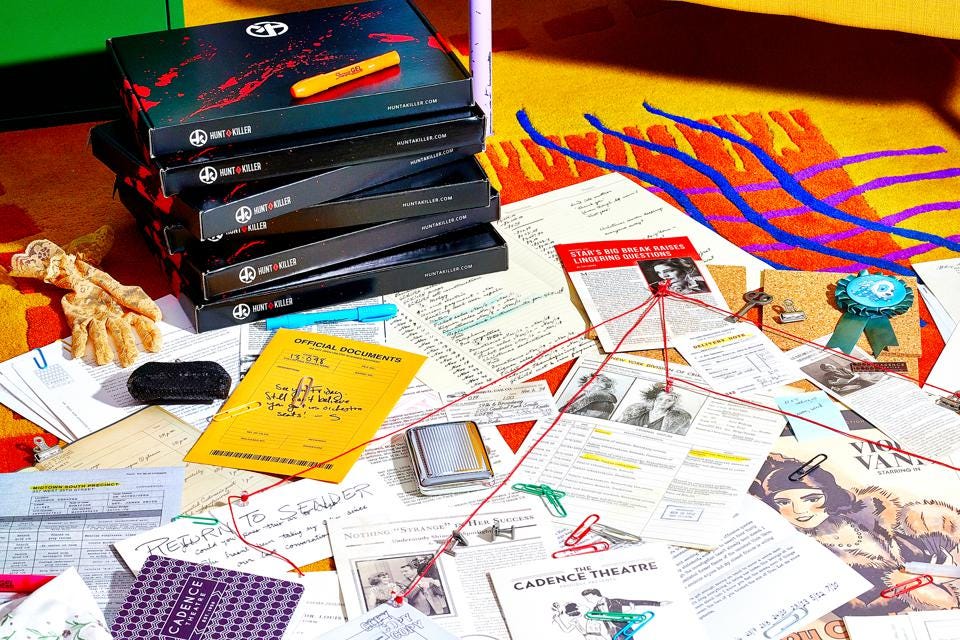 Image | Forbes
Every month, 100,000 humans pay around $30 to Hunt A Killer to receive a new box of the evidence, objects, codes, and confidential files, all to get to the bottom of Morgan's death. Solving the case will take a full "season" of six boxes, costing $180 in total. The entire game is done offline, and that's basically the point.
Working from their own basement, the cofounders did everything themselves, from designing the games to packing and shipping them. In the beginning, Hunt A Killer had a cult following on Facebook, and is now booking ~$50 million in revenue and hopes to turn a profit for the first time.
This fall, Hunt A Killer debuted the game for $30 on Amazon. It's also available at Target in collaborations with brands like Lionsgate based on their Blair Witch movies and Simon & Schuster. The founder said in an interview:
"If we can make these amazing experiences that provide that escapism and immerse you in a story. There's just nothing greater."
The demand for shared, novel experiences will only increase as the external chaos becomes more uncontrollable while the domestic routine is becoming monotonous. What else can we put in a box to create the thrill and warmth that once made a weekend memorable?
---
The fault, dear Brutus, is not in our stars, but in ourselves.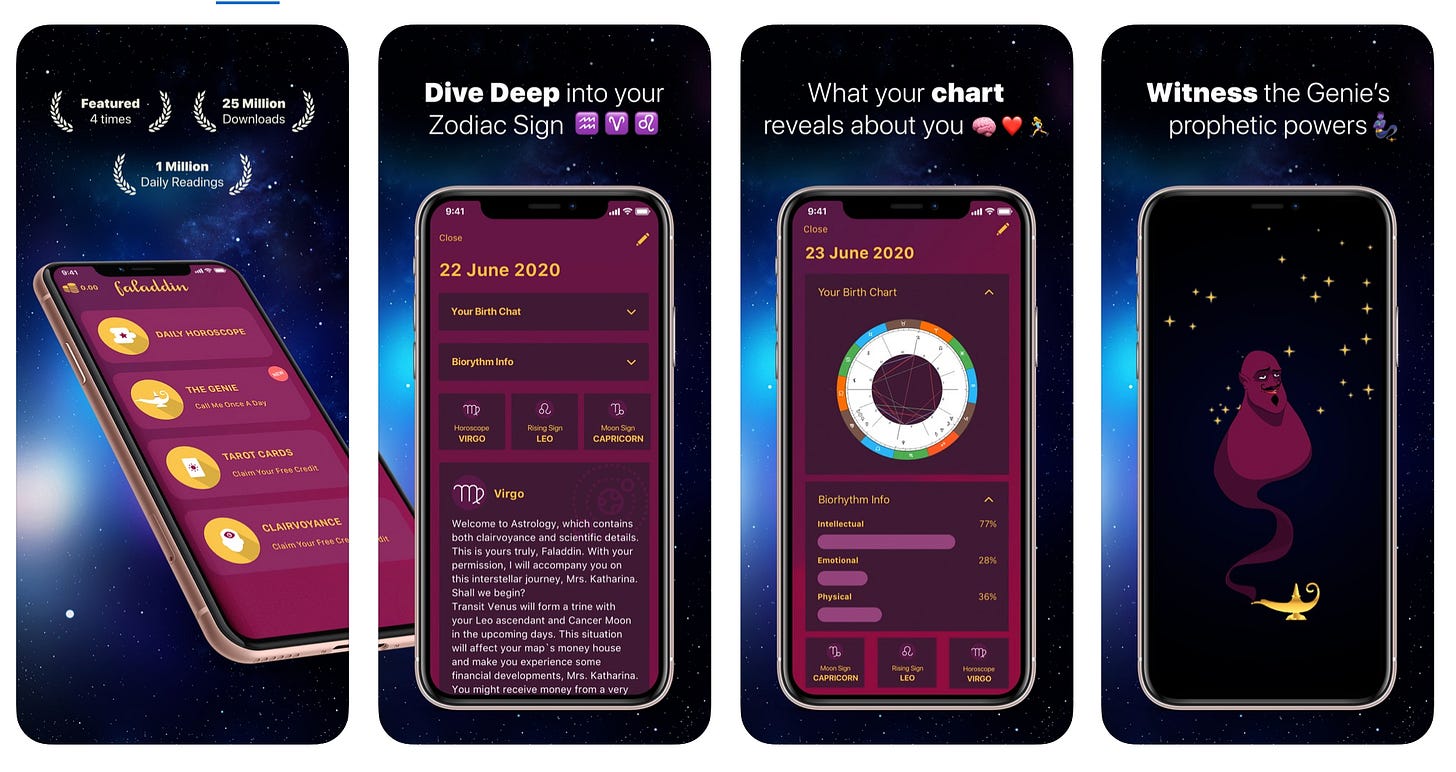 CoStar made me give up on astrology. Not that it doesn't tell me more about myself, but that I decide not to succumb to what it's telling me. The last thing I want to see when I'm having a bad week is that not only is my work life stressful, my friendship and sex will also suck. The sleek interface and poetic prose only enhance the authority of the voice.
I thought I'd never give astrology a shot again until I came across Faladdin.
Sertac Taşdelen is the man behind the Turkish fortune-telling app Faladdin, an attempt to look like Aladdin's genie, and now is touching the lives of millions. Faladdin describes itself as "far beyond a fortune-telling app." The description states that it can predict one's destiny "by evaluating a person's past." It does this by bringing the Turkish tradition of coffee fortune-telling into the Internet age.
What's the most mesmerizing is the story of the man himself. The former EY consultant started his fortune-telling journey on a WordPress blog, which quickly became an app that attracted assembled not a genie, but a group of 30 contributors, including a dramatist, a psychologist, an ad director, and an author, to create "readings" on the app.
The 30 contributors' prophecy only becomes more omnipotent as Taşdelen began feeding these texts to GPT-2. In the beginning, AI was a massive failure. It spoke in broken sentences: "The seagull flies. The cat purrs. There is a notebook." Its interpretations were dull. But over time the technology is improving, and it has since amassed more than 6,000 human-created fortunes.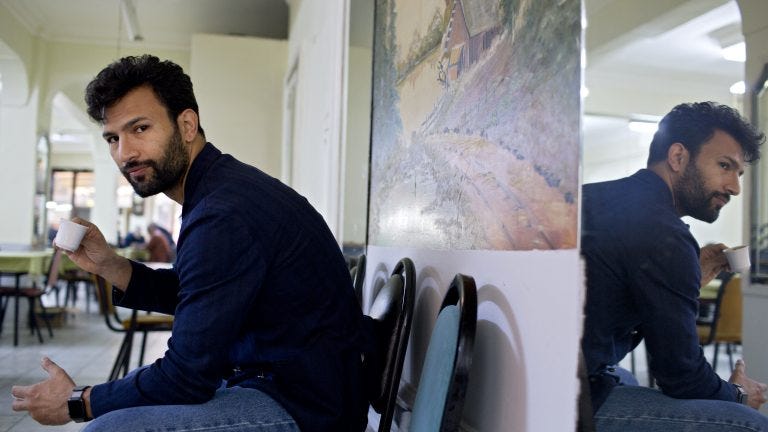 The Turkish entrepreneur now wants to conquer the U.S. .market | Image: Rest of the World
After penetrating the Turkish market by being the #1 fortune-telling app, Taşdelen now hopes to expand his audience in the West. Despite the cultural difference, he's confident.
"For us, it's pretty much the same thing," Taşdelen confessed in an interview. "We used to say, 'Oh, there is this tree in your cup, which points to financial difficulties.' Now we'll say, 'Mercury started retrograding, which points to financial difficulties.'"
Acknowledging that there is no science behind either method, he compared Faladdin, curiously, to the genetic testing service 23andMe which he described as "not strictly science or entertainment, but a blend of both." When asked in an interview how he had foreseen the rise of the dollar during the 2008 financial crisis, he said: "My banker called to ask how I predicted the exchange rate. I told her, I just felt it. Your Goldman Sachs forecasts don't work; in the future, ask me instead." 
Maybe we're arriving at a moment when technology has completely eradicated mythology to an extent that it ends up enhancing it because people no longer have visibility into how things work. Too busy to peel off the layers of abstraction, we might as well believe that something magical is happening.

There we have Crystal, the company that uses AI to predict anyone's personality based on the users' interactions to help boost sales and enhance communication.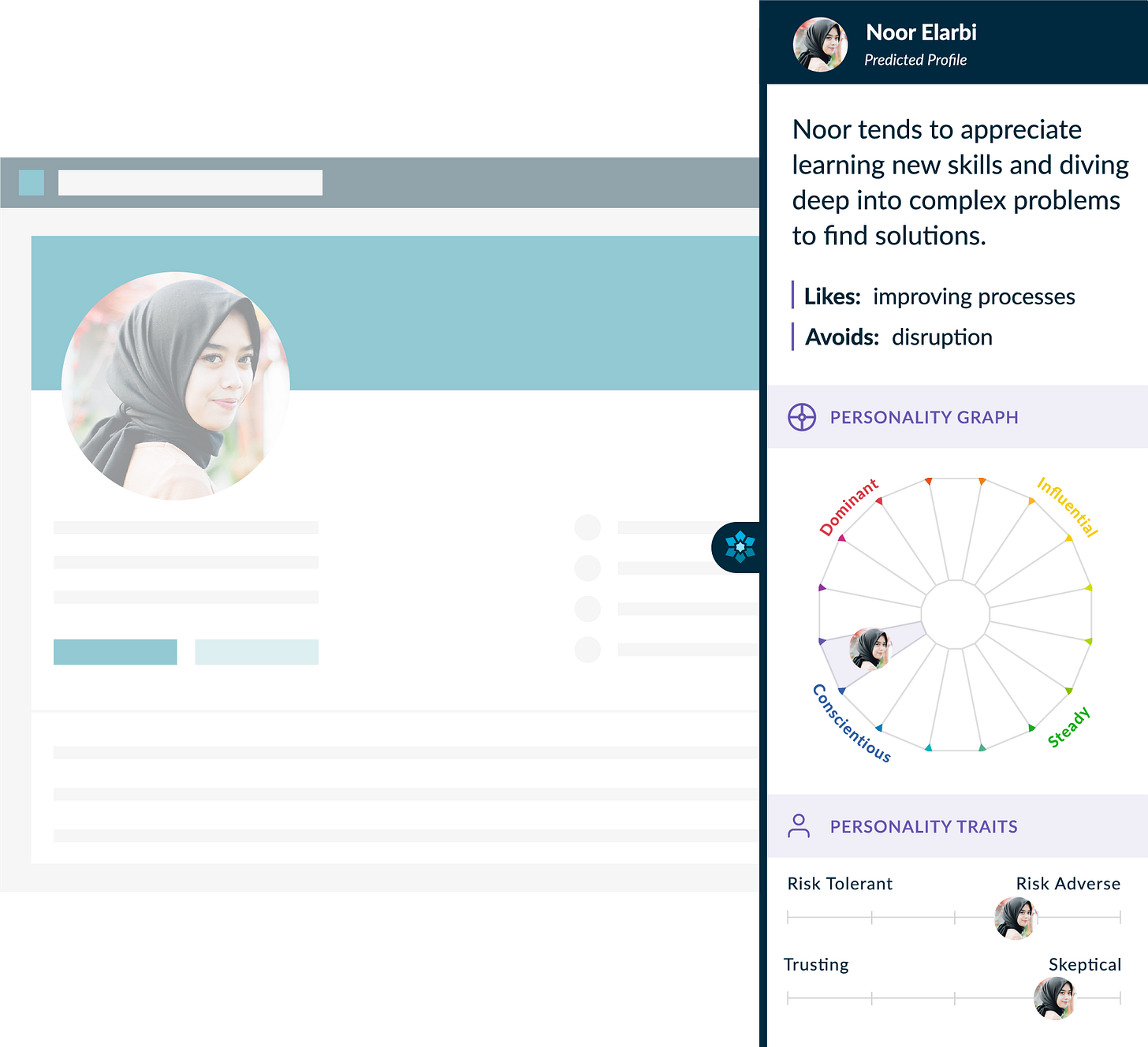 Thousands of companies are now using Crystal for sales, marketing, recruiting, management, and more. Instead of simply translating the language of the machine (algorithms) to the language of humans (personality types), so we confront finally not with the faults in our stars, but ourselves.
---
This game is never over. So is the story.
Scene generated by text | Image: rct-studios
For the fellow gaming fans, we know the feeling when we get lost in open worlds like the West Hyrule Plains of Zelda or the underworld of Assassin's Creed Odyssey. It once took years of blood, love, and sweat for game designers to craft the gameplay, from storytelling to set design. "GTA 5" and "Red Dead Redemption 2" employed thousands of designers and writers to create "personalized" storylines and "realistic" NPC characters.
Now this can be done without humans.
Rct studio created the AI to generate fully immersive characters and worlds that change based on the player's reactions, with each story creating thousands of permutations.
Generation of plots and dialogues | Image: rct-studios
Rct's "Chaos Box" algorithm uses Deep Reinforcement Learning to generate almost infinite storylines without needing an extensive number of designers and scriptwriters, allowing players to freely interact with NPCs.
Current Reinforcement Learning focuses on optimizing for existing rules of the game. For example, DeepMind uses DQN to play Atari games and AlphaGo to defeat Go masters. Rct's "Chaos Box" is the first, most thorough attack on using the Reinforcement Learning framework for plot generation and storytelling. The technology's ultimate ambition is to build a game that never ends.

Buying with my fake friends.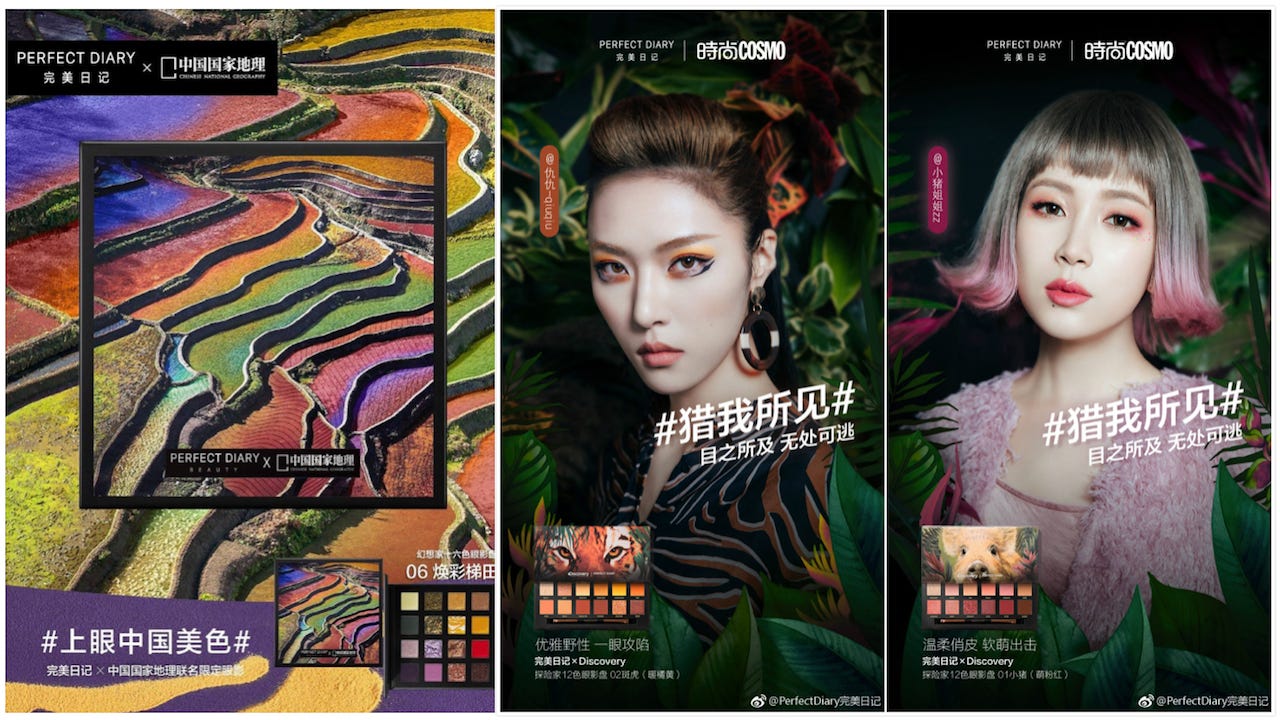 Perfect Diary, the viral Chinese beauty brand, is partnering with National Geographic.
A quiet storm is taking over the global cosmetics market.
With chat groups, video streams and low prices for foundation, China's Perfect Diary has emerged from thin air four years ago to become a cosmetics giant for the digital age. By integrating intrinsically viral elements into every step of the value chain — from package design to influencer makeup tutorial videos, Perfect Diary soon became a case study for D2C brands in China. The brand recently closed a new round of investment of $140 million, with US private equity firms Warburg Pincus and the Carlyle Group have each invested around $70 million. The new infusion of funds brought up the brand's valuation to $40 billion.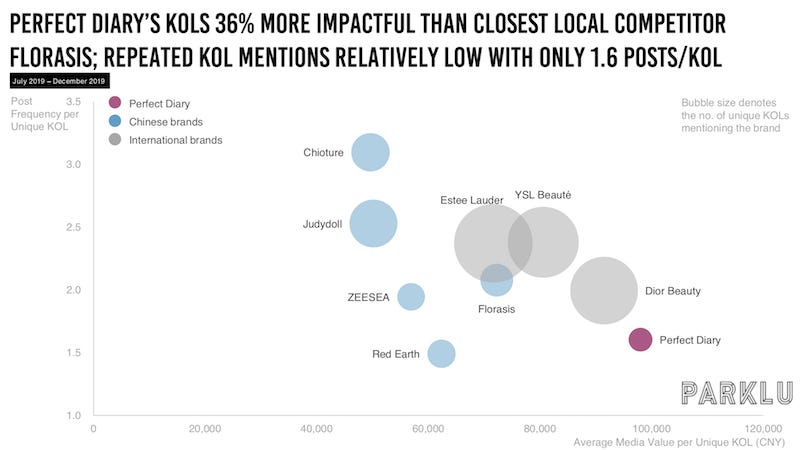 The efficacy of Perfect Diary's influencer marketing (also known as KOL, Key Opinions Leaders) put incumbents to shame. That's because they really don't engage that many influencers and focus instead on the quality and intensity of customer engagement. Influencers, in this case, are not celebrities that embody some aspirational state, but they are friends that share practical advice and counsel.
The hyperpersonal customer experience is embodied by the brand's secret weapon: the virtual influencer named Abby provides the kind of concierge love and care that was once only available for high LTV customers at luxury brands.
Meet Abby, the cult leader of hundreds of private Wechat groups. She shares special offers, new product launches, and beauty and skincare advice.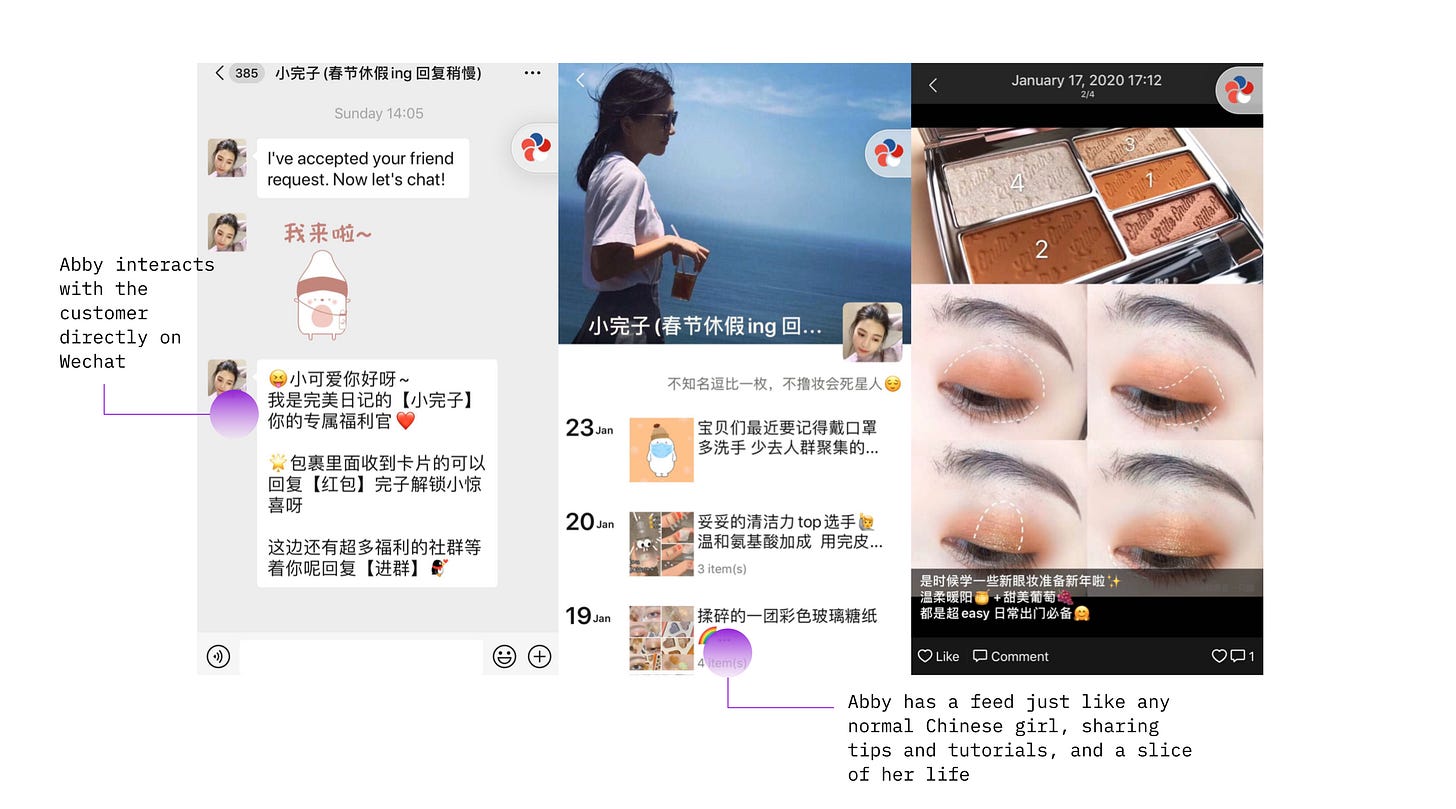 Once you add Perfect Diary as a friend is added on WeChat, a virtual avatar will send discount codes and shares makeup tutorials on her moments
What goes on in these groups? Chinese grad student Kejie Yi shared in an interview with Jing Daily:
"It is quite a sorority vibe.

Everyone is sharing what beauty tools they have, the results they get, how effective they are. It is like a bunch of close girlfriends chatting. Abby is mostly in charge of bringing up topics and making sure that the group is active. There is also another character in the group called Little Mei, who helps Abby answer questions.
This story sounds familiar to the students of Glossier's success. A vibrant community and with a cost-friendly brand and a D2C channel. Yet Glossier's success is difficult to replicate because it all originates from one group. What Perfect Diaries is trying to achieve is creating a series of virtual influencers or personas after Abby that will speak to a diverse set of audiences. China's supply chain advantage also allows rapid prototyping, iteration, and production that can catch up with the drops of a new viral trend on Tik Tok.
The color cosmetics industry is largely commoditized and the product manufacturing process has been dominated by Intercos, which supports all of LVMH and Kering beauty brands. Rather than innovating on the product, the Perfect Diary team mastered the algorithms of social platforms. I wouldn't be surprised at all that at some point they would pivot and become a tech company that has productized the art of mobilizing intimate groups at scale.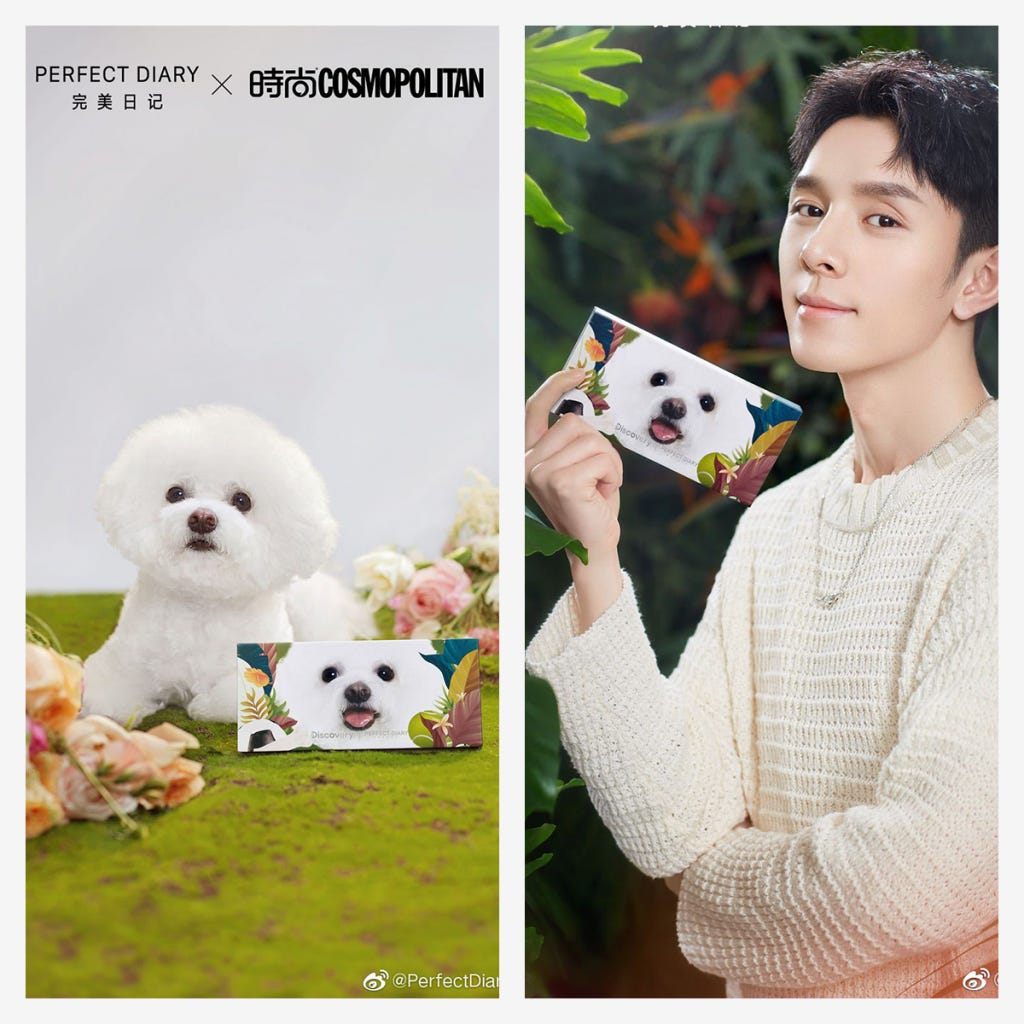 One example is the brand's collaboration with beauty influencer Li Jiaqi. The China's "lipstick king" has 13.5M followers on Tik Tok and once raised more than $145M in sales on a single day. More precisely, the collaboration is with his dog named Never. Never already had a strong cult following among the Jiaqi's mega fanbase. Unsurprisingly, the dog palette is a huge hit and received over 150k pre orders the first week of its launch.

I have been having dinner discussions with friends lately around the idea of "living many lives". The idea is simple. If it takes 8 to 12 years to reach mastery of a certain discipline, we actually have a few shots in our lives to do something extraordinary.
The blog Dormin created a post around similar topics around the meaning of life and writing. The piece started with giving a bullet-point rundown of some of the most fascinating lives lived, including Steve Bannon's and Arnold Schwarzenegger's, who not only contain multitudes but actually manifest them.
The writer soon opens up about his own life, the mundanity, and the highlights, and why he writes. It's not an unusual experience among writers to be inquired: what are you going to do with your writing? At one party, I was asked what my KPI for writing was. When I didn't respond with a precise number, it's as if there are intimate details about myself that I don't know, like my heart rate or blood pressure.
For him, writing is remembering:
When I'm on my death bed 50+ years from now, I will remember writing my novel. I won't remember 99.9% of my life, or 99% of the people I meet, or 99.9999% of the meals I ate, but I will remember the story I created. It's a part of me.

Maybe that's what my bullet point heuristic really is. It's not just a method of creating memories, but a method of creating myself. The important people I know, the passions I've pursued, the things I've written are as much a part of me as my personality traits, IQ, physique, or anything else. They are what occupy my mind, my time, and my existence, for better or worse.
What that means is, 10 years from now, when he looks back on what he's produced, he gets to relive life again, from another perspective. And this can be done over and over.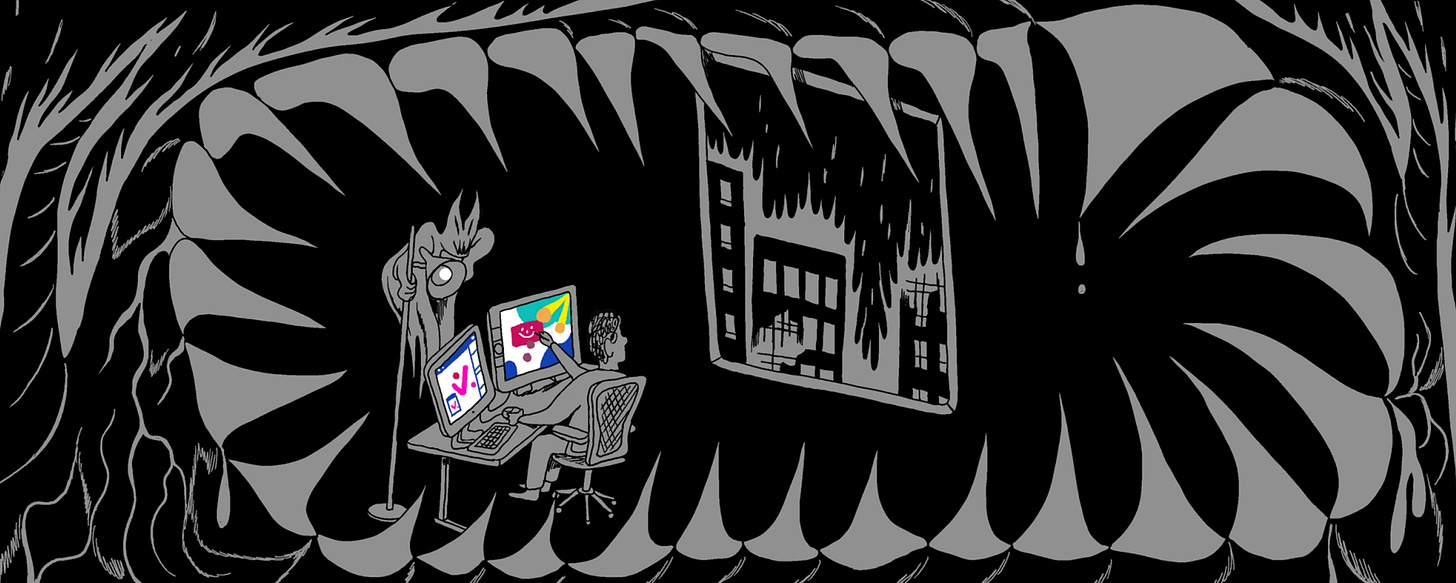 12 (New) Steps On The Road To Design Hell
Deception and manipulation aren't just a part of our jobs, they're the most potent and frequently-used weapons we have at our disposal. Creative workers must be honest about the power we wield. Illustrators and designers must be clear-headed about the material impact our work has on the world around us. If the souls stuck in Hell are the ones who refused to acknowledge their sins, we can't pretend that our art and labor aren't a part of political struggle. We must enter the fray with our eyes wide open. Turn away at your peril.
More accurately, this is a perspective on the road to protect an artist's soul and integrity, while navigating the commercial world.
Danny Meyer:'the Irrelevancy of Being Right'
Think about life in general. Think about religion. How many wars have been fought in the name of religion? Name one religion that doesn't think that its way is the right way. If that religion is the right way, someone's wrong. Think about not only the irrelevancy of being right, but the danger of being right.
Some humbling reminder on how much we like to be right, how much we don't know, and how little it matters. And it's Danny Meyer.
John Glubb and Avoiding the Fate of Empires
Time and again—from Ancient Athens to the Arab Caliphate to China's Song dynasty—an empire's intellectual peak arrives just moments before its fall. As a result, Glubb was intensely suspicious of intellectualism, which he viewed as a product of the "softness" of the "Age of Affluence"—all talk and no action, inventing justifications for why the nation should no longer fight, and conquer, and grow rich.
I'm a sucker for pattern recognition, despite the danger of over-generalization and confirmation bias. Glubb paints the lifecycle of an empire. The "Age of Pioneers" becomes an "Age of Conquests", becomes an "Age of Commerce", becomes an "Age of Affluence", becomes an "Age of Intellect", and eventually "Age of Decadence". Glubb's account makes uneasy reading for a modern, cosmopolitan intellectual, but a necessary one.

Fakepixels is a space for courageous thoughts.
We're here to dream and agitate and question openly and unapologetically. We're here to be vulnerable, honest, and true. If you are interested in being a part of it, I would love to have you join the club.
If you enjoyed the ride, why not bring a friend?